Quentin Tarantino has long claimed that his 10th film will be his last, but the director seems perfectly content to continue hanging out in the world of his ninth feature: Two years after the premiere of Once Upon a Time… In Hollywood, Tarantino is releasing a new novelization of the film.
Set to drop on June 29, the 400-page novel is Tarantino's first book. It will expand on the film's fictional characters — including struggling actor Rick Dalton (Leonardo DiCaprio) — and the real people who populate the revisionist world of '60, among them Sharon Tate (Margot Robbie) and the many members of the Manson family, whose real-life murder of Tate and several others gets a jaw-dropping (and face-shattering) reworking in Tarantino's fairytale version of history.
This is not, however, the sort of direct novelization that you'd see on old Scholastic catalogues or on airport bookstore shelves.
"It's not just me taking the screenplay and then breaking it down in a novelistic form. I retold the story as a novel," Tarantino told the Pure Cinema Podcast (via The Wrap). "So it's not like, 'Oh, OK, well he obviously had a few scenes left over, so he just took the screenplay and novelized it and threw in a few extra scenes.' It was a complete rethinking of the entire story and not just a rethinking as far as throwing some scenes that were left out of the editing room."
Most enticingly, Tarantino says the novelization will delve deep into the background of stuntman Cliff Booth, the laid-back ticking time bomb with a shady past and air of mystery that snagged Brad Pitt a supporting-actor Oscar.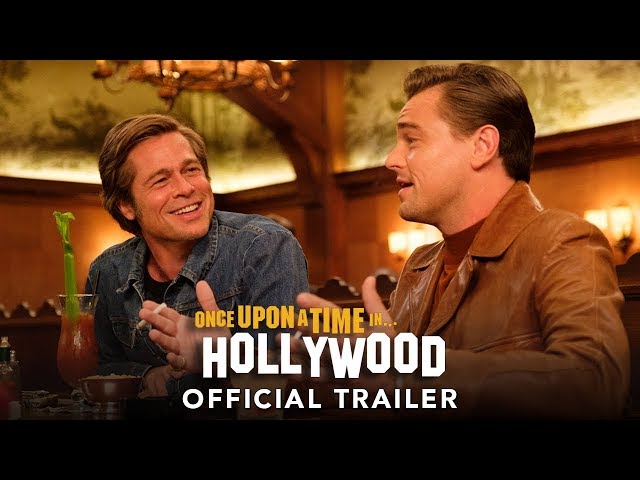 Cliff is the film's wildcard. While twisty and rich in detail, Once Upon A Time… In Hollywood's plot is pretty airtight. A novelization could fill in some gaps — Rick's time working on spaghetti westerns in Italy is especially ripe for exploration — but the character of Cliff is the only one completely shrouded in mystery.
"In the movie, Cliff is a real enigma, you're kind of like, what's this guy's deal?" Tarantino said in the podcast. "And one of the things in the book is, there's these isolated chapters that tell you, like, this whole chapter will be about Cliff's past. It goes back in time to tell you about Cliff at this point in time. And then you go further on with the normal run of the story and there's another chapter that goes back in time and tells you about Cliff's past. And every isolated chapter that's just about Cliff's past is like a weird little pulp novel unto itself starring Cliff."
The approach tracks with Tarantino's history of taking character-driven detours to fill in backstory across his catalogue, from the origins of Butch's gold watch in Pulp Fiction to a brief history lesson on the Nazi-killing roots of Inglourious Basterds supporting badass Hugo Stiglitz and an iconic, extended anime sequence detailing O-Ren Ishi's entire life in Kill Bill.
For all the time we spend hanging out with Cliff during the film's three-hour runtime, there's much we still don't know. Here are the biggest mysteries the book could dive into.
Did Cliff kill his wife?

In one of
OUATIH
's most divisive and darkly comic running gags, it's frequently suggested that Cliff killed his wife while out to sea. Characters whisper about it, and a quick flashback even shows a smirking Cliff casually pointing a harpoon gun at his wife on a boat. It's an obvious parallel to suggestions that Robert Vaughn had a hand in Natalie Wood's death around the same time, and drew laughs and indignation in equal measure.
The huge and glossed-over detail has become the modern equivalent of "what was in Marsellus Wallace's briefcase?" And while flashbacks could certainly flesh out the troubled relationship between Cliff and his wife, it's unlikely that Tarantino would bog the breezy story down with too much domestic drama… or reveal the most talked-about mystery of the film.
What really happened with Bruce Lee?

One of the film's most controversial sequences involved Booth engaging in a sparring match with martial-arts legend Bruce Lee, which
drew the ire of Lee's
family for depicting the actor as arrogant and equal to Booth's untrained brawler.
There's more at play though: The Bruce Lee fight is highly elevated where most of the film is grounded, with Booth tossing the Dragon into cars as if he emerged from The Matrix. That has led many to point out that we're seeing Cliff's version of the story, heavily embellished as if he's telling it directly to the audience. The novel could go full Rashomon and detail what really happened when Cliff squared off against the legendary martial artist.
How did Cliff become a war hero?
Many audiences were utterly shocked when Cliff, in the throes of an acid trip, turned into a one-man wrecking crew when members of the Manson family mistakenly showed up at Rick's house, snapping bones as if possessed by Jason Bourne.
But there's a logical explanation: Cliff is a trained soldier. In fact, earlier in the film, Rick pleads with Kurt Russel's veteran coordinator to give him a job, saying "he's a goddamn war hero." But what war? And what kind of action did Pitt's character see to elicit such a seamlessly reflexive violent reaction? This is very likely to be the subject of one of Tarantino's Booth-based chapters, and could shed more light on the character than simply revealing whether he killed his wife.
Is there more to come?
This month's release of the book might not even be the end of Tarantino's time with his popular hangout movie: Margot Robbie earlier this year mentioned the existence of a sprawling 20-hour cut, and last year rumors circulated that Netflix was interested in extending the film into a mini-series, which it already did with Tarantino's Hateful Eight.
Meanwhile, the book's release will be followed by an audiobook read by Hateful Eight star Jennifer Jason Leigh.
At this pace, who knows when Tarantino will get around to film 10 and his long-touted retirement. But at least we'll get to keep hanging out in the '60s until he figures it out.
See which Tarantino film cracked Time Out's 100 greatest movies of all time
And read our critic's 5-star review of OUATIH