The picturesque islands that make up the Maldives are set to welcome travellers back next month, so a trip to the famously luxe destination, which is a honeymoon hotspot thanks to its fancy hotels, idyllic beaches and palm-tree studded white sand beaches, could be back on the cards.
Borders are set to reopen to international travellers on July 15. It had previously been reported that the islands would reopen on July 1.
According to Visit Maldives, 'resorts, liveaboards and hotels located at uninhabited islands will be open from July 15. Guest houses and hotels located at inhabited islands will be open from August 1.'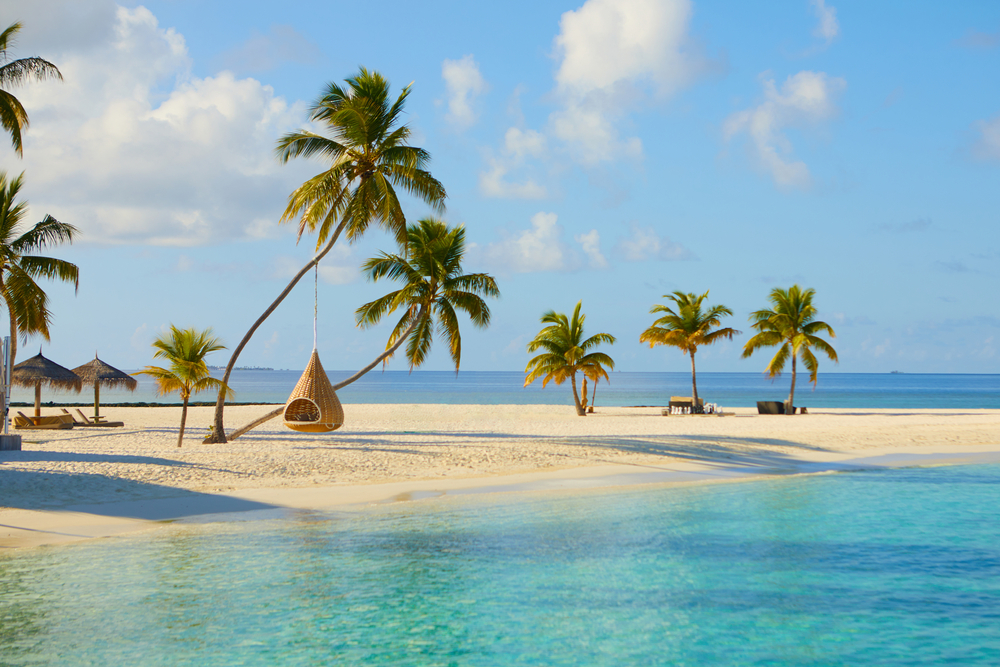 There were reports that all holidaymakers were going to have to submit either a negative antigen test or a positive antibody test (meaning either you don't have the virus, or you've already had it and have some immunity), before being subject to another antigen test on arrival at the airport. However, the Maldives have scrapped these new entry requirements, stating the islands are welcoming travellers from all global destinations, without any restrictions.
'Tourists are not required to pay an additional fee, produce a certificate or test result indicative of negative status for Covid-19 prior to entry into Maldives. For tourists without symptoms, there is no requirement for quarantine either,' say the tourist board.
Instead, a confirmed booking is required prior to travel and travellers should only stay at one resort or hotel during their visit. Visitors will get a free visa on arrival and be subject to thermal screening.
'We cannot keep our borders closed for long,' the country's minister for tourism Ali Waheed said in a statement last month, adding: 'Our tropical nation is heavily dependent on tourism, which accounts for one third of the total government revenue. For the first time in 47 years of tourism in the Maldives, we have experienced zero tourist arrival since this March, which is more devastating than the 2004 tsunami and the 2008 global financial crisis.'
There are few things we'd like more right now than to be snoozing on a sun lounger surrounded by that jewel-toned sea, and it sounds like the Maldives want us too.
Remember, many countries are still warning against all non-essential travel and some are quarantining all overseas arrivals, including their own returning citizens. Check all the relevant restrictions before you think about travelling.
When will you be able to travel again? Here's what we know so far.
Where can you go on holiday right now? These are all the countries that have already reopened their borders.