Teen heartthrob Anthony Hopkins was nowhere to be seen at Sunday's MTV Movie & TV Awards, but that didn't stop the network's annual celebration of moviegoing from continuing its tradition as a gleeful palate cleanser after a stodgy awards season.
The pickle-back to the Oscar's Rémy Martin took place at Los Angeles' Palladium, where host — and eventual Best Comedic Performance winner — Leslie Jones held court over a small audience of fans and celebs. The Netflix hit To All The Boys: Always and Forever was the night's big winner, but as usual, the actual awards took a back seat to the night's antics.
MTV has been handing out its "Golden Popcorn" awards since 1992, and evolved to include TV in 2017. The MTV Movie Awards — which, unlike the Golden Globes, are voted on by fans instead of a largely anonymous group of mostly white men — include standards like Best Movie and Best Performance in addition to Best Villain, Best Fight, Best Kiss, and Best Frightened Performance.
Here are the biggest moments from last night's ceremony.
Leslie Jones went full Billy Crystal
Jones opened the ceremony with a quick standup set, but the highlight of her hosting duties came when the performer took a cue from Oscars host Billy Crystal and began inserting herself into various nominated shows and films. It was most effective in its first iteration, when Jones' invaded the various sitcom tropes of Disney+ series WandaVision, showing up in that show's eerie black-and-white '50s before moving on up to the Eastside and beyond in a series of elaborate TV spoofs.

Jones' routine also found her donning Carey Mulligan's nurse's outfit from Promising Young Woman to seduce the historical figures of One Night in Miami…
... And presenting her own alternate version of Bridgerton in which the actress got steamy with Regé-Jean Page, then demanded a "Snyder Cut" to make it longer and more sensual.
And Sacha Baron Coen went full Peter Sellers
Oscar nominee Baron Coen has long drawn comparisons to comedy legend Peter Sellers (kids… just google it), and the actor embraced all the various personas that brought him to the show to collect a Comic Genius award. What resulted was the closest we will ever get to a bizarro Da Ali G show reunion as Borat showed up to accept a "cup of gold teeth" before being interrupted by Ali G and Coen himself, who in turn was interrupted by a salaciously dressed Bruno. Even Coen's General Aladeen of notorious bomb The Dictator was on hand, likely the only time that character will ever appear on an awards show.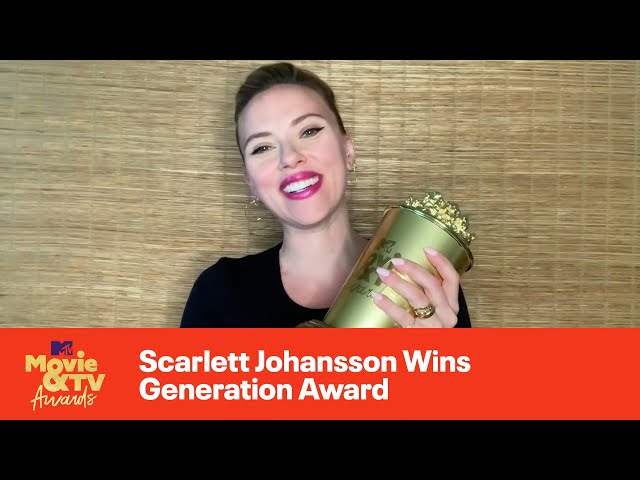 Scarlett Johansson got slimed
The Black Widow star received the night's Generation Award — MTV's equivalent of a lifetime achievement award — joining such luminaries as Tom Cruise, Robert Downer, Jr., Will Smith, Chris Pratt, and the entire Fast and the Furious franchise (oh, and Johnny Depp). While receiving the award from home, Johansson was interrupted when husband and SNL star Colin Jost doused green slime on her, claiming to mistake MTV for Nickelodeon. Yeah, it was a bit, but it's always fun to see a superstar covered in goop that has nothing to do with Gwyneth Paltrow.
Marvel and Disney+ had a huge night
Streamer Disney+ had a massive night, though surprisingly it had nothing whatsoever to do with The Mandolorian. Marvel flagship series Wandavision nabbed the award for best show overall, with star Elizabeth Olsen taking best performance and Best Fight alongside co-star Kathryn Hahn, who herself was crowned Best Villain for her show-stealing performance as a delightfully sassy witch. The two took time to thank their special effects crew before demonstrating what their bombastic arial fights would look like without them.
The Falcon and the Winter Soldier, meanwhile, nabbed a pair of awards: Best Hero for newly minted Captain America Anthony Mackie and Best Duo for Mackie and co-star Sebastian Stan. Not a bad showing for a studio that hasn't had a movie in theaters in over a year.
Chadwick Boseman got one last win
The late Chadwick Boseman — whose unexpected death after a private bout with colon cancer shocked the world in 2020 — received one last award for his lead performance in Ma Rainey's Black Bottom after his posthumous Oscar upset. Black-ish star Yara Shahidi accepted the award on Bozeman's behalf to a standing ovation in an atypically subdued moment of reverence in the normally audacious broadcast.
Madelyn Cline and Chase Stokes made out
As is MTV tradition, Best Kiss winners Madelyn Cline and Chase Stokes of Outer Banks (adults... just google it) reenacted their popcorn-winning kiss in the award's annual display of awkwardness. Was it as steamy as previous four-time winners Kristen Steward and Robert Pattinson or Will Ferrell and Sacha Baron Coen? No. But few things are.
Here's the full list of winners:
Best Show: WandaVision
Best Movie: To All the Boys: Always and Forever
Best Performance in a Movie: Chadwick Boseman, Ma Rainey's Black Bottom

Best Musical Moment: Edge of Great" from "Julie and the Phantoms
Most Frightened Performance: Victoria Pedretti, The Haunting of Bly Manor
Best Villain: Kathryn Hahn, WandaVision
Best Duo: Anthony Mackie and Sebastian Stan, The Falcon and the Winter Soldier
Best Fight: Wandavision
Best Comedic Performance: Leslie Jones, Coming 2 America
Best Kiss: Chase Stokes & Madelyn Cline, "Outer Banks"
Breakthrough Performance: Regé-Jean Page, Bridgerton
Best Performance in a Show: Elizabeth Olsen, WandaVision
Best Hero: Anthony Mackie, The Falcon and the Winter Soldier
Comedic Genius Award: Sacha Baron Coen
MTV Generation Award: Scarlett Johansson
Here's how the awards compare to the Oscars