This weekend, the latest Pixar blockbuster will follow in the Oscar-winning shoes of Soul and release exclusively on streaming service Disney+, foregoing the $30 price tag and simultaneous theatrical of Raya and the Last Dragon and Cruella.
For fans of the animation house, Luca's debut is a gift — one that will whisk audiences off to the Italian Riviera alongside two sea monsters masquerading as young boys enjoying the summer of their lives. But it also bucks the Pixar tradition of pairing the film with a lovely short.
Released in 2011 alongside Scottish princess fable Brave, La Luna was directed by Enrico Casarosa, who makes his feature film debut with Luca.
The surreal and colorful seven-minute marvel follows a young Italian boy who, accompanied by his father and grandfather, rows out to the sea outside Genoa and climbs a massive ladder to the moon. On the lunar surface, he is tasked with raking up tiny glowing fallen stars and breaking apart larger ones, all while navigating a cross-generational conflict about how to best do the job presumably in the family for generations.
It's short and sweet, and manages — with zero dialogue — to tell the viewer everything they need to know about the characters on screen and the task at hand. It also showcases a slightly different animation style from other Pixar offerings, one whose ethereal lighting, whimsy and exaggerated human features (those mustaches!) seem to figure into Luca as much as the roots in Italian heritage.
La Luna netted Casarosa an Oscar nomination for Best Animated Short. He lost, but the longtime storyboard artist's consolation prize was the chance to bring Luca to life.
Luckily, Disney+ has a whole back catalog of Pixar shorts available. And one of them makes for the perfect Luca double feature.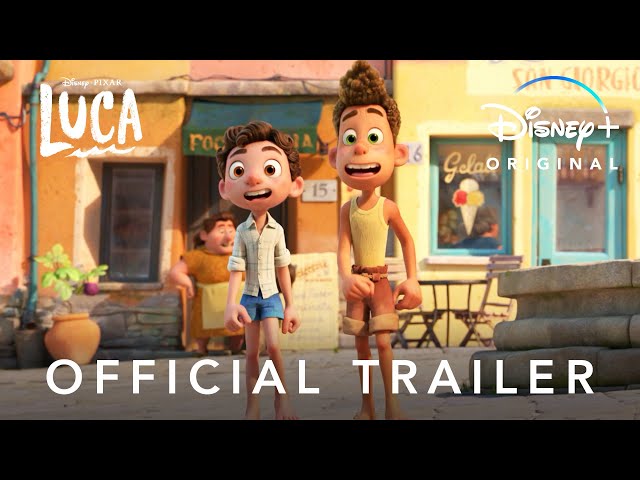 Far from the kid-centric Call Me By Your Name riff the internet seems to wish it was, Luca tells the tale of disguised sea creatures in the 1950s who take to land to enjoy food and adventure in a small Riviera town. In an interview with SlashFilm, Casarosa described the film as being heavily influenced by Italian folklore into the works of Studio Ghibli mastermind Hayao Miyazaki and Italian auteur Frederico Fellini… influences that seem apparent in La Luna as well.
Luca stars the voices of Jacob Tremblay, Jack Dylan Grazer, Maya Rudolph and Jim Gaffigan. It debuts exclusively on Disney+ Friday, June 18.
These are the 10 best Pixar films released before Luca
Follow your viewing with one of the 50 best family films of all time