There's a surreal quality to Iceland. The craggy lava fields that look more like the surface of the moon than Earth; the herds of shaggy-maned wild horses roaming freely across fields; the first green glimpses of those elusive Northern Lights flickering in the night sky; the elves which are said to have lived here long before humans arrived. It's that otherworldly quality that makes Iceland such a tourist magnet – and it's a feeling that only grows stronger the longer you stay at Hvammsvík Hot Springs, Iceland's newest natural geothermal spa.
Located 45 minutes from the capital of Reykjavik, this private 1,200-acre estate is perched right on the edge of the Hvalfjörður fjord. As our group approaches the entrance by the shore, that surreal feeling hits when I take in the colour palette: the jet black of the beach, the grey waters of the Atlantic ocean, the white caps of the mountains in the distance. Later, what'll be even more uncanny (in the best possible way) is the sensation of breathing in fresh, frosty air while sitting in 40-degree water.
Hvammsvík is old. Really old. The estate has been used for many things in history: first a Viking settlement, and nearly 900 years later, barracks for the allied forces in the Second World War. Its current owner, Skúli Mogensen, traced its history right back to its foundations in the twelfth century through the Icelandic records and sagas. Mogensen – ex-CEO and founder of now-defunct airline Wow Air – wanted to preserve as much of the site's raw beauty as possible when he made the decision during the pandemic to turn this site into a spa, restaurant and place to stay.
'You can't compete with nature,' he tells me as we wander its grounds. 'It's all about slowing down.' Everything about this place is made to complement the surroundings, not overpower them. Its buildings – from the restaurant and changing rooms to the bookable houses – are painted black to blend in. But inside, they pop with carefully chosen pieces by some big-name Icelandic artists like Olafur Eliasson and Shoplifter. The menu at the bistro and bar, called Stormur, is deceptively simple too, with chef Hinrik Carl Ellertsson (ex-Michelin restaurant Dill) prioritising local ingredients for his small selection of soups, open sandwiches and cakes. There's something incredibly comforting about sipping nourishing seafood soup indoors while watching steam rise from the baths just a few feet away outside.
You'll want to have eaten before you step foot into the hot springs themselves, because once you're in, it's incredibly hard to leave. For the price of admission (a reasonable ISK 6,900 or approx £40/€45 on weekdays, or ISK 7,900 on weekends, or approx £46/€52), guests can stay for as long as they want, and take full advantage of the facilities, steam bath, eight natural hot springs, grounds – and even the ocean, if they dare brave its icy temperature.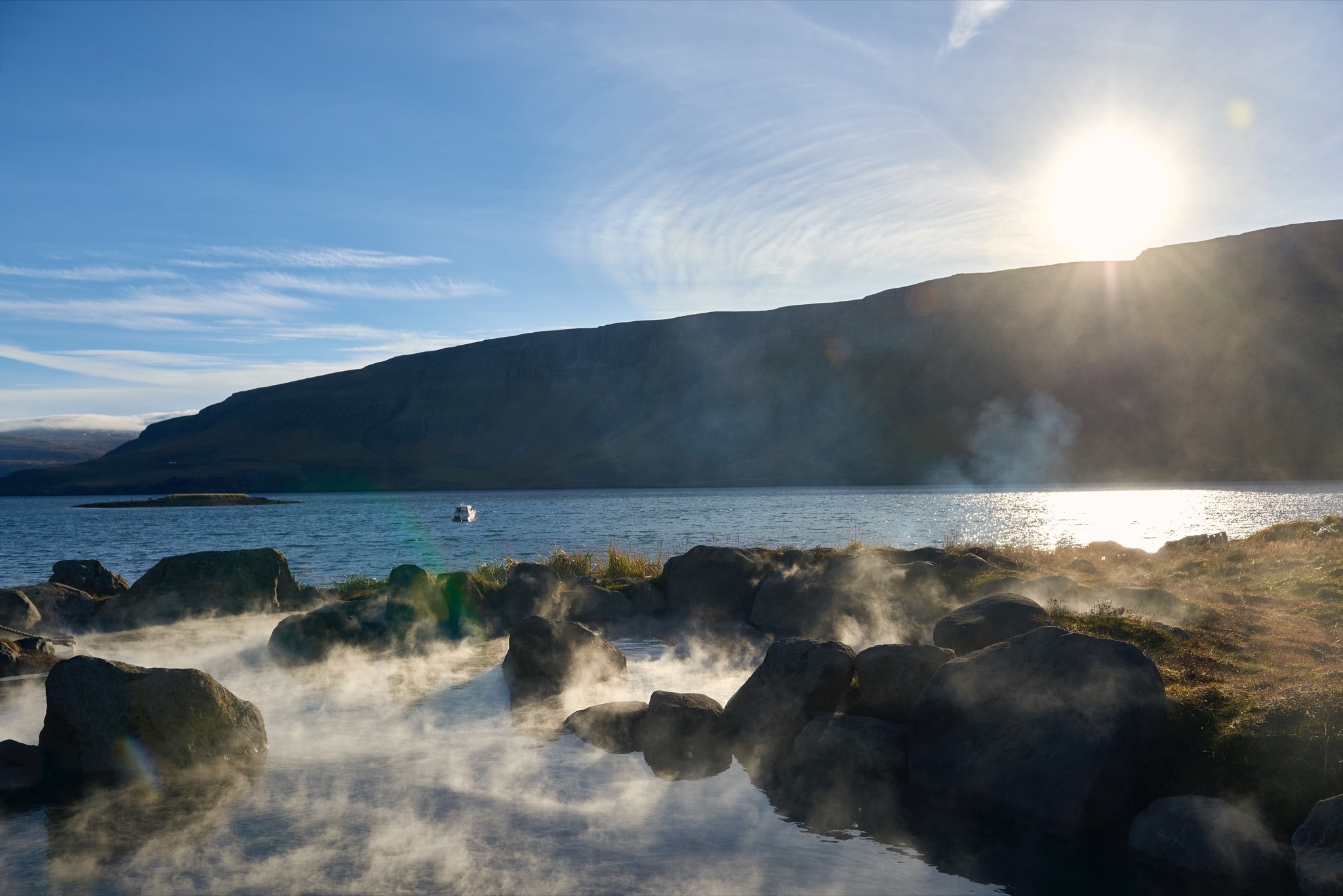 My tip? Start with a cooler pool and work your way up to the hottest temperatures. Ranging from about 37-42 degrees celsius, the springs' temperatures are a result of sulphuric 90-degree water pumped from a well and cooled naturally by the ocean. My second tip: order a drink from one of the pools through a window. Does life get any better than sipping prosecco while relaxing in a hot spring? The whole place is dangerously Instagrammable; I came perilously close to dropping my phone in the water several times.
I only visited Hvammsvík for the day, but I could have easily stayed for several. Mogenson plans to add 12 more houses to the estate; right now, visitors can book one of four houses that cater to groups from four to nine people – but it will be interesting to see whether he allows for solo travellers or couples on more modest budgets, too. Guests can go hiking, stand-up paddleboarding and add activities to their itineraries like silent retreats, ocean swim sessions and even Wim Hof Method training (ice bathing). Personally, I might stick to soaking, prosecco in hand.
Time Out was a guest at Hvammsvík Hot Springs and PLAY airline.
Stay in the loop: sign up to our free Time Out Travel newsletter for the latest travel news and the best stuff happening across the world.