So, it's an emotional goodbye to Sex Education. The fourth and final season is now on Netflix and those much-loved Moordale students – Otis, Eric, Maeve and co – are embarking on one nookie-laden final fling. This time, the gang are decamping to a new school – Moordale is kaput and everyone is moving to nearby Cavendish Sixth Form College – for more adventures before saying a final farewell. We're not crying, you're crying.
Once again, the Wye Valley on the English/Welsh border features strongly in the show (with some help from the locations team at Creative Wales). Sex Education's supervising location manager Deon Du Preez promising new spots to, well, spot. 'The areas where we film, mostly in Wales, offer so many locations,' says Du Preez. 'It's a goldmine of opportunity.' So while the show is over, the chances to follow in the characters' footsteps have just got even wider. Here's where to go and what to do when you get there.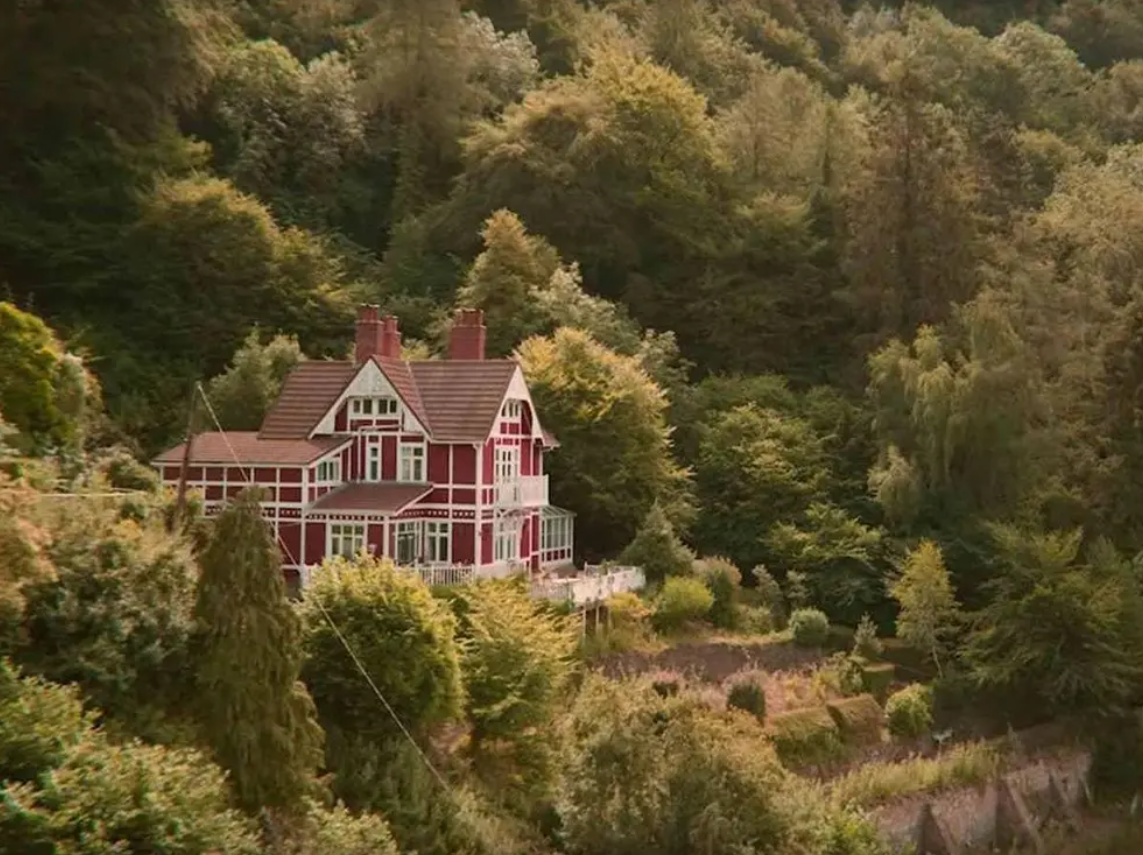 Where is Otis and Jean's house in Sex Education?
A hundred-year-old Norwegian-style chalet with ridiculous views, Otis's family home has become a breakout star of Sex Education since the show launched back in 2019. He and his mum, sex therapist Jean (Gillian Anderson), are suffering a tumultuous time in the new season, with Jean dealing with a break-up, so expect it to host plenty of deep and meaningfuls between mum and son. The house itself is situated at Symonds Yat, Herefordshire, a hamlet that looks out across the scenic Wye Valley, and it's been available for up to ten guests to hire on Airbnb since 2021. Head to the official site to check availability.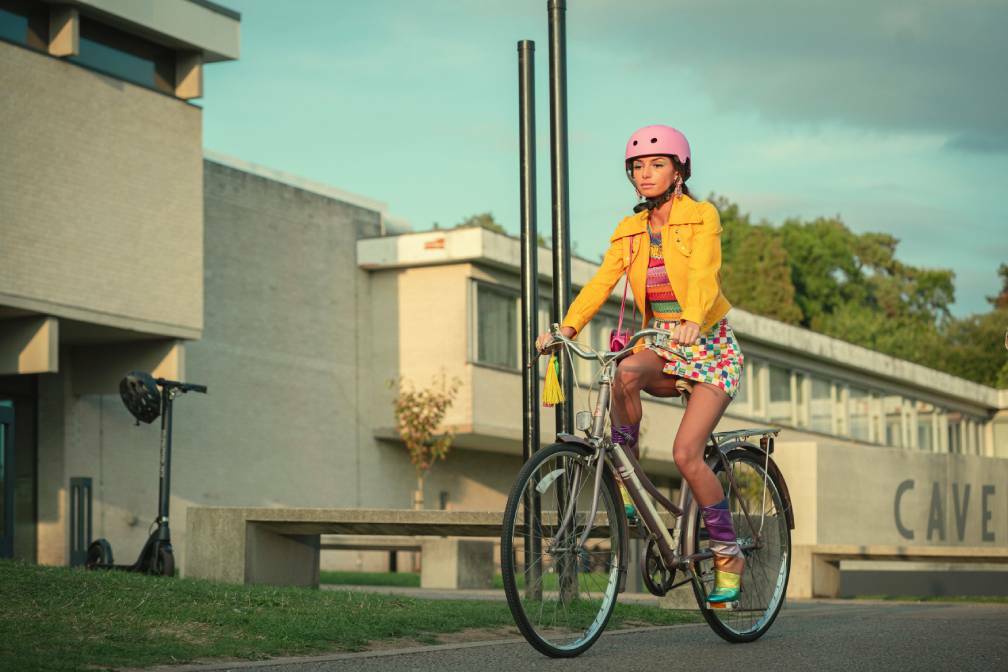 Where is Moordale High?
Moordale High – originally filmed at the old University of South Wales's Caerleon campus – is no more. Instead, the students are packing up their books, crushes and growing pains and carrying them over to a new seat of learning: Cavendish Sixth Form College. The exterior of the school was filmed at St Fagans National Museum of History in Cardiff. You can normally find an array of historical buildings tracing Wales's social history there, and it's very visitable – so much so, it wasn't even closed during filming. 'Literally ten to 20 metres to the right of the shot,' says Du Preez, 'there were members of the public queuing up to go into the museum!'
Initially, recalls the location manager, Cavendish was going to look radically different from the ultra-modernist building you'll see in season 4. 'We had an idea that we wanted a brutalist building so we started putting ideas together based on that, and ended up thinking that in an ideal world, something similar to the Natural Museum of History (St Fagans) would be amazing.'
What are the new locations in Sex Education Season 4?
Season 4 sees Maeve (Emma Mackey) decamping to the US to study at Wallace University, opening up her nascent 'thing' with Otis to all sorts of awkward, sext-based mishaps. Wallace is a fictional place IRL, so no use applying, although you can apply to Bristol University, whose gothic Wills Memorial Building is used for the Ivy League college's library in the show. 'It's a big contrast to Moordale and that was the whole purpose, because Maeve is going in a completely different direction,' explains Du Preez of the choice of location. 'She's taking a new path and she's a little out of her depth so they had to look like two very opposing worlds.'
Wallace's exteriors, meanwhile, were filmed at the stunning 19th century surrounds of Westonbirt School in Gloucestershire. 'We needed a building that has the feel of an Ivy League College,' says Du Preez. 'It had to be grandiose, and Westonbirt is definitely that.'
While his ex, Eric (Ncuti Gatwa), is at Cavendish, semi-reformed bad boy Adam (Barbie's Connor Swindells) is heading for the Welsh boondocks in the new season to lick his wounds after being cheated on. Those scenes were filmed at Werngochlyn Farm just outside Abergavenny, a working farm that's open to holidaymakers. 'To see the farm and the house and the stables and the country landscape unfolding behind, that tells the whole story in one shot,' explains supervising location manager Deon Du Preez of the location.
If, like Adam, you want to roll your sleeves up and reconnect with nature in a bucolic location, there are four self-catering cottages to rent. Please do ask before shearing anything.
Another new location may be harder to clock. The bridge – once host to this moment between Otis and Maeve – has shifted from Tintern's Wireworks Bridge to the Duke of Beaufort Iron Bridge in Monmouth. 'The original bridge was being renovated so we had to find a replacement,' says Du Preez. '[The new bridge] turned out to be quite an epic location. You can see for miles and you've got a river running on both sides of it.'
Where is Sex Education actually supposed to be set?
Sex Ed is a show with no fixed abode, being set in the fictional town of Moordale and being flavoured with a distinct US-high-school twist. Du Preez defines its aesthetic as 'American '60s, '70s and '80s style, but with a modern twist'.
How many episodes are there in season 4?
It's the standard eight episodes.
What are the reviews saying?
The early verdicts are mostly positive, with a few reservations and a sense that season 4 tries to pack in a little too much into its eight episodes. Mashable praises it as 'the series' most powerful lesson yet.' While NME rues: 'It's a shame to say goodbye while Sex Education still feels vital,'

More circumspect is The Guardian, which notes that 'the overstuffed cast means that everyone and everything is underdeveloped'. 'A series that once eschewed soppiness and easy resolutions ends up encrusted in schmaltz,' concurs The Telegraph. The Atlantic is more mixed, agreeing that Sex Education's finale is overstuffed, but praising the season for feeling 'at once like a much-needed reboot of the series while necessarily serving as a table-setting ending for it'.
Sex Education season 4 is streaming on Netflix now.
Here's how to rent Otis and Jean's house from Sex Education.

Finished Sex Ed? Here are 40 more great Netflix shows to stream.