There's a new Time Lord in the house. While you've probably heard that the scarf is changing hands, how much do you really know about Ncuti Gatwa, the 29-year-old actor who has just been handed the keys to the Tardis? Of course – and with huge significance – he's the first Black Doctor in the show's 59 year history. But there may also be a Sex Education fan on hand to point out that he's a perfect combination of charisma, bubbly off-beat charm and smarts to encapsulate this iconic, BBC-appointed position of cultural power. And if there's a Scotsperson in the area, the chances are they've pointed out that he's very much not the first Doctor to hail from north of the border. Here are a few of other need-to-know facts about the fourteenth Doctor.
He's a serious Whovian
'This role and show means so much to so many around the world, including myself,' Gatwa said at yesterday's unveiling, 'and each one of my incredibly talented predecessors has handled that unique responsibility and privilege with the utmost care. I will endeavour my utmost to do the same. Unlike the Doctor, I may only have one heart but I am giving it all to this show.'
It's pronounced 'Shooty'
Ncuti Gatwa's heritage is African: he was born in Kigali, Rwanda, and left as a two-year-old when his parents moved to the UK to escape the genocide that was breaking out in the country. His dad studied at Edinburgh University and he lived in the uni's halls of residence in his early years, but he grew up mainly in Oxgangs and Fife. 'I definitely now view myself as a Rwandan Scotsman,' he says.
He's already faced down racist abuse

Reactionary voices in the media are already calling out his Dr Who casting as 'wokeism' and racist trolls on social media will no doubt pile in too, but Gatwa has long experience of dealing with abuse. In 2019, he appeared on BBC doc Black and Scottish to talk about his experiences of growing up in Scotland, recalling how fellow students at his Fife school had set up a Facebook page to racially abuse him. 'It wasn't pleasant,' he tells The Guardian, 'but it wasn't actually horrendous. I was like, you can't know me and not like me. I was actually quite confused! So I was like, okay, fine. I'm just going to carry on being myself and they're going to fall in love with me sooner or later. And they did.' He even ended up becoming friends with the boys who'd come up with the page. 'It was really a good lesson to me about the difference between hate and ignorance.'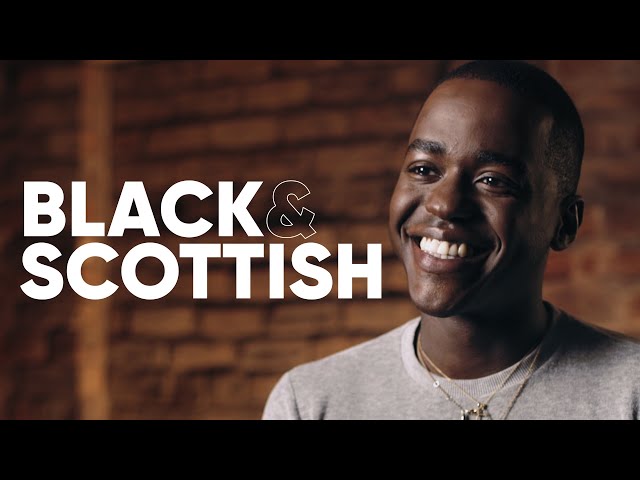 He's the fourth Scottish Doctor
Following in the ghillie brogue steps of Sylvester McCoy (Dunoon), Peter Capaldi (Glasgow) and David Tennant (Bathgate), Ncuti grew up in Scotland. He was raised by his Rwanda parents in Fife and Edinburgh and studied at Glasgow's Royal Conservatoire of Scotland (fellow alumnus: David Tennant).
He's the standout on Sex Education
As Moordale High's Eric Effiong – a gay student from a religious family who is best pals with Otis Milburn (Asa Butterfield) and dishes out expert sex advice to his peers – he's arguably become the Netflix show's MVP over three seasons. He's racked up three BAFTA TV award nominations and a small army of fans along the way. As someone joked on Twitter, this raunchy entry on his back catalogue may be about to introduce a similar number of Dr Who fans to sex for the first time.
There have been other on-screen roles since his blink-and-you'll-miss-it 2014 turn in Scottish sitcom Bob Servant (his first scene was opposite Brian Cox). You can spot him in small parts as Roman legionary Timidius in Horrible Histories: The Movie and alongside Shailene Woodley and Callum Turner in 2021 weepie The Last Letter from Your Lover.
The Netflix show saved him from homelessness
Before he scored a part on Sex Ed at 26, he was on the verge of jacking in acting altogether – reduced to sofa surfing in London and, for a time, left homeless by the cost of living in the city. 'I was working constantly in the theatre and somehow still just couldn't afford to live in London,' he tells Teen Vogue. 'Just before I got Sex Ed, I was going to give up acting. Six years in and I'm already thinking: Flipping hell, I can't do this. Then Sex Ed [happened] – and those auditions started coming through.'
He still uses the Tube
Now an adopted Londoner, Gatwa says Sex Ed has brought obvious changes to his levels of fame without overbalancing his life entirely. 'You get on the Tube and you notice everyone's looking at you, and you're like, "What's on my face?",' he tells The Independent. Dr Who will bring very much more of the same.
Food is the way to his heart
Fellow Dr Who cast and crew members can expect to find Gatwa in or around craft services at strategic moments on set – at least, judging by according to his 2020 cover interview with Teen Vogue. 'Food genuinely brings me so much joy,' he says. 'I get so happy when I have a nice meal that I'm about to tuck into. Like a nice Vietnamese or Ghanaian meal. Or if I'm going home, my mom's made [plantain dish] igitoki, which is a very traditional Rwandan meal. Food brings so much joy, and what I do – acting – brings me a lot of joy.'

Love Sex Education? Here are 37 other great Netflix originals to binge.