All over Japan's four major islands, black-and-white shiro stand sentinel at strategic roads, hilltops and river crossings. These traditional wooden fortresses were once home to feudal lords, keen to intimidate rivals with lavish homes that doubled up as state-of-the-art defences.
In the seventeenth century, it was estimated there were some 5,000 across the country. But through sieges, fires and the caprices of architectural fashion, most have been demolished. Today there are only around 100 left.
Increasingly, however, many of the most prominent are being turned into national heritage sites and museums, and in some cases, castles which were destroyed decades or even centuries ago are being rebuilt according to their original designs.
One such example is Ozu Castle, in a former industrial town of the same name on the southern Japanese island of Shikoku, which was torn down in the late-nineteenth century. Following a campaign to revive Ozu's historic centre in the late '90s, the four-storey structure was fully reconstructed as per its original seventeenth-century layout, and finally welcomed the public again as a visitor attraction in 2004.
And now, as Japan eases lockdown and aims to reboot its domestic tourism industry, the castle has reopened as deluxe private accommodation – the country's first timber castle keep to allow travellers to actually stay overnight.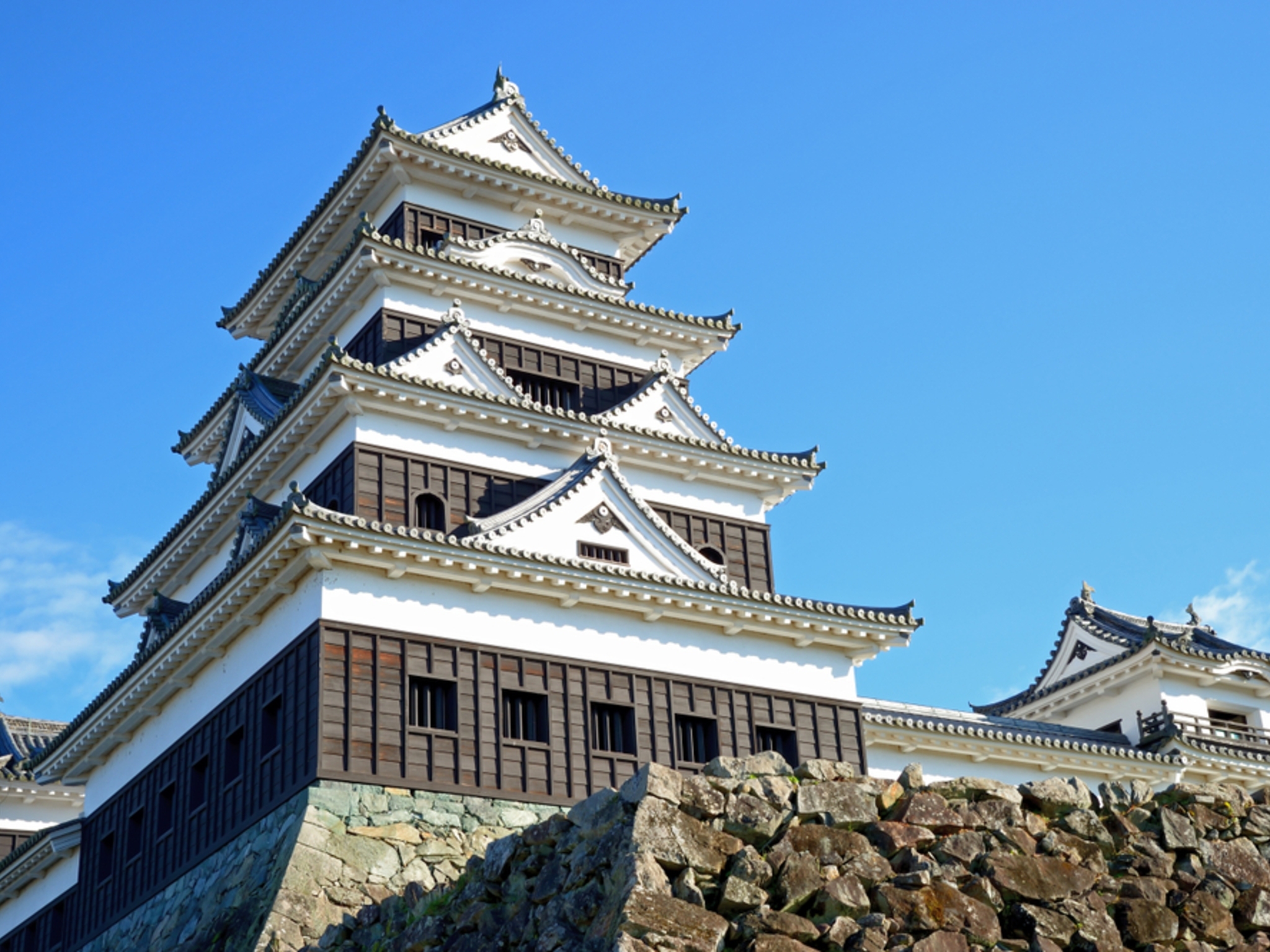 Photograph: Shutterstock
Six guests are allowed at any one time, and for the rest of 2020, only 30 stays of one night each will be permitted. The rate is ¥1 million (£7,100, $9,400 or A$13,000) per night for two guests, and ¥100,000 (£710, $940 or A$1,300) for every extra guest. That means that if you stayed with five friends, it'd cost you ¥233,333 apiece (£1,670, $2,187 or A$3,061) for the one-night stay.
Alright, that's pretty steep – but it does include a traditional welcome ceremony including the sound of shell trumpets, waving flags and a kagura (a dance that's listed as an 'intangible cultural property' in Japan).
Dinner is served in one of the compound's four original turrets, and is followed by a moon-viewing session with sake and live poetry. Though there's no toilet or air conditioning in the main building, an attached lounge and luxury bathing area have been built elsewhere in the compound.
The next morning, you'll be able to tuck into breakfast at nearby teahouse Garyu Sanso, which overlooks the magnificent Hiji River.
And throughout all of this, you'll be encouraged to wear either traditional kimonos or – oh yes – some rather fetching warrior outfits. It sounds like a must for the intrepid (and loaded) traveller whenever Japan reopens its borders.
More cool places to stay:
These teardrop-shaped tents will let you holiday in the trees
You can rent Villanelle's beaut Barcelona flat from season three of 'Killing Eve' on Airbnb
An incredible-looking train hotel is opening in South Africa