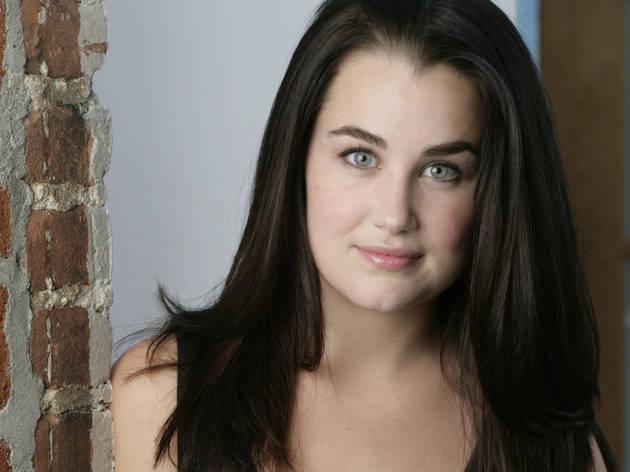 Lauren Worsham turns the screws for City Opera
The dynamic soprano talks about her wayward path to opera and her theatrical rock band Sky-Pony
As we mulled our Best (and Worst) picks for 2012, one name popped out of the mix: Lauren Worsham, the Yale University–trained soprano and dynamic singing actor who starred in David T. Little's opera Dog Days in Montclair, New Jersey, and sang in the Brooklyn Philharmonic's multimedia show, Brooklyn Village. As she comes to BAM this week to star in New York City Opera's production of Britten's The Turn of the Screw, we chatted her up about her wayward path to opera and Sky-Pony, the splashy rock band she leads with her husband, theater composer Kyle Jarrow.
Where did your musical path start?
I was one of those kids who liked a lot of attention. I was always the kid in class who'd be telling jokes and getting in trouble. Theater was a natural way for me to channel that and also become a productive member of society.
Where did you grow up?
Texas…Austin. Great town. I have a tattoo of the state, actually, on my person, which we had to cover up for Dog Days with a big Band-Aid.
How did you go from singing in high school to performing opera?
Really, the impetus driving me is I've always sung, but I like to act, I like drama, I like text, which is why opera is something I've come late to, I'd say. The opera world these days is shifting into more of a focus on acting, whereas before it wasn't as important. And I think that's why I'm getting more work now in the opera world.
Did you start to come into contact with composers and work with them while you were at Yale?
Yeah. After I graduated college, I did the whole "reach out to everybody you know who might be able to help me" thing. I had a friend who was at the Tisch Graduate Musical Theatre Writing program, so I started singing for them. I met [Dog Days librettist] Royce [Vavrek] and several composers through that. I auditioned for Bill Finn through that and got [The 25th Annual Putnam County] Spelling Bee, and that's how I got my first big gig.
What kind of work did you find initially?
I only worked theater jobs, but they were all really silly when I first graduated. I was a line monitor at Spamalot, which means I got there at 8am and told people how much the tickets were for standing room. I was an NYU Medical School fake patient, to teach doctors how to talk to patients. After Spelling Bee, I started landing more jobs.… I got Candide at New York City Opera. Do you know Lielle Berman? We did Cunegonde, alternating. That's where I started focusing on technique.… I didn't go to graduate school, so it's been kind of like bootstrapping for me.
How did you connect with your bandmate husband?
I met him at a party his former band was playing. You know how in this business, you do one thing and people pigeonhole you? "You're the girl who plays young people and sings soprano." He was hiring a girl for a reading he was doing. I was like, "I could totally do that," and he was like, "you don't sing rock music." We got into this big thing, and that's why we formed our band—to be like, hey, we can do rock music together. Which we do, and have a lot of fun—and my opera friends think it's crazy.
What's your take on your role in The Turn of the Screw, Flora?
[Director] Sam [Buntrock] is obsessed with horror movies, so there's a lot of horror-movie references in the staging: Poltergeist, The Shining, etc. In the era that it was originally set, girls didn't go to school, so it made sense that Flora was not in school. But since he's moved it to the '80s, he had to justify why I'm not in school. He imagined Flora as twentysomething and developmentally disabled, kind of borrowing from American Horror Story. It's hard, because in an opera, everything is so tight; if something is not as originally intended, you have to figure out how to bring that out without it being ridiculous. What we ultimately decided is she is more emotionally disturbed: She freaks out very easily, cries very easily—that sort of thing.
What is the Coterie, your joint project with Royce, out to achieve?
We want music theater to be exactly that: the musicality of classic musicals or opera, but also interesting stories—modern, grounded, bizarre story lines. Ultimately, we'd like to be a company with a cadre of composers and performers, in the old-school style of a repertory company, but with new work.
The Turn of the Screw opens at the BAM Howard Gilman Opera House Sun 24.
Follow Steve Smith on Twitter: @nightafternight