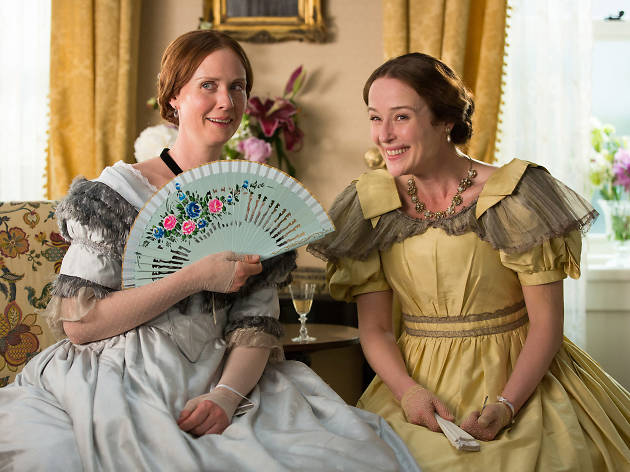 Britain's Terence Davies, a master of finesse, turns his attention to the poet Emily Dickinson—tartly brought to life by Cynthia Nixon—in this sensitive biopic.
This delicate and thoughtful film—small in scale but brimming with the quiet passion of the title—imagines the life of 19th-century poet Emily Dickinson, played with brittle, red-eyed intensity by Sex and the City's Cynthia Nixon. It takes some commitment to adjust to the dialogue and manners of the era, but once you do, you'll find this is a film with endless wit hidden under its bonnet. Like Dickinson herself, it finds humor in pompousness and subtly leads us—often through playing with light and time—to strongly feel how she ached with the joy and pain of her world.
Written and directed by British filmmaker Terence Davies (Distant Voices, Still Lives), A Quiet Passion is set almost entirely within the Massachusetts home where Dickinson, who grew increasingly unwell and solitary in adulthood, was raised and lived until her death in 1886. We hear Dickinson's poems, few of which were published in her lifetime, mostly in voiceover, while we witness the intensity of her relationship with her parents (Keith Carradine, Joanna Bacon) and siblings (Jennifer Ehle, Duncan Duff). The talk is pointed in a household that savors the power of words, but it's as much the imagery that makes the movie a treat. It's rare to see a drama that makes such subtle sense of an artist's life.
Release details
Rated:
PG-13
Release date:
Friday April 14 2017
Duration:
125 mins
Cast and crew
Director:
Terence Davies
Screenwriter:
Terence Davies
Cast:
Cynthia Nixon
Jennifer Ehle
Keith Carradine