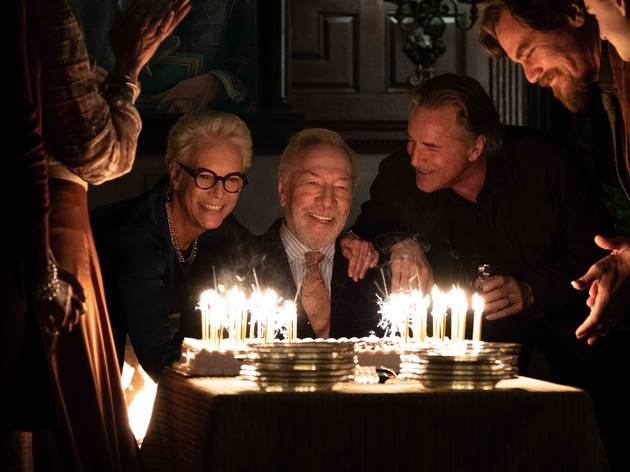 Time Out says
Murder, skulduggery and an avalanche of plotting makes Rian Johnson's latest a retro pleasure for those who enjoy being dizzied.
Director Rian Johnson has an oxygen problem. He sometimes leaves too little air in his dialogue-heavy film contraptions for his characters to breathe. (This puts him in excellent company with the Coen brothers and Quentin Tarantino, all of whom have a problem getting out of the way of their own writing.) Knives Out, Johnson's painfully clever Agatha Christie–inspired whodunit, is never less than a good time. Often it's a deliriously fun one. But after making the majestic The Last Jedi (a quiet piece of subversion), Johnson seems to have retreated into the quirk overload of The Brothers Bloom. He didn't need to reclaim this territory.
Then again, he can now attract a mind-blowing cast of deep-dish crazy, which is appealing in itself. You won't find it hard to accept that catty Toni Collette, louche Chris Evans, explosive Jamie Lee Curtis, bug-eyed Michael Shannon and bumbling Don Johnson are all part of the same clan, the moneyed descendants of best-selling mystery author Harlan Thrombey (Christopher Plummer). That last one is no more, murdered after midnight (but wildly alive in multiple nested flashbacks). The family now squirms under police questioning in a chockablock Gothic mansion straight out of the board game Clue. Don't expect subtlety; it's the kind of movie that tells you "the game's afoot" twice.
Amid all the creeping around in creaky hallways, two elements come to prominence, and charmingly so. The first is Bond-on-holiday Daniel Craig, who, unlike the grounding presence of Bruce Willis in Johnson's Looper, seems to have been unleashed by his director's nutty spirit. Craig plays Knives Out's celebrity detective Benoit Blanc, a Southern-fried slice of ham. (In his own words, Blanc is a "respectful, quiet, passive observer… of the truth!") And second is an unexpected strain of Trumpian comeuppance, as Marta (Blade Runner 2049's Ana de Armas), Harlan's caregiver, goes from enduring the family's casually lobbed racial slurs to possibly having the upper hand. For a movie this crammed with chat, it's the sight of Marta on a balcony high above the others that will leave your audience cheering the loudest—sometimes, words aren't necessary. On the evidence of Knives Out, Johnson only half-believes this.
Follow Joshua Rothkopf on Twitter: @joshrothkopf
Details
Release details
Rated:
PG-13
Release date:
Wednesday November 27 2019
Duration:
130 mins
Cast and crew
Director:
Rian Johnson
Screenwriter:
Rian Johnson
Cast:
Toni Collette
Daniel Craig
Michael Shannon
Jamie Lee Curtis
Ana de Armas
Don Johnson

Users say