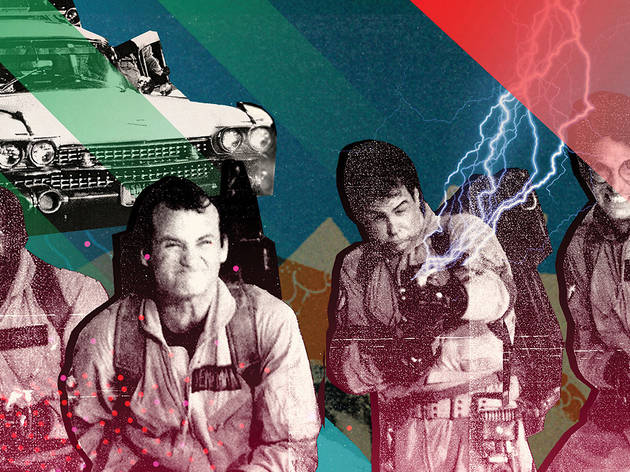 Ivan Reitman interview: 'I don't think anyone was even thinking about Ghostbusters as a blockbuster'
As the comedy classic turns 30 and returns to theaters, we catch up with director Ivan Reitman about his film that could only take place in New York
In 1981, no one knew funny like Ivan Reitman. The 35-year-old wunderkind had already produced the colossal hit National Lampoon's Animal House (1978) and directed Bill Murray in Meatballs (1979) and Stripes (1981). If you were a teenage boy at the time, you owed this man a life debt, maybe without even knowing his name. Given carte blanche by Hollywood and collaborating with the fastest minds ever produced by sketch TV, Reitman set out to craft the biggest movie of his career, from a supernatural idea supplied by Dan Aykroyd. But first he'd have to wrestle the concept to the pavement. In exuberant spirits, Reitman, 67, tells us how it went down.

It's amazing how New York Ghostbusters feels, right down to Ernie Hudson's exuberant last line, "I love this town!"
Yes, right from the beginning, I saw it as a distinctly New York film. Woody Allen was making his movies here, sure. But back in 1983, there weren't many others, because it was much more expensive to shoot in New York than other parts of the country. This was long before state-tax incentives.


Was the idea itself originally set in Manhattan?
It was set in the future! There were multiple groups of ghostbusting teams. It was really a bigger science-fiction concept. Essentially, Dan Aykroyd came up with a brilliant idea, which was:
Ghosts exist, and you have these guys who act like fireman, who have the equipment to actually catch them and perform this relatively blue-collar job.

They're not fancy priests like in The Exorcist. These are Johnny Lunchpails.
Exactly. And my sense was that it really should be about the formation of this group in New York. So I pushed Danny toward that story, and he loved it. And I suggested we get Harold [Ramis] to help write it, and the three of us went off to Martha's Vineyard and knocked it out in a couple of weeks as an initial draft. Then we worked on it all summer and into the fall, before we started shooting.

I love the gruff everydayness of these characters.
Right. I thought, frankly, the more mundane we could make it, the better it would work. A terror dog in somebody's spare bedroom is much more interesting than a terror dog in outer space. I re-created it as an entrepreneurial story, with real guys who worked in a place like a university getting kicked out and going into business just at a moment in New York's history when that business had a reason for success. That's why there's a lot in there about finding an office, getting a vehicle, securing a loan. I was in my early 30s; these were the things I had experience with.


You don't see a lot of blockbusters these days with slobby heroes who smoke and flirt. Did you encounter any pressure to tone that down?
[Laughs] I don't think anyone was even thinking about Ghostbusters as a blockbuster. It just seemed like a funny movie. People were sort of letting me do what I wanted, and nobody was thinking of this as a big family franchise that was going to be the most successful comedy of all time. So I was pretty well left alone. We only wanted to present what was then a young, contemporary attitude.

The everyday people of New York—rabbis, hotdog vendors, commuters— are prominent costars.
I always felt that the citizens of New York and the historical character of the city itself was going to be a very important aspect of the movie. As I was working on the script with Harold and Dan, we knew that the people we encountered on the street were going to be very visible in the film and an important leitmotif.

Like a Greek chorus.
That's what I mean. Long before there were so many existential threats to Manhattan by various comic-book characters, I thought it was important to hear regular citizens talk, and I love the quality of extras that we got. People started showing up on the set, well beyond the hundreds of extras that we hired. We would have days where there were a thousand people, and they weren't screwing around either—they did what I asked them to do!


The brass at Rockefeller Center were not as understanding, we hear.
We got permission to do a lot of amazing things, including basically shut down Columbus Circle and Central Park West for quite a period. But we could never get Rockefeller Center. Rockefeller Center technically owns the street, the block that's right in front. We couldn't even shoot on the sidewalk! So we just pulled up in two vans, and I said to the guys, "Run all the way down there, and when you get to the end, just start running back." We got one take; guards started chasing after them on the second take. I don't think it was usable. And I said, "Oh, we're sorry, we thought this was public land." We just got back in the vans and left.

You have a legendary scene at the old Tavern on the Green that could be called social satire.
That was a terrific moment. Tavern was a great tourist restaurant of its time. We basically constructed that scene after the writing of the film, based on the location of [Sigourney Weaver's] apartment. I just love when Rick Moranis is banging on the window, calling for help. Everybody looks at him, and then they turn away. It was part of what I thought of as the Manhattan attitude. I came to New York in the mid-'70s, when I did both The Magic Show on Broadway and the National Lampoon Show Off Broadway, so I got a real feel for living in that city as a young guy just starting out. I wanted to capture that.

The restored and remastered Ghostbusters hits theaters Fri Aug 29. An anniversary Blu-ray edition will be released Sept 16.
Ghost tour: Follow Venkman & Co.'s footsteps, from Morningside Heights to Tribeca
Hit the outside of Columbia's Low Memorial Library (enter at 116th St and Broadway), and sneak a sip of whiskey like Murray and Aykroyd do after being laid off.
Head down to Spook Central, a.k.a. 55 Central Park West
(between 65th and 66th Sts),
the Art Deco digs where Dana Barrett (Sigourney Weaver) lived. The exterior of the building was altered for the movie (it's not, like, 100 stories tall), but most of its distinguishing features are still recognizable, even without a coating of steaming marshmallow.
Afterward, class it up by pounding on the windows à la Rick Moranis at the newly reopened Tavern on the Green (enter at Central Park West and 67th St). Milk-Bones recommended.
Then take a quick sprint through Rockefeller Center (45 Rockefeller Plaza between 49th and 50th Sts). The tourists—and cops—will love you.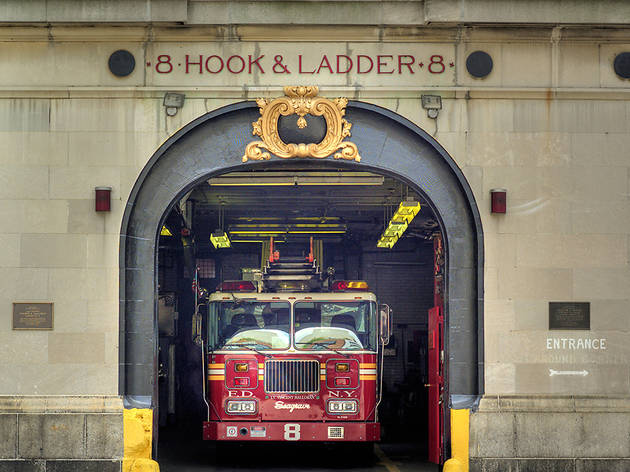 Photograph: Joi Ito/WikiCommons
End your journey with a visit to Hook & Ladder 8, the firehouse that served as the Ghostbusters' dilapidated HQ (14 North Moore St between Broadway and Hudson St). Don't ask New York's Bravest if their pole still works. Trust us.—Peter Kirby