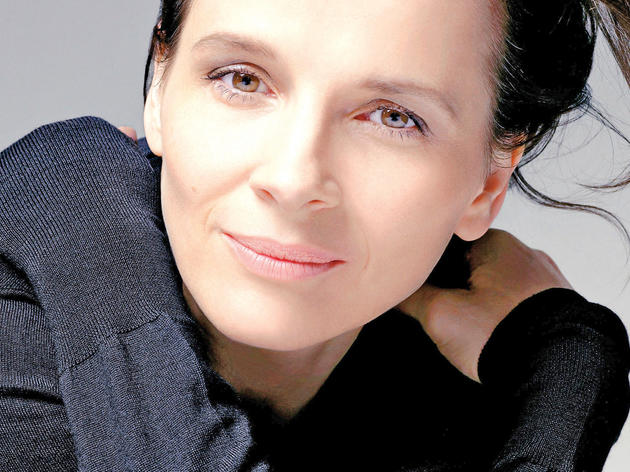 Juliette Binoche on the 'seduction' of acting, aging gracefully and the appeal of Kristen Stewart
The Oscar-winning star of Clouds of Sils Maria takes the long view on a beautiful career
The English Patient may have brought Juliette Binoche her greatest acclaim (she's part of an elite group of foreign-born actors who have an Oscar on the shelf), but she's enjoyed a run of excellence both before and since, encompassing such modern-day classics as Three Colors: Blue (1993), Chocolat (2000) and Certified Copy (2010). Binoche's latest, Clouds of Sils Maria, gives her the kind of role that only someone of her stature could pull off: It's about a former ingenue who's beginning to feel the stress of competing with the younger women around her, including her personal assistant (played by a never-better Kristen Stewart). We asked Binoche, 51, to reflect on the road so far.

You made a number of second films with certain special directors. What's that like?
I love it. I've done quite a lot of them, with Anthony Minghella, Michael Haneke. The second film is another relationship, because you change and you grow depending on what's going on in your private life. You never find the same person. I always dreamt that I was going to work with the same director for ages, doing 10 films.

How did it go with Olivier Assayas, with whom you first worked on 2008's Summer Hours?
You feel comfortable because there's a trust—but it doesn't mean that it's easier. On Summer Hours, Olivier was a little shy with me. I didn't know him. And I was frustrated. So this time, I wanted to push his ability to go to the feminine side. He loves Ingmar Bergman, I love Bergman. So I'd say, 'What about Bergman?!?' Bergman wrote about women his whole life. You've got to go to the unknown.

How did he respond to that? It sounds a little like flirtation.
There's something, an attraction, that is happening, especially with a camera in between you and a story to tell. One of you is seeing, and the other one is giving. There's definitely a seduction when you're shooting. It doesn't need to end up in bed. When it works, it's fulfilling, and you want to do it again. It's so alive, because you're creating life. You forget yourself.

Clouds of Sils Maria will be shock to people who only know Kristen Stewart from the Twilight movies—she's complex and mysterious here. What was your impression of her, before the shoot?
I saw On the Road when it came out in France. And I could see her potential, her beauty, her presence. But I wanted to watch a few interviews of her, because it almost wasn't enough. And the way she was listening and answering, I found it very witty and truthful. Uncompromised. There was something about her. I liked the "wild." So when I heard she was interested in playing Valentine, I got very excited. Olivier was hesitant—he wanted her to play the other part [a shallow Hollywood superstar], which would have been too obvious for her.

Your new movie is explicitly about the anxieties of aging. Is that a subject that's on your mind these days?
My way of dealing with it it is to choose things I'm passionate about. It's what I've always done. But the way that we perceive age is so negative, and it's amplified through the media. When you're asked to do a cover and you're past 40 years old, it's very depressing, because you're suddenly: Oh, I'm just a tool, an object. That is sad, because it's what you're learning through life—the freedom you're getting as you're going—that's amazing. Don't you hear people saying, "I'm 40 years old, but I'm much happier than I was at 20"? I feel the same way.

Through your performances, I feel like I've known you since your twenties, too. Do you ever cast back on a role like Tereza in The Unbearable Lightness of Being (1988) and think about how you've changed? Or are your memories not about the movies?
I remember my babies when they were very, very tiny. At first, you have this huge feeling. It's in you. The reality of that moment is in you. The memory allows us to be there whenever we want. So I don't feel nostalgic because I have the capacity of reliving it whenever I want. My "computer" is always on. As an actor, that's part of the matter of your creation.

Does that apply to Godzilla too?
If I read a script and I see a possible transformation, I'm there! But not with Godzilla. [Laughs] I was very touched by [director] Gareth Edwards's note, asking me to be in the movie. I thought it would be fun: a made-up Hollywood fairy tale. There are real aficionados of Godzilla out there—my son is one of them. He's not that interested in the films I usually make, so at least I made one he might see! [Laughs]"

You've always crossed disciplines at will: acting onscreen, onstage, dancing, modeling, painting. Do you have a hard time choosing?
For me, it's all the same. It's a movement, from a hidden place—an inner place—into the world. That's what I'm drawn to. It comes from a mysterious place, but I know I need to express it. It's a passion and there's no end to it. I need to share. It's not necessarily about being a pleaser, but being truthful. Otherwise, I'd just be a painter, in the studio by myself. I need a feeling of unity.

Clouds of Sils Maria opens Fri 10.
Read our review of Clouds of Sils Maria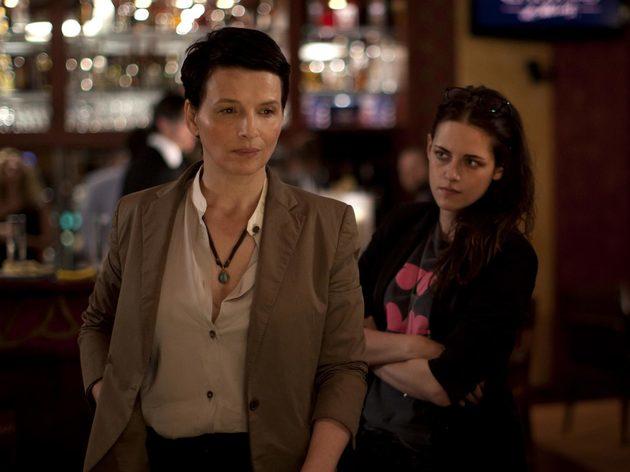 A heady psychosexual drama that's steeped in dense anxieties and rich European glamour (the film was partially funded by Chanel), Olivier Assayas's latest finds the French auteur at the very top of his game.
Watch the trailer for Clouds of Sils Maria