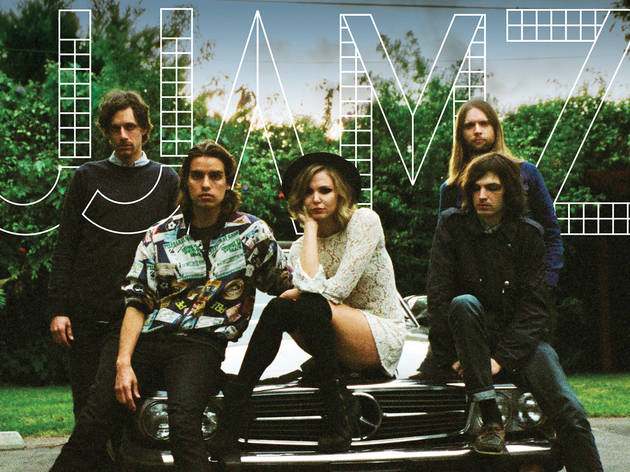 Album review: JJAMZ, Suicide Pact
An L.A. supergroup drops what might be the year's best indie-rock album.
"This isn't gonna last," Z Berg says in a bit of in- studio chatter captured at the beginning of "Square One," from the debut album by Los Angeles combo JJAMZ. It's anyone's guess what she's talking about, of course; the song, like most on Suicide Pact, appears to examine a romantic relationship, so perhaps Berg is pondering the rate of recidivism on L.A.'s singles scene.
But she might also be referring to JJAMZ itself, which unites Berg, formerly of the Like, with Maroon 5 guitarist James Valentine, Phantom Planet frontman Alex Greenwald, singer-songwriter Michael Runion and ex–Rilo Kiley drummer Jason Boesel. (Put those first names in the correct order and you get JJAMZ.) Everyone knows supergroups don't tend to linger—especially those featuring dudes whose main bands keep moving like Jagger up the Hot 100. Berg, then, is just beating us to the one-and-done punch, right?
Hopefully not: Far from a half-assed vanity project, Suicide Pact could end up the year's best indie-rock record, full of sticky tunes, chewy guitar textures and some excellently icy vocals by Berg, who never sounded this sexy-scary in the Like. "I don't stay mad for long, but my attacks are planned," she sings over a killer disco-rock groove in "Get What You Want." Consider yourself warned.—Mikael Wood
Suicide Pact is out digitally Tue 10, in stores July 17. JJAMZ plays Webster Hall Tue 10.