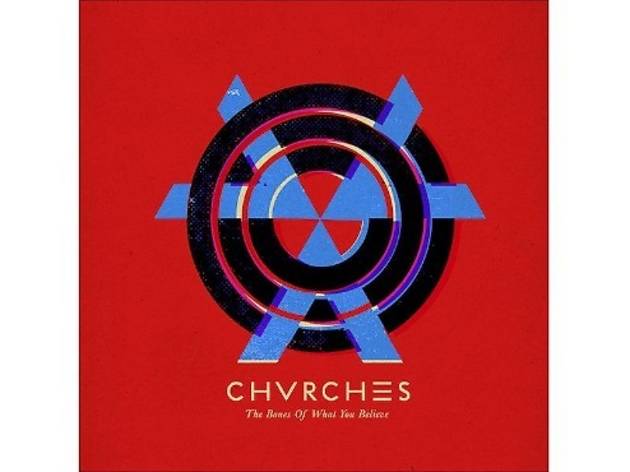 Chvrches 'The Bones of What You Believe' album review
A confident debut album of fresh, edgy, '80s-influenced synth-pop
The Bones of What You Believe
is the debut album by Chvrches, and for those who picked up early on this rather talented trio from Glasgow it must have seemed a long time coming—especially given the levels of hype that have surrounded the band. It has all the raw energy you would expect from a first outing, yet there is also a brash confidence which permeates every synth stab and cymbal crash. It is really quite something.
To say this album has an '80s feel would be like saying the Glastonbury Festival is quite well known: you can hear a semblance of Human League, an echo of Pet Shop Boys and even a smidgen of early Madonna all fizzing around in the circuitry. Washy chords and synth stabs galore help to keep the retro electro-pop vibe alive, to the point where early single "The Mother We Share" sounds like it's just flown in directly from 1985 to say "hi" before heading off again. But it's the mixing of these influences with more modern electronica which makes
The Bones…
stand out: they're coupled with the slow and deliberate tempos and spacey atmospheres of newer acts like the Knife or the xx.
Although "Under The Tide" pulls at the heartstrings, the award for best vocals on the album must go to "Recover"—lead singer Lauren Mayberry's heartfelt delivery makes her sound not unlike Robyn, the Scandinavian electro-pop songstress. Another highlight has to be the last track of the set, "You Caught The Light," a bittersweet fusion of melancholy and mild euphoria.
There's something bright and breezy about the album as a whole, too, as though the fresh air from the Highlands has seeped down into the city, through the synths and into the songs themselves. The poppiness of
The Bones…
will appeal to many, but Chvrches' more modern leanings keep them on the edgy side. Best of all, they sound like they have the potential to refine this sound and make it even greater. Expect to be hearing about Chvrches for some time to come—and believe the hype.
Download The Bones of What You Believe on iTunes

Download The Bones of What You Believe on Amazon
What are your thoughts? Let us know in the comments box below or tweet us at @TimeOutNYMusic.
Watch the video for "The Mother We Share"