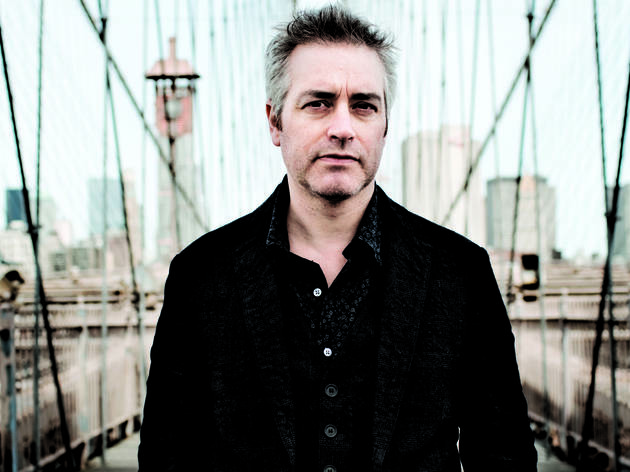 Interview: John Wesley Harding
The British song man and author tells us about his starry variety show.
Now in its third year, John Wesley Harding's Cabinet of Wonders is a particularly eclectic variety show ("America really has got talent!"). We called up the affable British musician and author to chat about the series, which this week features power-popsters Fountains of Wayne, novelists Joshua Ferris and Colum McCann, funnyman Eugene Mirman, revered songwriter Ron Sexsmith and an all-male choir called the Silver Ages. Phew!
How does the show work?
The idea is that writers want to be rock stars—they want to be in front of an audience, not just in bookstores and at libraries—and a lot of songwriters want to have their words listened to. And to me, the comedy, that's the X in the middle. On one side you've got the music, which can be loud, and on the other side you've got the readings, which people have to shut up for. But comedy's the bit where people get to go, "I'm listening to you, and then I'm making a lot of noise." So it all fits together beautifully.
Is there a theme?
The theme is, "What I Like." But there's no theme like "Christmas" or "Werewolf Movies" or anything.
Are the performers mainly your friends?
Yes. There's no way around that—nobody's really banging down my door, no agents and managers want 10 percent of not very much money. So what we're left with is people who really want to do it, who enjoy hanging out with me. [Laughs]
Have things ever gone badly wrong?
My guitar wasn't making any noise and the battery was crapping out, which would've been fine, had it not been for the fact that Craig Finn of the Hold Steady was playing it at the time in a solo performance. One memorable thing is that Edie Brickell did a show, and [her husband] Paul Simon musical-directed the house band for her portion of the sound check. And I could feel that the energy of my band was very different to how it generally was. [Laughs] To me, genre is dead and buried. What the world needs is a bit of variety. That's what I like. The only limitation to it is my address book. Maybe being on NPR will change that—I may be able to get David Bowie after all. You never know.
John Wesley Harding's Cabinet of Wonders is at City Winery Sun Dec 16