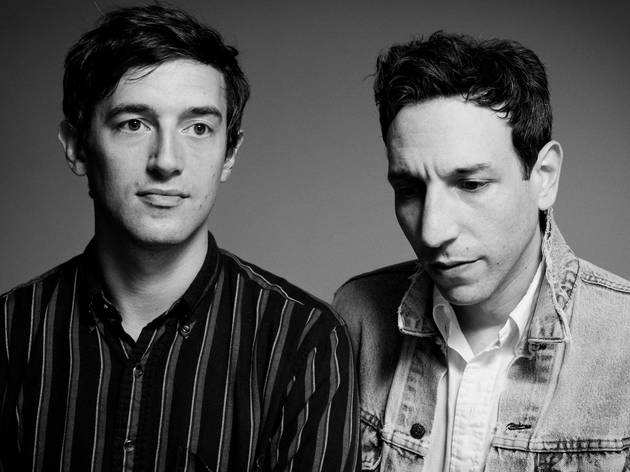 Interview: Tanlines
The buzzy Brooklyn electro-pop duo sets the record straight
At first listen, Mixed Emotions, the debut full-length from Tanlines, sounds like a straightforwardly good-time album: honest pop with swelling synths and giddy arrangements. But as you delve deeper, dark undercurrents emerge and wonderfully anthemic choruses begin to convey lostness and uncertainty. Over coffee with the band, that incongruity gains a face (or two): Jesse Cohen, the chattier of the duo and the voice behind its award-winning Twitter feed, exudes self-assurance and doles out one-liners. His reserved counterpart, Eric Emm, speaks less frequently and more carefully—a paradoxical contrast, since Emm is the lead singer and guitarist, while Cohen mans the drums, electronics and keyboards. Asked which members embody the album's dark and light aspects respectively, Cohen responds, "Who do you think?," before the two burst out laughing.
Obviously, we could have guessed. If the two musicians seem comfortable with that band dynamic, it's because they're no strangers to making music together, having released songs as Tanlines since 2008. During the first phase of their career, as they refer to it, they released tracks and remixes immediately online. "I really look at that period as our first album," says Cohen. "We approached [Mixed Emotions] in the way a lot of people approach their second album, starting from scratch and really thinking about what we wanted to do. We focused on writing songs."
The emphasis yielded an unabashedly catchy record that feels both upbeat and reflectively bittersweet. Further contradictions arise within the tracks, which meld places and eras in addition to moods. "One of the things that we do is combine a lot of things at once," explains Cohen. "That's the aesthetic. A song can sound like it's from two places at once; a song can be happy and sad at the same time."
That tension reflects the joys and adversities Emm and Cohen have experienced as New York artists. They began recording in a Greenpoint studio that also served as Cohen's home for a time, but were evicted midway through the project. While working temporarily in a rented space, Emm built a studio in his East Williamsburg home. "It was the hardest thing I've ever done in my life, and every day I would think to myself, Why am I doing this?" he says. "Now it's a great situation." That ambivalence is captured nowhere better than on "Real Life," in which he matter-of-factly sings, "For a minute I was lost / I looked away / I was looking for a home.… My destination was unknown," over shiny dance-floor grooves.
"So much of my energy and heart have gone into making this; I believe in it so much," says Emm. "That's the leap of faith of being an artist—you sacrifice stability," adds Cohen. "The story for us is not that we're writing songs about being sad that we lost our studio, but the whole existential anxiety about losing your home and wanting to figure out your place in the city and in life. It also coincided with us being thirtysomething- year-old guys who wanted to make something that had meaning."
Mixed Emotions also expresses the contradictory nature of the city itself, from subway lines that span the richest and poorest neighborhoods to 100-year-old buildings that house ever-changing businesses. "I think New Yorkers are naturally comfortable with occupying several spaces at once," says Cohen. "Those layers are a natural part of the fabric of life here, and that's definitely part of what we do."
Likewise, the Tanlines members embrace multiple identities: Brooklyn indie entertainers who make lighthearted synth-rock, and complex, introspective artists who disclose further depth with each album spin. Emm is apprehensive about being pigeonholed into the former category. "One of the things I'm disappointed about, which we tried to control, was to grow out of how people have always seen us: tropical party boys," he says. "That's not who we are." Cohen, always one to look on the bright side, interjects: "Don't get me wrong, I hear the beats. I know when we play live, it's a good time. But 'safari disco album'—I think that might be the album that people wanted us to make, but that was never in the cards. It's not our possibility."
Tanlines plays Bowery Ballroom Thu 12
Follow Marley Lynch on Twitter: @marleyasinbob