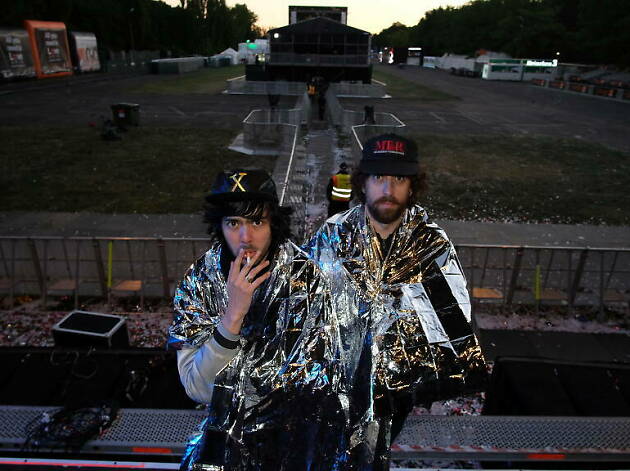 Justice says they "never tried to make club music"
It's been 12 years since they got us all doing the D.A.N.C.E. Now the elusive duo are back with a Grammy-nominated live album—and we're still grooving.
Gaspard Augé and Xavier de Rosnay are the first to admit it. The music of Justice can be willfully challenging. And yet, from "DVNO" to "Civilization," the Parisian duo have also produced some of the biggest floor-fillers of the past decade. This, they say, was an accident. As they head to the Grammys this Sunday, where they're nominated for 'remixed tour' album Woman Worldwide, they dish the secrets of their live show and tell us about their relationship with their hometown city of Paris.
What does this release have that your studio albums don't?

Gaspard Augé: The concept isn't all that different to what we usually do, because for every tour we create new versions of all our tracks—this means each show is quite different to the last. It can be off-putting listening to a live album that's essentially just a bootleg, so we chose the best parts from the whole tour and went back into the studio to polish the lot and make everything that little bit better.
Tell us a bit about what goes into a Justice show.

Gaspard: It can take a long time getting it all to work. Every four or five years we try to rethink our set-up. Techniques for performing electronic music live become irrelevant so quickly and we often have to work with new machines and software. And to keep up with the tech, we also have to rework a lot of our old songs. It's a long process of trial and error, and it's very rare that a single show on one of our tours will pass without issues. But that's also part of the fun.
How has playing huge festival slots and arenas changed your live approach?

Gaspard: For the live show, our policy is to allow ourselves to do anything that we wouldn't do on our studio albums. People go to festivals basically just to buy burgers and they don't really know our music. They'll just walk straight past us unless we do something incredible to keep them interested. So we simplify things a bit and add in drops, which would never work on one of our albums but will certainly get a crowd into it. They act as puppet-strings of a sort and definitely make things more efficient.


Photograph: Anthony Ghnassia
What were some of your most memorable early gigs?
Xavier de Rosnay: [Our first gig in Paris] was at La Cigale in 2007. It's still many people's fondest memory of our early days, even if the show was quite short and a bit rough around the edges. Our pals—Kim Chapiron, Romain Gavras, Pone—were on the balcony, either topless or just in their pants, they'd gone completely wild and graffitied all over the back of the venue. It was our first show and we hadn't thought about an encore. We didn't really know what to do and were pretty much booed off.

Gaspard: One of my first shows in Paris was Suicidal Tendencies—it was supposed to be their last one ever and there was a big mousse-y cake to celebrate. Then someone broke my glasses and so at the end I was just groping my way out of the place.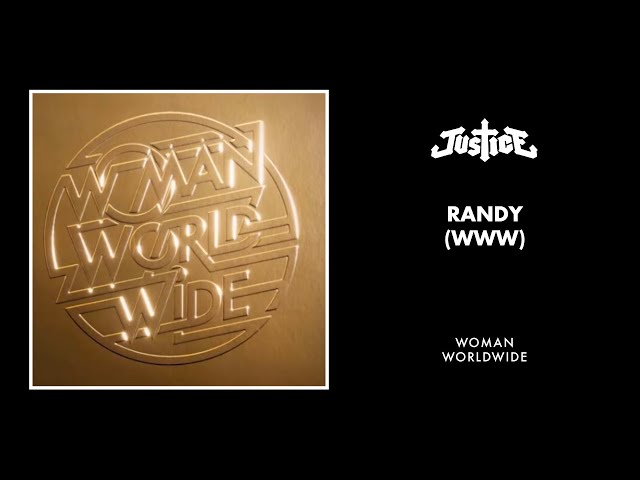 What does the Paris 'scene' mean to you?

Xavier: Our background wasn't in electronic music but we somehow ended up in a place where the music we were making was simply what people wanted to hear in clubs here. Afterwards, when Paris went all Concrete, we didn't completely distance ourselves from that scene but we didn't plunge headfirst into it either. It's normal that things change. The club scene, nightlife, these things have got to evolve and belong to young people, to people under 20. If this type of music doesn't feel new and exciting, it just becomes void. That's why we've never tried to make club music. We've never been a part of that scene and we rarely play in clubs because of that.
Do you talk to each other on stage? Does it ever get lonely up there?

Xavier: Since it's always both of us, we're never really lonely. We have small headsets and sometimes point out funny things we see in the crowd to each other.

Gaspard: It can be quite weird up there, because if you're too focused sometimes you can go too abstract and get a bit carried away.

Xavier: A good level of 'non-concentration' is difficult to achieve. The way the crowd show their enthusiasm can have a big impact. Usually what we do is we focus on a small group somewhere – often at festivals, I see groups of men leaving to go buy chips after just five minutes, which can be disheartening. But it's different on the front row, where you've got some people who clearly just want to have the best hour-and-a-bit of their lives… and then you've got those who have been waiting there since the start of the day and are now too tired and drunk to get up and go. Sometimes you worry they might fall asleep on the barrier.

Gaspard: There's also the fan-boy at the front who looks judgingly around him. He's always on the barrier and is the first one we see.

Xavier: He's the guy who gets upset because the song doesn't sound like it did on YouTube and our clothes aren't like the ones we usually wear. It's happened…
Going way back, you both started in graphic design and have carefully crafted the Justice brand over the years. How do you think the music and design worlds differ?
Xavier: Music trends seem more local, whereas with design, things cut across borders more easily. At the moment everyone's doing things that simply weren't done when we were at school, like squeezing characters [a typographical technique] by hand. I like the idea that it's perfectly fine to create such ugly stuff but in five years they'll regret this sort of thing.
Gaspard: Ah yes, a return to the '90s rave flyer…
Xavier: We're obviously more disposed to what they were doing in the States in the '70s, which was very technical.


Photograph: Anthony Ghnassia
You opened your show at Bercy with 'Stress', whose video follows some young, violent, disaffected boys on a suburban estate. It's a subject that's dominated headlines over here for a good decade. What inspired that video?
Xavier: That's one of those songs which I think really stands out above the rest. I really feel the mood change when we play that one in the studio. The same goes for the video, which we started to write at the same time as the track. We called Romain Gavras straightaway so he could help us out and he went off to shoot it by himself. It's almost an 'anti-single', there's no vocal and the music is quite dissonant in places. The video remains my favourite. It's supposed to symbolise the raw pleasure humans can get out of witnessing something super-violent, and you could say the same for the pleasure people get out of listening to the song. We got loads of comments from people who read too much into it, trying to find political messages, but there's nothing there except this idea of the thrill of seeing violence unfold. That's it.
Have people really understood Justice?
Xavier: There's always been a slight misunderstanding because when we started people often saw us as a 'dance music' act. The public didn't really get what exactly we wanted to do, because admittedly we were a pretty bizarre proposition. But now we feel the music – and the few other projects we've done – have largely found their audience. Ten years ago, it would have seemed impossible to me to have got here having done so little and also having made music that's quite demanding and often just plain weird. We never go on the radio, TV hardly exists any more, and yet we still manage to run a pretty massive show.
Wanna catch a show?
We've compiled our favorite live music spots in the city.