Sky Ferreira 'Night Time, My Time' album review
'Night Time, My Time' takes its place in the new goth-pop canon alongside Lorde and Charli XCX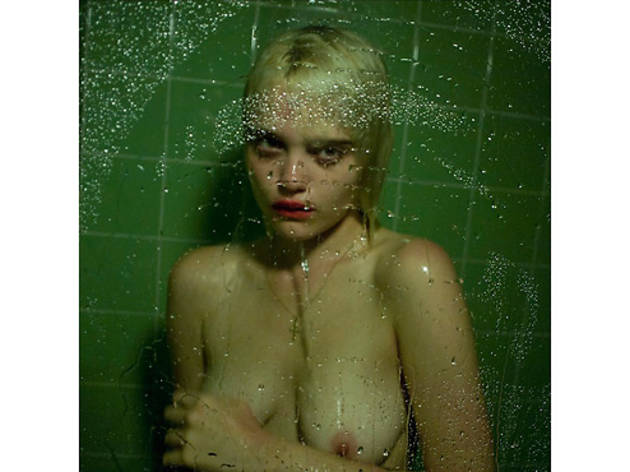 The album cover to Sky Ferreira's debut full-length is icky. Let's just get that out of the way. The 21-year-old stands naked in a green tile shower. Mascara runs under her downcast eyes. Water plasters her blond hair against her head. A gold cross hangs between her bare breasts. She is behind glass. She gazes off to the upper right, halfway between cowering and contempt. A hand has wiped the condensation from the door to better view her. She looks as happy as a cat getting a bath.
The vibe is akin to that seen in Mark Romanek's video for Fiona Apple's "Criminal," updated for the internet porn age. Apple's song was about a sense of guilt for excessive sexuality. Here, the image feels more exploitative—it's a titillating thumbnail to help market
Night Time, My Time
, a record by a Hedi Slimane model who was recently nabbed along with her model-musician boyfriend by police for possession of smack and MDMA.
The song from this surprisingly moving record that most stands out upon consideration of the artwork is "Nobody Asked Me (If I Was Okay)." Of course, that is a statement only made by someone who is not feeling okay. Amidst a light cloud of static and relentlessly driving drums, Ferreira cries the chorus with all her heart, taking deep, gulping breaths between lines. She can make the hair stand up on the back of your neck. Much like that highlight, each track comes slicked in a film of filth. A pounding cymbal hisses away in the pachinko parlor din of "Omanko." Feedback swirls in the grunge-hop of "Heavy Metal Heart." Stiff fuzz bass and blown-out drums propel "Kristine." Throughout it all, glossy girl-group pop runs up against black-leather post-punk. In short, it's the first electro-pop album by an ingenue that carries the undeniable influence of the Jesus and Mary Chain (unless you count Scarlett Johansson).
On her 2012 EP,
Ghost
, Ferreira tried on a variety of styles, from Norah Jones–like acoustic balladry to '80s-nostalgic chillwave. It was tough to pin her down. In past coverage, we compared her to both a "sad-sack Lisa Lisa" and Kristen Stewart. I wrote I could see her becoming either Lady Gaga or Cat Power. (She does briefly and eerily embody the latter on the closing "Night Time, My Time.") But after the statement of this first LP, Ferreira belongs to the new class of young gothic pop stars.
With her kohl-caked eyes and teased teen-witch hair, Charli XCX comes off like Robert Smith's daughter raised on a steady diet of Pepsi Cola, Suicide and Rihanna. The biggest phenom of the moment, Lorde has a name like a metal band, an all-black wardrobe and sparse tunes with nocturnal cool. I love the debuts of all three singers, which soar over the safe radio rut in which most idols have mired themselves. These three are pulling ideas from their eclectic record collections, not the beat bins of six-figure megaproducers and Swedish svengalis. They sound like children of the Cloud, where a track by the Cure can flow into a cut by Hot Chip into a banger by M.I.A. with no whiplash. They are the first crop of potential hitmakers to actually reflect the mood rising like cartoon smell swiggles from the titanic clusterfuck that is our economy, culture and government. Meanwhile, the rest are popping bottles.
I just wish Ferreira didn't make me want to cover my iPhone when her record was playing.
Download Night Time, My Time on iTunes
Download Night Time, My Time on Amazon
What are your thoughts? Let us know in the comments box below or tweet us at @TimeOutNYMusic.
Watch the video for "You're Not The One"