Ten haunted places in New York state that are beyond creepy
The best haunted places in New York state, from ghost-infested cemeteries to infamous homes to insane asylums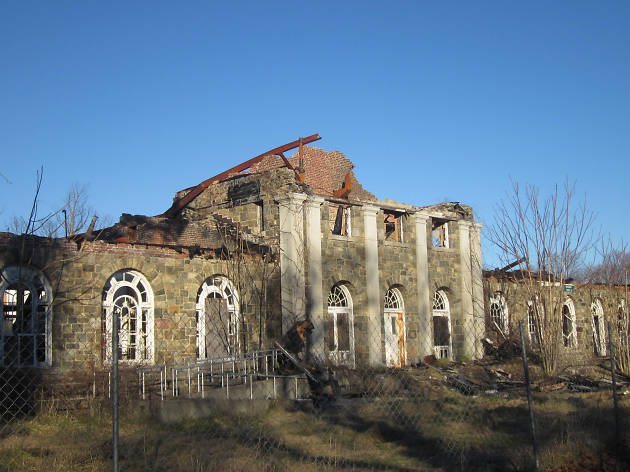 Hit up haunted places in New York state for unusual weekend getaways, especially in the fall. On your way to the apple orchard this fall (or any time of year), take day trips to look out for ghosts. New York City has its own collection of haunted places, but if you travel out of city's limits, you'll find some of the spookiest cemeteries, museums, abandoned grand facilities and houses the state has to offer.
RECOMMENDED: Full guide to Halloween NYC
Most haunted places in New York state
1
Photograph: Courtesy Yelp/Stephanie R
Rolling Hills Asylum, East Bethany
Many died in this old 19th century poorhouse—some 17,000 bodies are believed to be buried on the premises, almost all in unmarked graves. Opened in 1826 as the Genesee County Poor House, the large farmhouse served the lunatics, paupers and vagrants by making them work on the farm. It would later be used as an infirmary, orphanage, tuberculosis hospital and nursing home. Those who have gone on the public and private tours ($10-$65 per person, group rates for private tours available) have seen some paranormal activity in the psych ward, morgue, graveyard and the former bedroom of Roy, an inmate (all residents were referred to as this) who now haunts visitors as a seven-foot-tall "shadow man." 11001 Bethany Center Rd, East Bethany (www.rollinghillsasylum.com, 585-502-4066)
2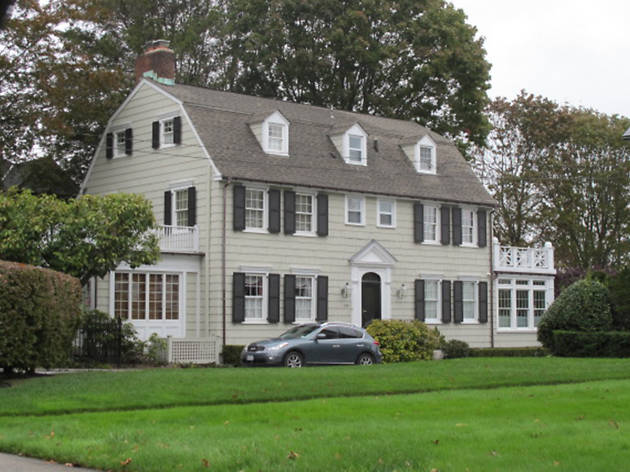 Photograph: Courtesy CC/Flickr/John
The Amityville Horror house, Long Island
Whether or not you believe the "nonfiction" book or the franchise of horror films it inspired, there's no doubt that some scary, real-life stuff happened in this otherwise charming looking Dutch Colonial–style abode. In the early '70s, a 23-year-old young man murdered his parents and four siblings in the house. When another family bought the house after the murders, they reported witnessing all sorts of creepy smells and feelings and had unexplainable, ominous visions…and the family moved out just 28 days later. Today, you can't enter the house, but go drive by it—and if you really like it, it was put on the market for just $850,000 earlier this summer. 112 Ocean Ave, Amityville
Photograph: Courtesy CC/Flickr/John
3
Utica State Hospital, Utica
Opened in 1843 as the first state-run hospital for treating the mentally ill, the former New York State Lunatic Asylum was considered state of the art at the time of its completion. However, the good intentions of creating a treatment center for the mentally ill were rarely supportive and caring. Within the massive Greek Revival hospital, facilitators regularly performed lobotomies and electroshock therapy. Patients lived in filth, confined to cramped quarters with little care. It was here that doctors invented the Utica Crib, an inhuman, long, shallow cage where they kept agitated people to calm them down or to punish misbehaving residents. Though it closed in 1973, Old Main (the local nickname for it) still stands. Some people claim they've seen faces looking out the window and heard screams coming from the abandoned building. Today, it's mostly off-limits to the public, but in the past the government has sponsored occasional ghost tours, which could happen again. 1213 Court St, Utica
4
Photograph: Courtesy Yelp/Sara M.
The Sagamore, Lake George
A grandiose hotel on a private island overlooking Lake George sounds like the perfect place for some rest and relaxation—or eternal rest, for some guests. You can still rent a room there for around $280–$600, but you won't be alone. At the gorgeous 19th century Victorian resort, stories of ghost sightings are mainly confined to the elegant restaurants, but the Sagamore's most notorious ghost is more likely to be found playing outdoors. About 70 years ago, a small boy who would often sell lost golf balls back to pro shop customers was hit by a car during his search. If you listen very closely, you can still hear him giggling. 110 Sagamore Rd, Bolton Landing (thesagamore.com, 518-644-9400)
5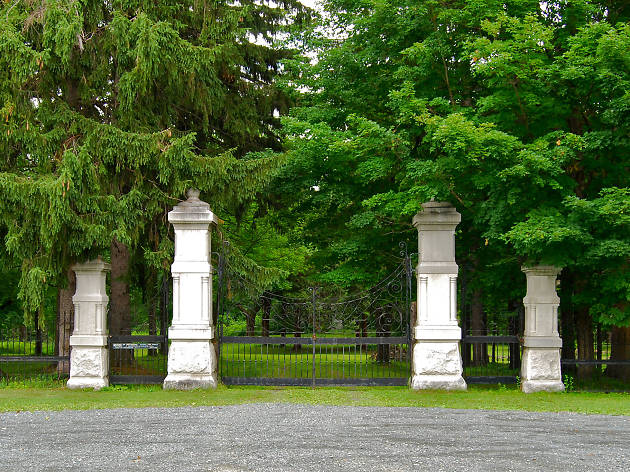 Photograph: Shutterstock
Forest Park Cemetery, Brunswick
For people living in Brunswick and nearby Troy, the abandoned Forest Park Cemetery—known locally as the Pinewoods Cemetery—is a place only to be traversed by the bravest of souls. If you explore this wooded area through tall, overgrown grass, you will likely feel chills running down your spine from inexplicable "cold spots." Decapitated angel statues have been known to bleed from their stone necks, and should you peer inside one of the vandalized mausoleums—the coffin might just be missing. Spooky. 387 Pinewoods Ave, Brunswick
6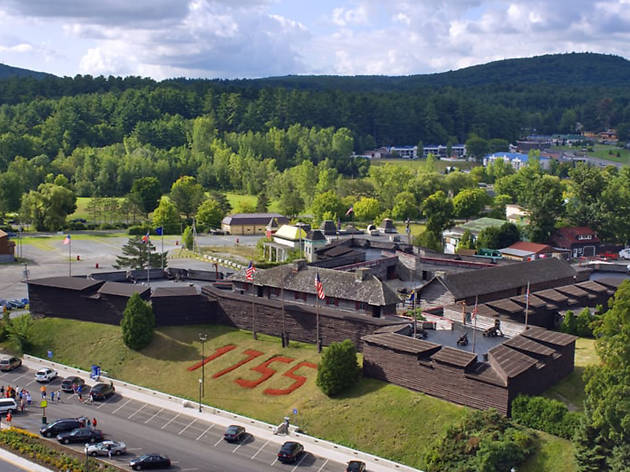 Photograph: Courtesy Fort William Henry Museum
Fort William Henry Museum, Lake George
Though the Fort William Henry Museum is actually a replica built in the 1950s of the original British stronghold off the serene Lake George, that hasn't stopped the hundreds who died in a bloody massacre from returning to the grounds where they were centuries before. Back in 1757, Fort William Henry was lost when thousands of French soldier attacked and destroyed the military stronghold during the French and Indian War. Today, you can take a ghost tour at various times and dates ($16.95), and many guests report hearing whisperings like "Hurry up," and shadow people appear in visitors' photos. 48 Canada St, Lake George (fwhmuseum.com)
7
Photograph: Courtesy Yelp/Angela M.
The Winery at Marjim Manor, Appleton
Despite appearing on both Travel Channel's Most Terrifying Places in America and SyFy's Ghost Hunters, this spot's gentle and kind owner insists that the spirits here are more of a Casper variety than vicious supernatural beings. This is good news for anyone hanging out in nearby Niagara Falls or Buffalo who's looking for a chance to sip on a refreshing glass of wine, take in the views of Lake Ontario and then go looking for spirits, some of whom might date back to the original family that built their farm there in 1834. Don't be too alarmed if you feel something brushing up against your leg—that's likely the ghost dog who also runs with this otherworldly crew. 7171 East Lake Rd, Appleton (marjimmanor.com, 716-778-7001). Mon–Sat 10am–6pm, Sunday noon–6pm
8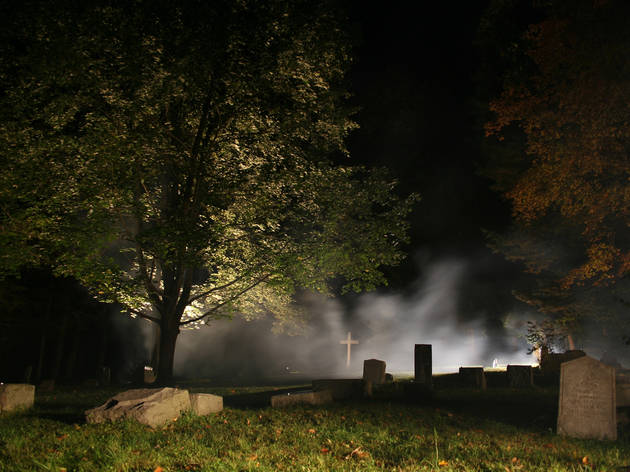 Photograph: Courtesy CC/Flickr/Ryan Johnson
Gurnsey Hollow, Frewsburg
Sure, cemeteries are expected to have their share of creepy happenings, but few can lay claim to the same frightening legends of this graveyard. Tucked away on a small street off Sawmill Rd/89 that becomes an abandoned dirt road, this spot is not only the final resting grounds to many children but also (according to lore), it was the place where a 7-year-old mentally handicapped girl was stoned to death by her own village for unknown reasons. Many of the 19th century gravestones have been tipped over or destroyed, and the shadowy spirits are not happy about it. Oh, and the wooded seclusion makes it seem all the more likely that no one will hear you scream. Sawmill Rd/89 to Gurnsey Hollow Rd
Photograph: Courtesy CC/Flickr/Ryan Johnson
9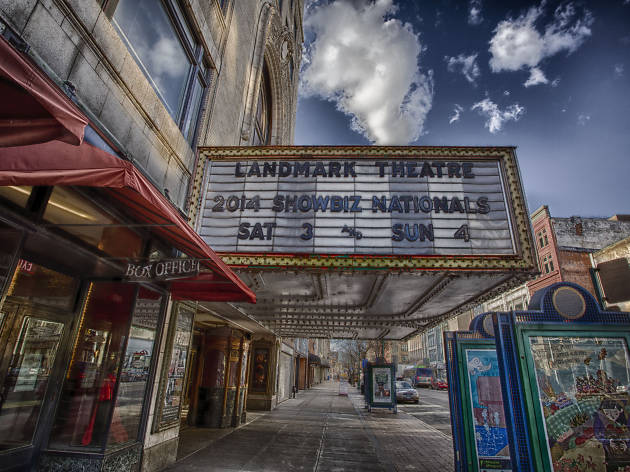 Photograph: Courtesy CC/Wikimedia/John G. Hoey
Landmark Theater, Syracuse
It might seem like a treat to visit this grand former movie palace that brought a cosmopolitan glamour to the city back in the 1920s, but the century-old beauty comes with a price: ghosts. Though you'll rarely experience their presence when the venue is packed with theatergoers, come back during a ghost tour (usually offered in October) and you might catch a glimpse of the three spirits known to haunt the location of their demise. Clarissa, an actress who supposedly died falling from the balcony, still claims that portion as her domain, while stagehand Oscar might make the lights flicker and behave strangely. 362 S Salina St, Syracuse (landmarktheatre.org)
Photograph: Courtesy CC/Wikimedia/John G. Hoey
10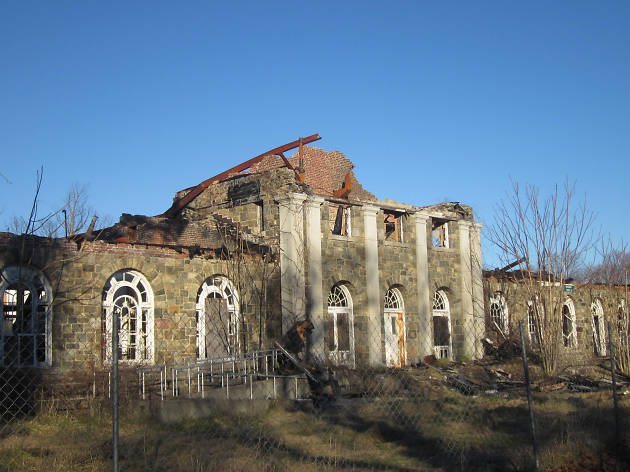 Courtesy CC/Flickr/
Letchworth Village, Thiells
In a little hamlet in Rockland County, the state dedicated 2,362 acres to the care of mentally and physically disabled children and adults. Though beautiful to look at—the grounds and buildings were modeled after Thomas Jefferson's Monticello estate—like many of the state-run facilities for society's most vulnerable members, Letchworth Village quickly gained a reputation for mistreatment. Reports of patients covered in filth and living without clothes, inadequate bedding or food plagued the institution. This is also the place where the very first polio vaccines were tested on young children (the first human trial of a vaccine, period), and while the test was a big success, choosing young children removed from parents' care seems like a misstep, to say the least. Today, the buildings on the boys' side remain abandoned and off-limits to the public, but trespassers with no regard for the law have come out spooked by weird sounds, moving objects and other ghostly activity. Letchworth Village Rd, Thiells, NY (914-352-6710)
Photograph: Courtesy CC/Flickr/Doug Kerr
Looking to get the perfect fall photos?
Things to do, Walks and tours
See spectacular fall foliage in parks and gardens across the boroughs and beyond, with our guide to leaf-peeping around NYC