Heads up! We're working hard to be accurate – but these are unusual times, so please always check before heading out.
13 Best Airbnb Venues in Nice
From luxury apartments to hilltop villas, here are some of the best Airbnb venues in Nice
There are several reasons to visit Nice, but let's start with just three: sun, sandy beaches and socca. Capital of the French Riviera, this glamorous southern city has a vista to rival any postcard, thanks to glittering waters, classic architecture and lively streets full of bars, restaurants, and bustling shops. And if you're looking for accommodation, staying at an Airbnb offers an authentic taste of life on the coast that you just can't get at even the top hotels. Got your passport ready? Here's our pick of the best Airbnb venues in Nice, so you can visit in style. Bon voyage!


Photograph / Courtesy Airbnb
A stylish duplex loft with sea views
Nestled within a delicate, bourgeois building, this duplex loft has a contemporary chic interior that perfectly compliments its southern French surroundings. The bright white walls and high ceiling provides a feeling of spaciousness, without the price tag of a vast hotel suite. Plus, the loft overlooks the vibrant and prepossessing Georges Pompidou garden making for some absolutely breathtaking views.
Photograph / Courtesy Airbnb
A top floor flat with hot-tub
Standard bachelor pads eat your heart out 一 this sleek and comfortable apartment has just upped the benchmark. It's stylish, monochrome – and that's just the interior. The real pièce de résistance is the private terrace complete with hot-tub, where you can relax after a long day of schlepping to the beach and back.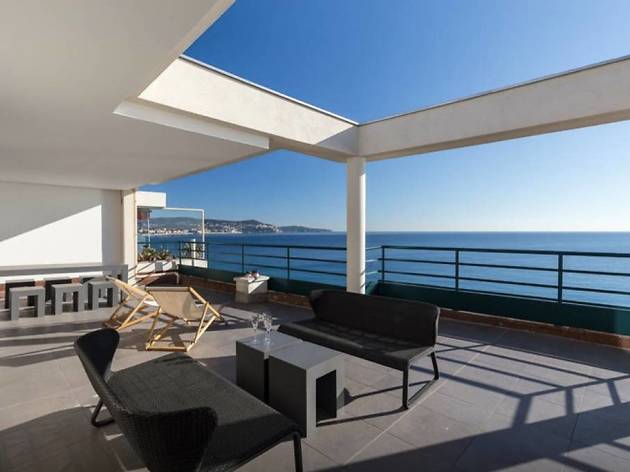 Photograph / Courtesy Airbnb
A cosy space with panoramic views
It may not be the biggest place, but who says that size equals style? This humble apartment is proof that good things come in small packages, substituting indoor space (it still accommodates up to four guests) for a large outside patio where you can socialise and relax. Into incredible sunsets? No problem, the views here are astonishing.
Photograph / Courtesy Airbnb
A relaxing getaway with parking
If you're travelling by car this apartment is a perfect fit ー but it boasts more than just convenience. There's a mesmerizing marble bathroom, artistic accessories and a terrace where you can enjoy your morning croissant. And while it's suitable for four guests, it's also a great choice for couples in need of a little respite from the daily grind.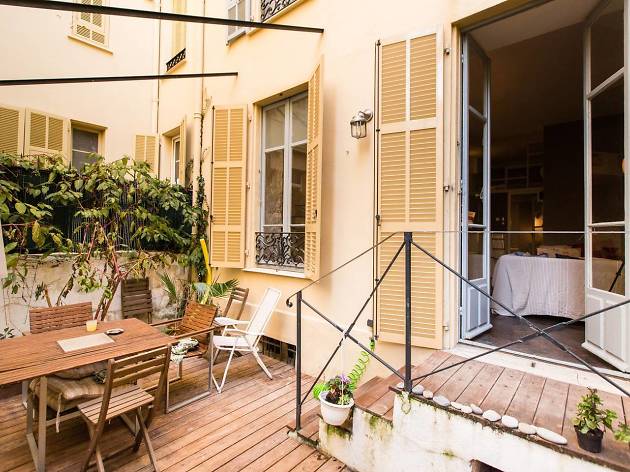 Photograph / Courtesy Airbnb
A quaint loft in the centre of town
With the rustic detailing of French architecture, this loft has a classic and authentic vibe. It sleeps up to five guests and has a large, plant-filled patio for unwinding come long warm evenings. Besides, for the price, it's a complete steal ー especially if you're splitting the cost with your travel buddies.
Photograph / Courtesy Airbnb
A countryside villa with private pool
With a mild yet Mediterranean climate, Nice is famous for its weather ー and what better way to make the most of it than with some alfresco swimming? Well, get out your beach balls, because this chilled Airbnb find has its own luxuriously large private pool, as well as a hot-tub and terrace where you can soak up the sun. Heaven.
Photograph / Courtesy Airbnb
A top-floor apartment close to Coulée Verte
Take the lift up to this modern two-double-bed flat and you'll uncover a comfortable and calming space that is ideal for relaxed family getaways. Several attractions are within walking distance and the Old Town is within easy reach, too.
Photograph / Courtesy Airbnb
An urban loft with wild prints
If you're partial to the classic charm of art deco, but still a fan of contemporary decor, then you'll love this one-bed loft. Bringing together a blend of two sophisticated styles, this urban apartment features a bright and airy living space, trendy animal prints and necessary amenities. Contained within a five-story art deco building, just take the lift to your floor and head over to the south-facing balcony to enjoy seductive views of the Mediterranean sea.
Photograph / Courtesy Airbnb
A sunny apartment by the beach
With large windows and bright decor, this Airbnb makes the most of Nice's wonderfully long days. Spend your mornings relaxing as natural light floods the apartment, and when you've successfully located your speedos, make a beeline for the beach. It's only a two minute wander away.
Photograph / Courtesy Airbnb
A quiet cabin by the French Riviera
Bringing contemporary grandeur to Nice, this cabin boasts an impressive design and location. With three bedrooms, it's a cottage with space enough for five guests, so you can enjoy a peaceful getaway with your favourite friends and family. Come evening, head to the patio, where you can appreciate the surrounding nature and barbeque the freshest vegetables. Bon appétit!
Photograph / Courtesy Airbnb
Just as discerning as any luxury hotel, this graceful abode is immaculately styled, with monochrome and concrete features off-set by shining gold accents. It sleeps up to four people, has sea views and (if you're into botanicals) you can pick up fresh bouquets from the market outside.
Photograph / Courtesy Airbnb
Thanks to the food, architecture and coastal views, Nice is arguably one of the most romantic places to visit in Europe. This apartment offers up even more for a couples retreat, from an elegant balcony with views of an invitingly blue sea to intricately designed antique furniture and sophisticated soft furnishings. You'll also find the Old Town, promenade and market on your doorstep, which you can explore after finally rolling out of bed.
Photograph / Courtesy Airbnb
After you've picked up some fresh fruits and vegetables from the famous neighbouring market, head back here to enjoy your sun-kissed dinner in comfort. Styled with cosiness in mind, the social and sleeping areas are both understated, incorporating a palette of muted, spa-like stony colours. Plus, the price tag is pretty attractive, too.