Heads up! We're working hard to be accurate – but these are unusual times, so please always check before heading out.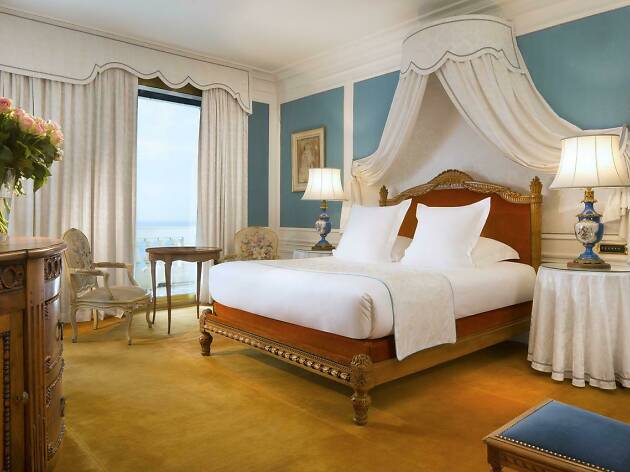 The 12 best hotels in Nice
From boutique and bijou to grand and grandiose, lay your head at one of these very best hotels in Nice
The French Riviera is Europe's capital of cool. Also the capital of the Alpes-Maritimes department on this cobbled coast, Nice has long been a draw for sun-worshippers, partygoers, artists and holidaymakers alike, looking for unique things to do along the stunning coastline.
The result is a city awash with fantastic hotels. From Belle Époque era grand residences and townhouses rich in period detail to minimal modern boutique hotels and eccentric artsy retreats, the choice really is boundless. And as Nice is rumored to have more hotel rooms than any other French city (not to mention top Airbnbs), competition keeps standards high and prices surprisingly low for even the best rooms in the best hotels.
Here then are our top picks, confidently striding the full gamut of rooms to select the cream of the crop catering to every possible taste, budget and location. Something for everyone then? Mais oui!
Best hotels in Nice
Photograph: Courtesy Booking.com
What is it? Simply, the best located hotel in Nice bar none carved into the cliffs overlooking the Baie des Anges and the endless Mediterranean blue.
Why go? If you've come to Nice to make the most of the Mediterranean, this is the only place to stay. The beach is a 20 second walk away but with the cliff-side pool, sun-drenched terraces and 56 rooms each uniquely decorated in plush, understated luxury you'll need to find a great reason to leave.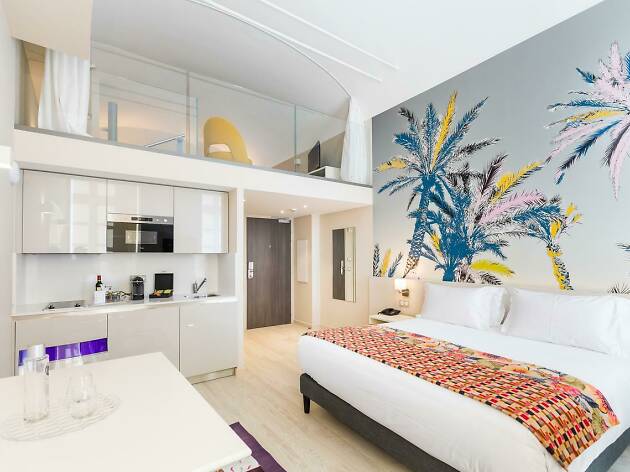 Photograph: Courtesy Booking.com
2. Palais Selaya Boutique Hôtel
What is it? An 18-century townhouse perfectly reimagined for the 21st century with 26 stylish self-catering suites and apartments in Nice's pedestrianized Old Town.
Why go? Sleek design, ideal location and self-catering are just some of the many aces up the Palais Selaya's ample sleeve. Accommodation is huge and gorgeous, there's a great room service breakfast and with exceptional restaurants like Lou Pistou and Le Bistrot d'Antoine only steps away, you wouldn't have eaten at the hotel restaurant even if there were one. The epitome of urban cool and convenience.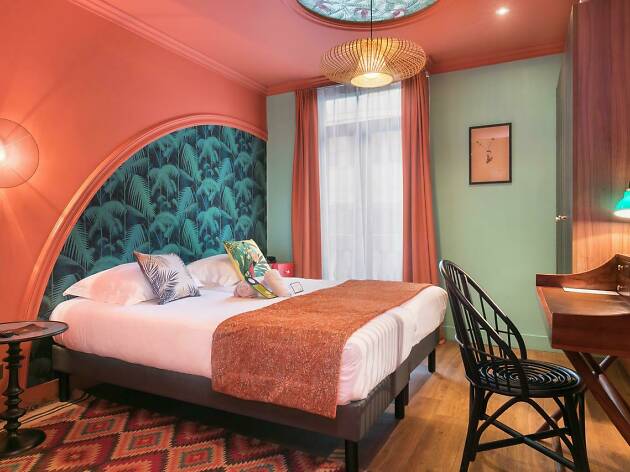 Photograph: Courtesy Booking.com
What is it? About as French as French can be from the outside, stepping inside takes you on a journey through the travels of Louis Antoine de Bougainville.
Why go? Because there's nowhere else like it. Every surface is a riot of bird and palm prints, vintage luggage and ornaments from every corner of the world. It's somehow beautifully wrestled into 46 calming, stylised if often-compact rooms that lend a touch of the tropics to typical Riviera chic. Well located for transport links too.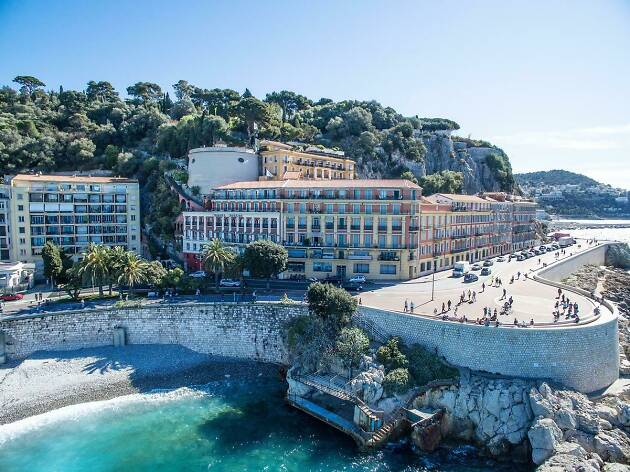 Photograph: Courtesy Nice
What is it? This Italian-styled, Swiss-named boutique hotel nestled at the base of the Promenade des Anglais may sound confused, but there's no doubting the clarity (or quality) of its views.
Why go? Ramp up your tan time and romance factor in equal measure from the balcony of a Supérieure or Privilège room, overlooking the Baie des Anges. Sip a Le Suisse house cocktail (champagne based, naturally) and look down on the masses below, fighting for space as you bask in the smug solitude of your sun-drenched bird's eye view. The fools!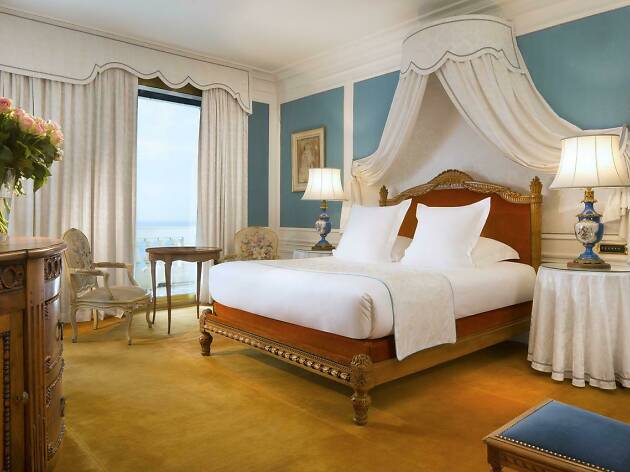 Photograph: Courtesy Booking.com
What is it? A grand old dame gently fraying at the edges, the Negresco is a beachfront landmark that's seen a century of artists, royals and rock stars indulge its opulence.
Why go? A vast living museum, its 99 rooms and 25 suites are a stroll through the grandest French history with works dating all the way back to Louis XIII. Round your stay off with a Provençal dinner in the two-Michelin star Le Chantecler and choose from its 15,000-strong wine list. Grand doesn't even come close.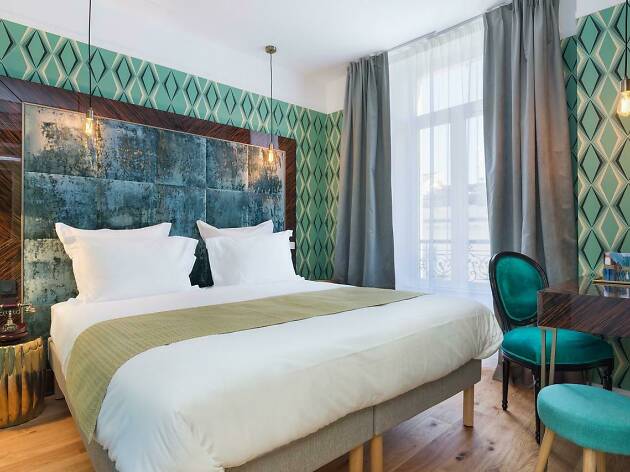 Photograph: Courtesy Booking.com
What is it? A quirky but super stylish and amazingly priced Art Deco hotel located five minutes from the beaches of Promenade des Anglais.
Why go? Who wants to stay at any old hotel when you can throw on your glad rags and dive into the Roaring Twenties? A cascade of greens and turquoises, velvet textures and zigzag patterns, it's easy to imagine you might bump into the Great Gatsby quaffing champers at the downstairs bar – he's who the hotel is named for, after all.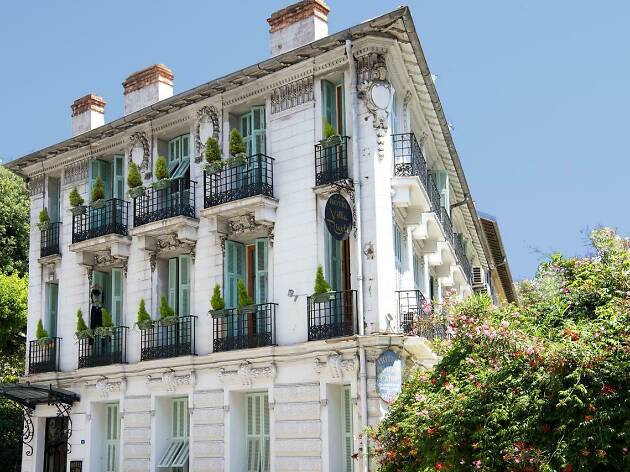 Photograph: Courtesy Booking.com
What is it? This eye-wateringly cheap but beautiful Belle Époque hotel crams 24 diminutive rooms into a guesthouse on quiet, leafy streets a couple blocks from the beach.
Why go? It would be hard to find a French period hotel so spotlessly rendered anywhere in France. From the Toile-de-Jouy fabrics and prints to the sepia-tinted photographs scattered throughout, a stay at the Rivoli is to step into a scaled down chateau with the convenience of the French Riviera on your doorstep. And did we mention the price?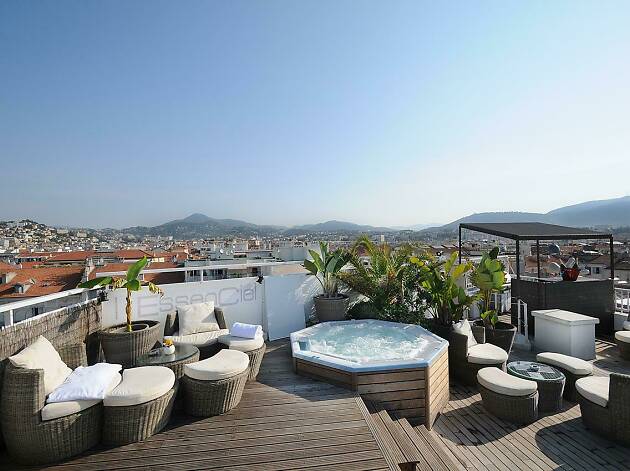 Photograph: Courtesy Booking.com
What is it? As the name suggests, a splendid boutique hotel centrally located and with a rooftop pool that may just be the perfect spot for that French Riviera sundowner.
Why go? One person's vintage is another's outdated, but the Splendid falls firmly in the former category with a distinctly Sixties vibe. The Hammam and spa are great value, but the rooftop and terraces are where the magic happens with outdoor pool, hot tub and spectacular views across the city. Book a room with a terrace – they're bigger and brighter.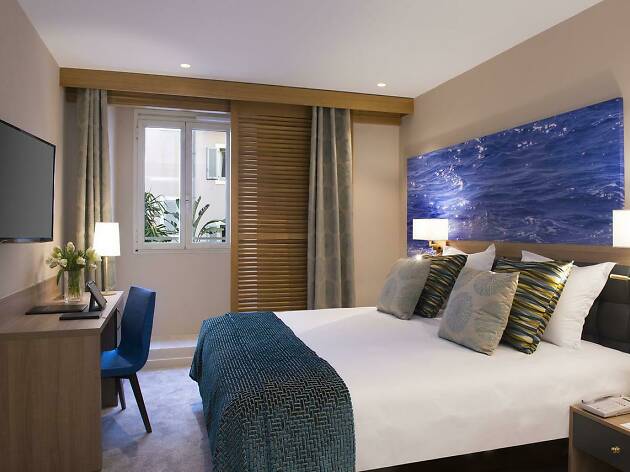 Photograph: Courtesy Booking.com
What is it? Once the accommodation of choice for Henri Matisse and Anton Chekhov, the four-star Beau Rivage is now a playful modern hotel with the best beach access in Nice.
Why go? As close as you'll ever get to sleeping with Matisse, the Beau Rivage is much more than an artist's ode. Apart from being unbelievable value, its big draw is the private year-round Beau Rivage Beach Club – a bar, restaurant and sea of striped loungers in prime position on the beach at Promenade des Anglais.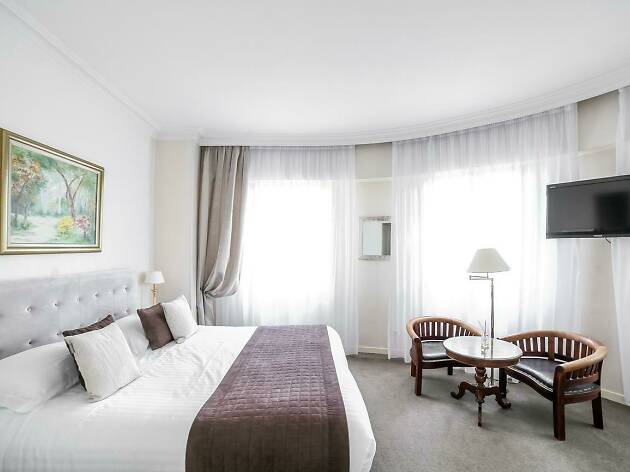 Photograph: Courtesy Booking.com
10. Hôtel du Petit Palais
What is it? A step away from the mayhem of Old Town, the Belle Époque Petit Palais is a quiet culture vulture retreat near Nice's best art museums.
Why go? Crowds can be tiring, and Nice has them in droves. The Petit Palais eschews the beaches for the beautiful, leafy Cimiez neighborhood and a calmer approach to Nice's treasures. Fantastic views, a belter of a pool and easy access to the nearby Matisse and Chagall museums, who both lived nearby.
Photograph: Courtesy Booking.com
What is it? Eccentric, creative (read: a bit shabby) Windsor is a family-run artist's retreat that's more laidback than your average Nice hotel.
Why go? For the art, dahhling! Thirty of its 57 rooms are decorated – often crazily – by respected local artists making every stay unique, whether it's Tintin or Matisse adorning your walls. The garden is as wild and exotic as the interiors, where you can swim in the pool or swig cocktails to birdsong from the sizable aviary. Make sure to book a garden room.
Photograph: Courtesy Booking.com
What is it? Slap bang central and decked out like a hipster café, the Hôtel Ozz is a modern marvel – a hotel come hostel that ably bridges the gap between chic and cheap.
Why go? While Nice hotels are surprisingly good value, few are as affordable as the Ozz without compromising on style, service, location and comfort. From the lovely double rooms to the well-equipped dorms (each bed has its own safe), simple kitchen to the popular bar and entertainment calendar, if you like it lively, Ozz is the place to stay.
Bring home a souvenir
It's easy to be so blinded by Nice's sun-drenched beaches and bath-warm waters that you miss out on its tangled streets and the shopping opportunities that lie within. But no visit would be complete without a stroll of those shops, whether you're hoping to update your wardrobe with the latest high-end fashions, grab some stinky cheese to take home or simply peruse the window displays.