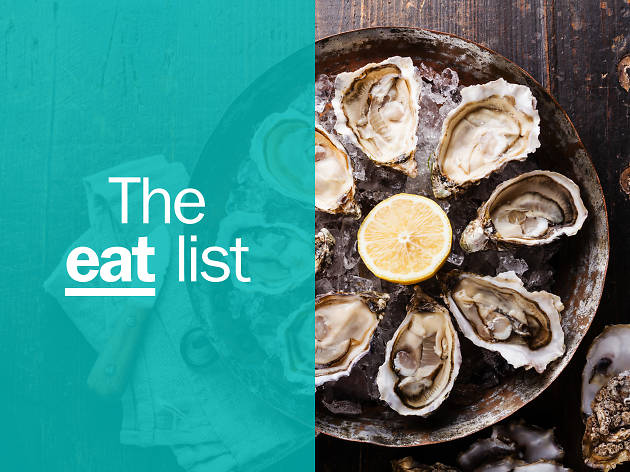 The 11 best Nice restaurants
Michelin-starred venues, cosy bistros and enjoyable eateries are all part of our list of best Nice restaurants
Ah Nice, the promenade des Anglais, the old town, the sunny kitchen… We could swoon over this beautiful French city all day, especially when delighting in the food served at the best Nice restaurants.
The city is most famous for the age-old Niçoise salad and pan bagnats (basically a Niçoise salad in a bread roll), but young chefs are giving the local restaurant scene a gastronomic kick in a creative direction. Whether you're staying in an Airbnb in the heart of town or by a popular residential district looking for things to do, you're sure to track down something amazing to eat—from traditional fare to more modern and bolder options.
From bistros with moleskine benches to eateries in wine cellars and Michelin-starred joints, plus hotel restaurants and stalls dotting the many beaches, here are all the restaurants you absolutely must dine at while in Nice.
Best restaurants in Nice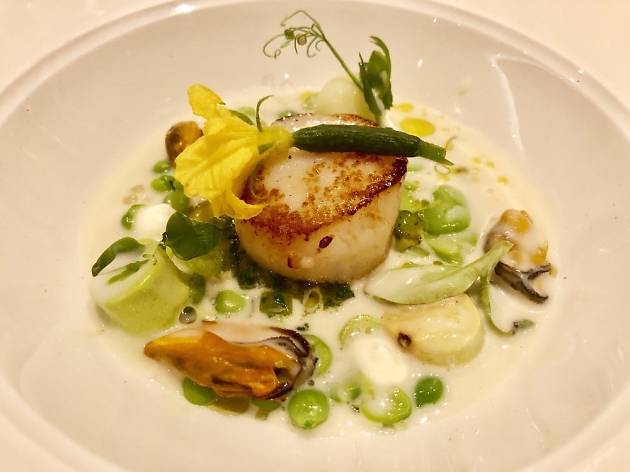 Photograph: Courtesy Yelp/Ken S.
What is it? A Michelin-starred restaurant, with raw but refined decoration. Try the creative take on duck with cherries here.
Why go? Jan-Hendrik van der Westhuizen, originally from South Africa, is an all-rounder: chef, award-winning author, photographer. He awakens the taste buds of his diners with brave creations that take them on a journey between France and his home country. Dishes on the wide-ranging menu include scallops and green asparagus sprinkled with sesame and white chocolate.
Photograph: Courtesy Yelp/Elodie R.
What is it? A little golden nugget of a bistro with moleskine benches and a 100% natural wine list. It's an ideal places to go for dinner with a hot date.
Why go? There's no menu here. Instead you'll find a changing spectrum of dishes that change with the seasons, according to whatever is delivered from local producers. The kitchen keep things simple, letting the top drawer produce shine – think bold green asparagus and perfect tender lamb.
Price? Mid-range
Photograph: Courtesy Yelp/Valentine S.
What is it? The restaurant from Armand Crespo (the boss of the Bistrot d'Antoine) is a friendly bistro whose name is pronounced 'pêche'. It's just two steps away from the Opera.
Why go? The decoration here – white and blue tiles – has a Mediterranean vibe. The food? Trendy and modern seafood small plates. It's a dreamy spot to meet friends for ceviche.
Photograph: Courtesy Yelp/Julie K.
What is it? One of the city's institutions! Dominique Le Stanc – former chef of Negresco – is the innkeeper here, highlighting Nice's traditional cuisine in a comfortable retro space.
Why go? Mad Men fans will love the decor and everyone will love the food. Think menton pie (containing dandelion and anchovies), gorgonzola polenta and veal tripe. All are delicious, but the star of the show is the most perfect daube de boeuf à la Provençale (orange and beef tail).
Price? Mid-range
Photograph: Courtesy Yelp/Lila H.
What is it? An architectural feat, Le Plongeoir stands on the rocks facing the sea, offering breathtaking views of the water. It's a place to spend an evening people-watching the in-crowd.
Why go? It's hard to outdo the carefully prepared food here. It makes many references to traditional cuisine, even going so far as to offer a super-local menu – with salad niçoise, cod with meat juice and ravioli with herbs and lemon meringue pie.
Price? Mid-range
Photograph: Courtesy Pure & V
What is it? Innovative dishes (mostly seafood) and a wonderful wine collection await you at Pure & V.
Why go? Vanessa Massé, an accomplished sommelier, is at the helm of this minimalist venue, which is the reason behind the excellent selection of wine. The intriguing flavours come courtesy of Danish chef Mathias Silberbauer, who uses the freshest seasonal ingredients to create his ever evolving menu.
Price? High-end
Photograph: Courtesy Yelp/Blandine L.
What is it? In this canteen/coffee shop, Maud and Emilie make it a point of honour to serve high-quality organic products gleaned from the local market in small homemade dishes.
Why go? For homely flavours: carrot soup with spices, squash and zucchini gratin accompanied by red rice and parmesan, and a chocolate fondant to finish. Don't miss the brunch on Sundays – with scrambled eggs, club sandwiches, fromage frais and brioche on the menu.
Price? Budget
Photograph: Courtesy La Pêche à la Vigne
What is it? Lovers of gourmet cooking and freshly prepared preserves will find their happiness in this small cellar, located near Nice's port.
Why go? For salads and sandwiches ingeniously prepared with incredible local fermented, canned and preserved products. Think flavours like Jerusalem artichokes and hazelnuts, cauliflower pickles, fermented beetroot and black radish.
Price? Budget
Photograph: Courtesy Yelp/Christine C.
What is it? Found in the centre of Nice this is an izakaya – the Japanese equivalent of a wine bar.
Why go? For authentic Japanese dishes from Kanoko, the expatriate cook. Okonomiyaki, silky tofu salad, duck breast tataki with yuzu-saké sauce, Japanese fried chicken and other wonders are served with traditional sake and with natural wines carefully selected by her boyfriend.
Price? Budget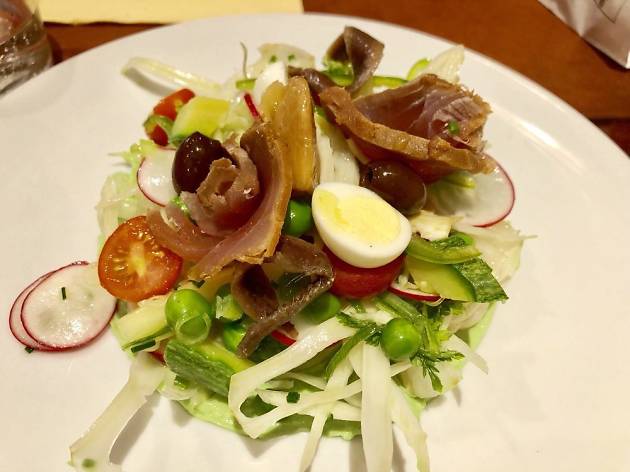 Photograph: Courtesy Yelp/Ken S.
What is it? If you want a lively dinner in a spot with a rowdy atmosphere, this bistro should be your go-to. It's a taste of what life used to be like in Nice.
Why go? Armand and Sophie Crespo's bistro is real taste of Old Nice. It's got an almost convivial atmosphere. Dishes are cooked up in an open kitchen and the food is a celebration of the dishes favoured by the old scoundrels of the city – salad with smoked tuna, moreish pork casserole with vegetables or sausage with lentils.
Price? Mid-range
Photograph: Courtesy Yelp/Marten T.
What is it? Small cellar, big destiny! Since this Part des Anges opened in 1998 it has become an institution – known around the world for its cellar of natural wines.
Why go? You can choose from more than 300 wines here. Plus, the generously-portioned food is not to be outdone. Opt for smoked andouille from Troyes, grenailles apples and mustard cream, whole strawberries accompanied by homemade whipped cream with the scent of lemon-basil.
Price? Mid-range
Discover Time Out Market: the best of the city under one roof
Ready to explore the French Riviera?
With its sunny skies and incredibly blue sea, it's no wonder Nice has inspired many artists over the years. Whether you want to gallery hop, sunbathe on the beach or just mooch along the seafront on the Promenade des Anglais, you can cover all bases in this Côte d'Azur hot spot.