Heads up! We're working hard to be accurate – but these are unusual times, so please always check before heading out.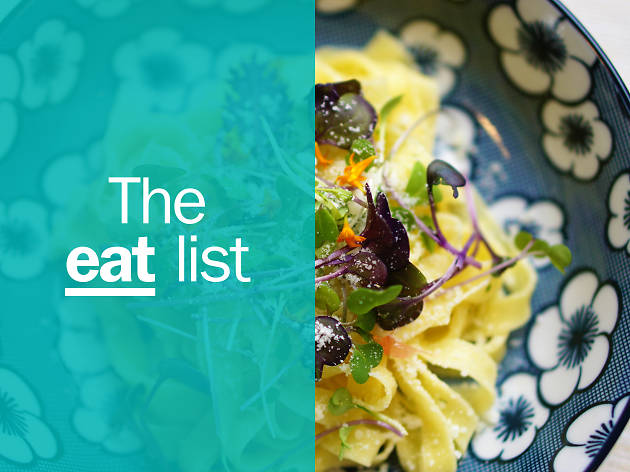 The 11 best restaurants in Nottingham
Find out where to nosh in Nottingham with our curated restaurant and café guide
The city that birthed DH Lawrence, Shane Meadows and Sleaford Mods, Nottingham has a rebellious, kinetic energy full of eclectic and exciting things to do. The food scene here is diverse, with plenty of budget DIY spots and a focus on unpretentiously good, fresh ingredients. There's Michelin-star material too and we've rounded up the best of the bunch. From fat patties to bottle shops to a seven-course tasting menu served up beside the A52 flyover – it's all here. Get stuck in at the best restaurants in Nottingham.
Best restaurants in Nottingham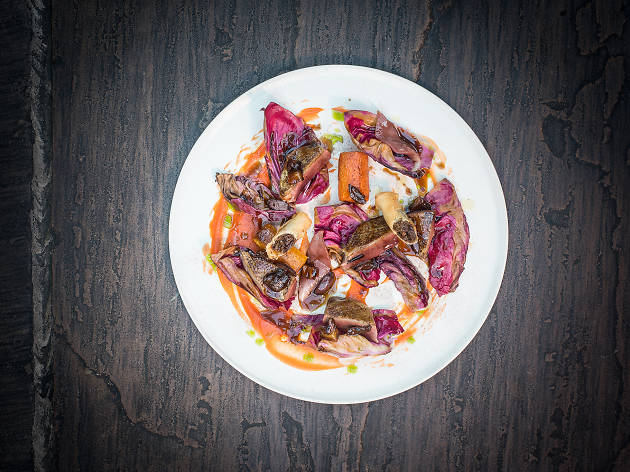 Why go? For a once-in-a-lifetime seven-course experience.
The edge of an industrial estate isn't where you'd expect to find mind-blowing food but this place provides it. An eccentric complex of kitchen, lounge, sommelier station and conservatory very close to the A52, Sat Bains does an extraordinary seven-course tasting menu. Strap in for dishes like veal croquette and Anjou pigeon. Blow-out.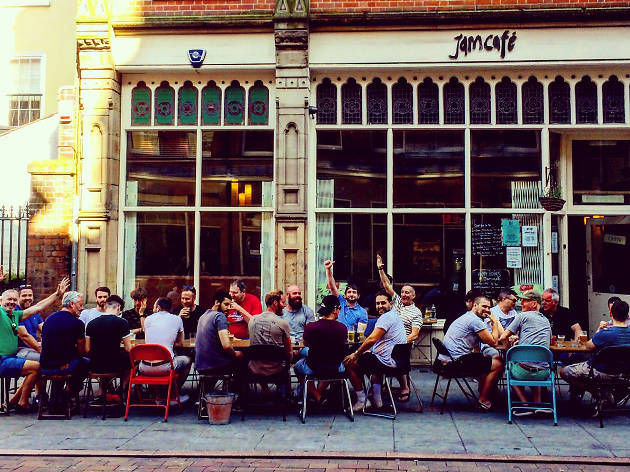 Why go? This is the perfect place for a bunch of mates when everyone fancies something different.
Whether you're after bloody Marys over brunch, a vegan dish that reaches beyond falafel, a chill with a craft beer or an energetic evening at the hands of a DJ, Jam Café has you covered. By day Jam operates as a European-style cafe-bar, by night it turns into a live venue, where on any one night you could find live bands, DJs, poets or comedians. Budget.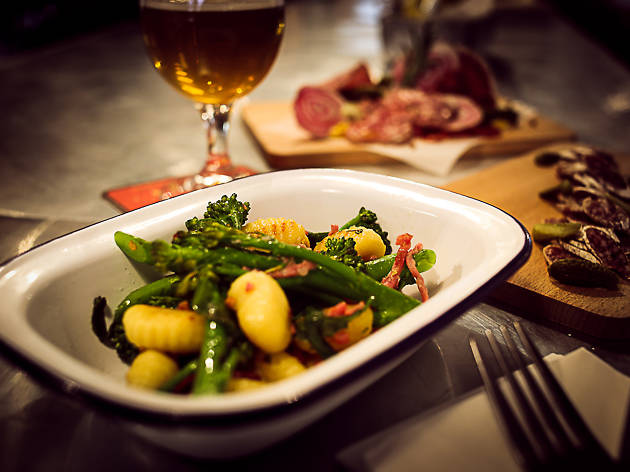 Why go? For bottle shop vibes and deliciously greasy food.
Part craft bottle shop, part American diner, if you have a beard and/or tattoos Junkyard is your nirvana. This place boasts fifteen taps and an inventively dirty food menu – don't miss the fish burger: pan-fried fish with caper and parsley mayo slipped inside a toasted milk roll. Mac and cheese balls are also ace. Budget.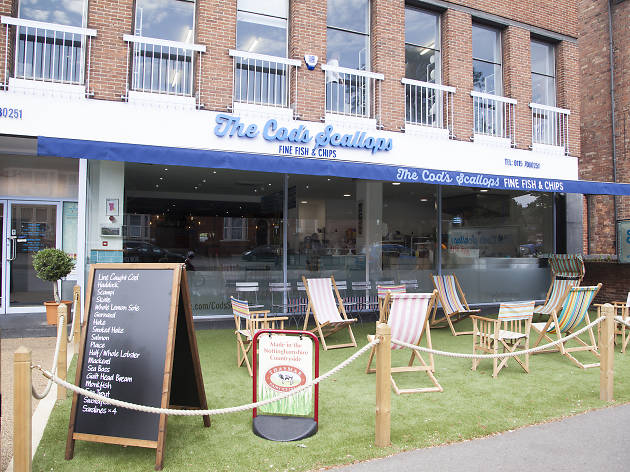 Why go? For award-winning fish and old-fashioned sides like gravy and pickled eggs.
Fish and chips at this brilliantly named spot are the dog's bollocks, and it has the awards to prove it. Fish is caught that day and deep fried in traditional beef dripping or baked with garlic. There's posh stuff like oysters and lobster, but you can expect chippie favourites like curry sauce and Heinz baked beans, too. Budget.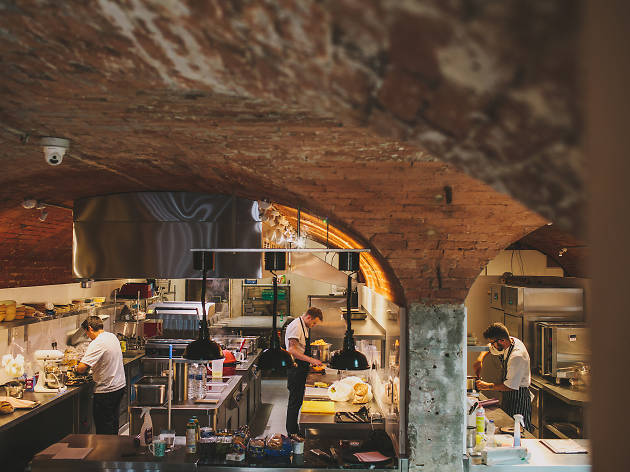 Why go? When you want to eat fancy food underground.
The location of this upmarket modern British restaurant is its calling card. A lovely, vine-covered door leads you down below street level to a beautiful, bright room set beneath exposed brick arches. Food is fancy, pricy and delicious (think: oysters and game). Remember to look up: there are beautiful ceiling windows in the arches. High-end.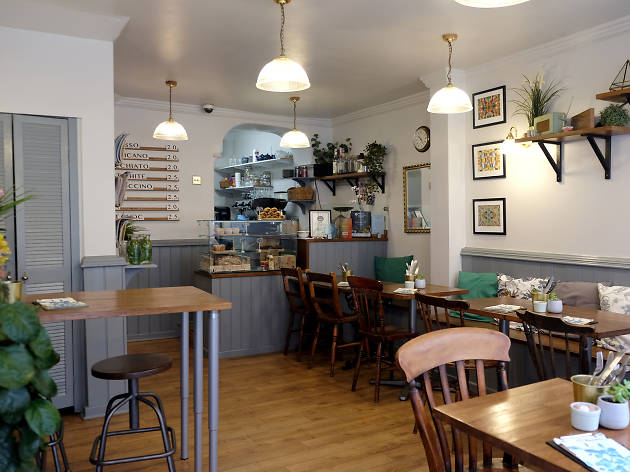 Why go? For veggie food that won't make carnivores miss meat.
Inside this snug vegetarian and vegan café the look is clean and rustic with lovely wooden furniture and white and duck-egg blue walls. Food is simple, with a focus on fresh ingredients. Danish open sandwiches are a speciality – try the 'slow and low tomatoes' on multi-seed bread with cream cheese and salsa verde. Mid-range.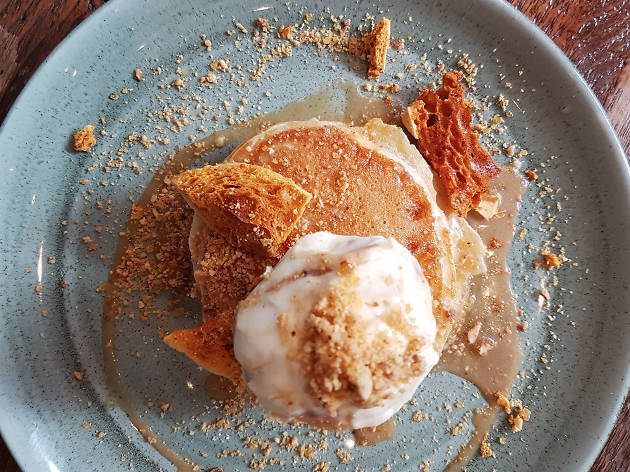 Why go? Because sweet tooths need satisfying too.
Those with a penchant for all things America will appreciate the fluffy pancake stacks that The Pudding Pantry does so well. But that's not all they're about. They do sweet sharing boards, Mississippi mud pie and s'mores milkshakes, not to mention boozy shakes and pudding and wine pairings. What's not to like? Budget.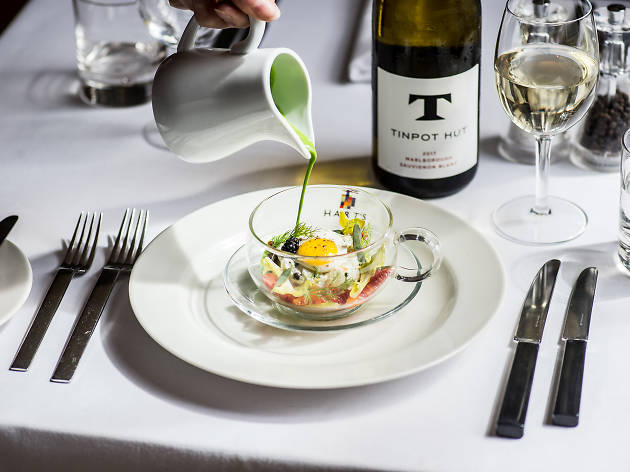 Why go? For an anniversary meal: if things go well you can book a room as it's part of a luxury hotel.
Set within the ramparts of Nottingham Castle, this modern British restaurant has serious culinary lineage. Run by husband and wife Tim and Stefa Hart (parents of the Hart brothers who run London's Quo Vadis and Barrafina, FYI), this place offers quality food and service. Try the duck breast and spiced lentils and the chicken liver parfait. High-end.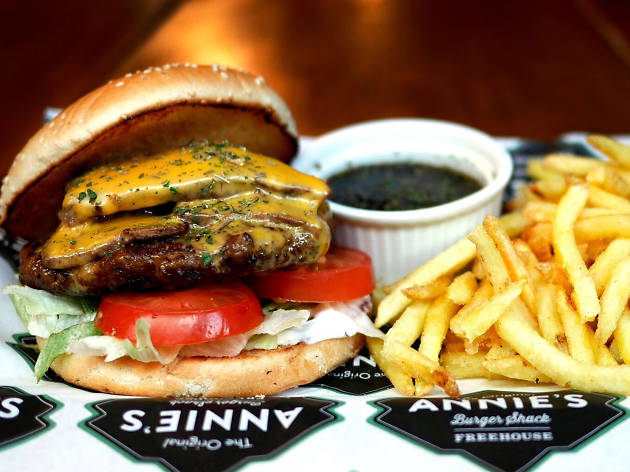 Why go? For out-of-the-ordinary buns with sexy little touches, like Jack Daniel's mustard and marinara sauce.
Big fat patties wrapped in paper and served on a tray are the speciality here. Burgers have zany names like The Deathray and The Johnny Vegas and every single one is available in a vegetarian or vegan version. There's a tavern downstairs for drinking in, too. Budget.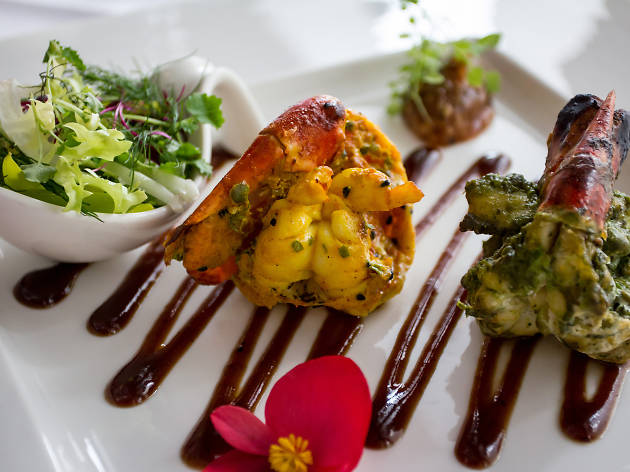 Why go? For barbecued meats and superb Tandoori chicken.
In prime position on a road named after Robin Hood's girlfriend, this is a Nottingham stalwart. The look is colourful, with ornate pillars intersecting the spacious dining room, but the food is the star of the show. Expect all the classics, done brilliantly – AA Gill hailed this as one of the best Indian restaurants in the UK. High-end.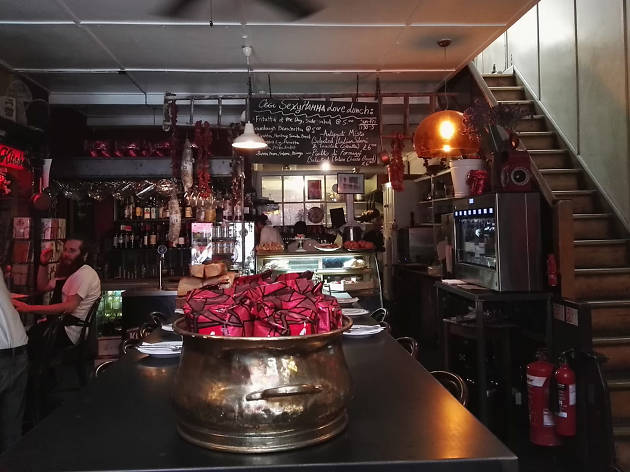 11. Sexy Mama Loves Spaghetti
Why go? That name should be reason enough.
A rustic, blue-fronted spot, this place specialises in spaghetti, obviously. Expect simple, luscious dishes scrawled up in chalk on a blackboard: anchovy and tomato spaghetti is a hit, as is roast aubergine with fresh ricotta and pear and honey truffle oil. The tiramisu isn't bad either. Mid-range.
Discover Time Out Market: the best of the city under one roof
Planning a trip to Nottingham?
Whether you're a fresher at one of city's two universities or a tourist looking to spend some hard-earned cash, there's plenty of fun activities to do in Nottingham. Here are 9 of the best.