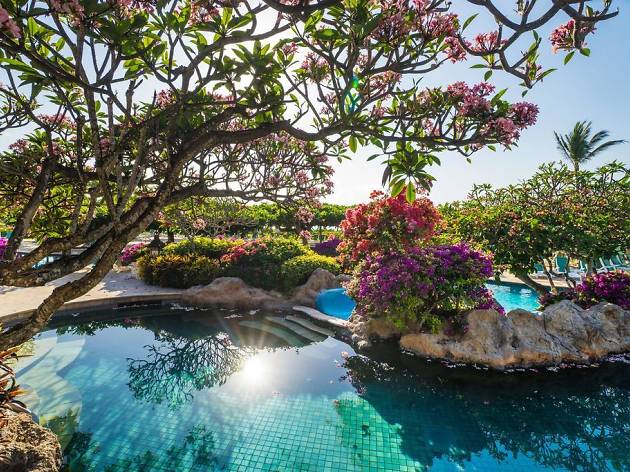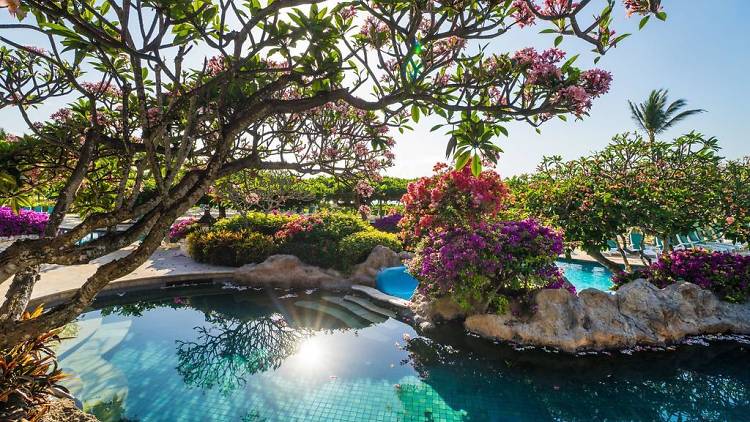 The 10 best hotels in Nusa Dua
Nowhere says luxury like Bali's ultimate resort town, but don't settle for less than the 10 best hotels in Nusa Dua
Bali's upmarket resort town of Nusa Dua was purpose-built for high-end tourism in the 1970s. Since then, nearly every luxury hotel and spa brand has put down roots in the area – so much so that Nusa Dua Beach is now home to more five-star hotels than Park Lane. Packed full of gated resorts, the area feels moneyed, with golf, glitzy shopping and haute cuisine all big business. But with its gleaming white sands and calm surf, it also ranks as one of the most relaxing places in the world, as well as a popular spot for those with kids.
Nusa Dua hotels all share an emphasis on opulence, top-end services and plentiful amenities, which can make choosing one tricky – with so many five-star establishments to pick from and a spa/fine-dining/infinity pool/glorious views in seemingly every one of them, how do you know which to plump for? By carefully making your choice from our carefully selected list, that's how.
The 10 best hotels in Nusa Dua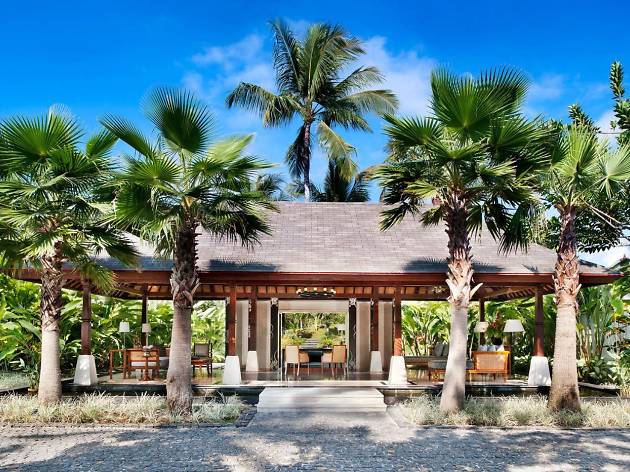 Courtesy of Booking.com
You'll feel like Balinese royalty as you arrive at this hotel, heralded by the sound of a gong and the spectacle of elaborately costumed dancers performing to local music. Huge rooms with giant beds and luxe bathrooms overlook tropical gardens interspersed with lagoon pools. There's a well-equipped gym (entered underneath a waterfall), a spa, and lavish breakfasts. The beachfront bar is the place for pre-prandial cocktails before spectacular nightly fire dances. In spite of its size, the Laguna offers a great sense of privacy and strong emphasis on local culture, all for a more reasonable price than most of its neighbours.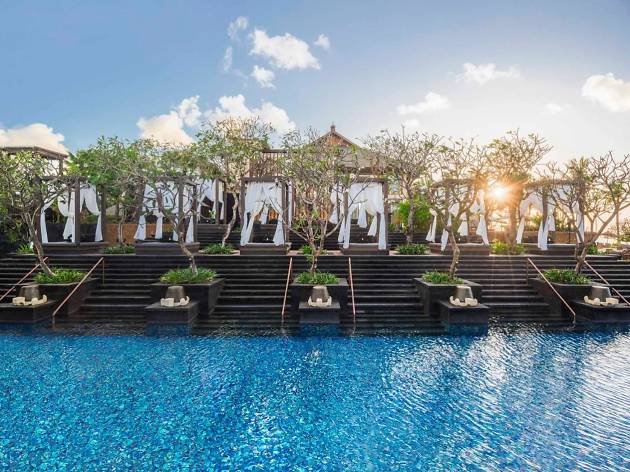 Courtesy of Booking.com
Occupying a prime location directly on the sands of Nusa Dua beach, the St Regis is extremely dapper – think dark woods and traditional Balinese wall art, with olive green and burnt amber furnishings. Take a dip in the resort's blue-tiled lagoon (three times the size of an Olympic pool) or visit the skilful therapists in the thalassotherapy spa. Kids can be deposited at the impressively titled 'Children's Learning Center', which offers a lofty curriculum designed to 'stimulate and entertain'. And make sure you all make time (and room) for the extraordinary Sunday brunch – everything from Wagyu beef to lobster is on the menu.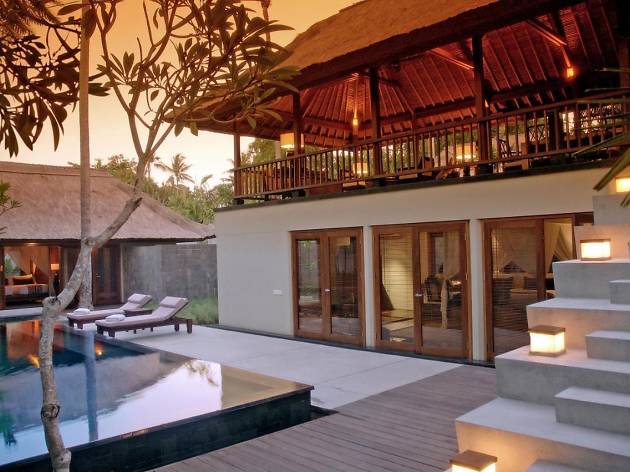 Courtesy of Booking.com
3. Kayumanis Nusa Dua Private Villa & Spa
Cocooned away amid lush gardens, this adults-only oasis just might be the most romantic spot on Nusa Dua. Each of the exclusive resort's uniquely decorated villas is concealed within its own walled garden and set out in the tradition of Balinese open-air living. Start the morning with a dip – it's just a few steps from your exceptionally comfortable king bed to your private plunge pool. If you don't fancy venturing to one of the five in-house eateries, ask your butler to prepare breakfast in your own kitchenette. Or better yet, venture onto the sands, where you'll be served a picnic brunch soundtracked by crashing waves.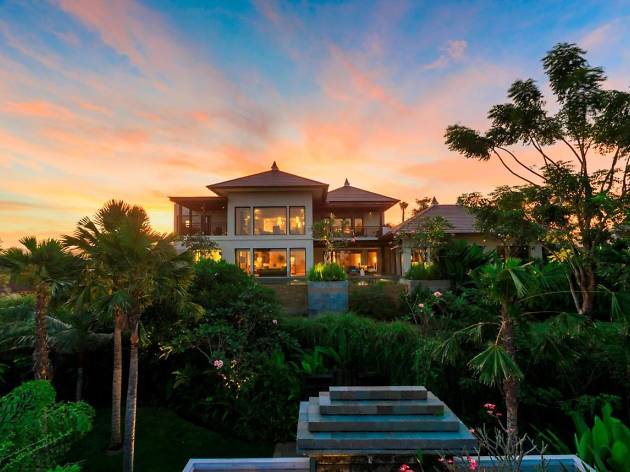 Courtesy of Booking.com
4. The Ritz-Carlton, Bali
Offering 313 elegant suites and villas, the multi award-winning Ritz-Carlton is as sleek and tasteful as hotels come. Warm Balinese service is ever-present and rooms are spacious, with huge marble bathrooms and state-of-the-art entertainment systems. Bag a room with an oceanfront view and make sure to be up with the larks for unbeatable views of the sunrise. When it comes to dining, you can enjoy locally-sourced ingredients in six on-site restaurants, including award-winning Indonesian option Bejana. Feeling inspired by all these delicious local flavours? The resort's 'gourmet learning center' offers cooking classes – you'll be whipping up your own Nasi goreng in no time.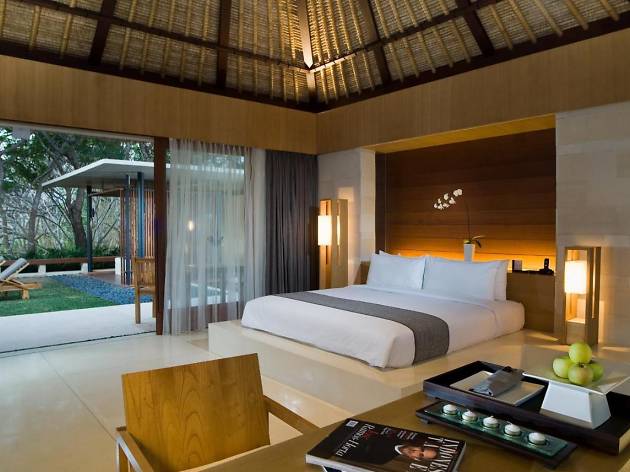 Courtesy of Booking.com
Stylish and welcoming, the 29 lofty, tranquil rooms (or 'pavilions') at this adults-only retreat are so secluded you may not see another guest throughout your stay. On arrival you'll be greeted with a refreshing virgin mojito and led to your private retreat, complete with spacious pool shaded by frangipani trees. There are three great restaurant options for dinner, but you may prefer one of the army of hotel butlers to BBQ some fresh fish by your pool. If you do get the urge to venture out, the pristine white beach is a brisk ten-minute walk (or short complimentary shuttle) away.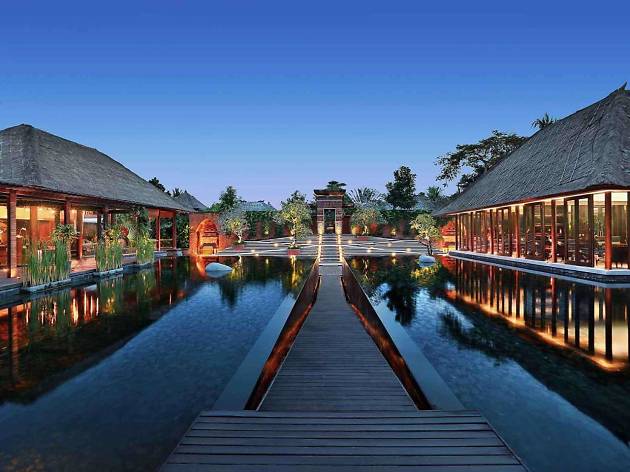 Courtesy of Booking.com
Wander up a tropical walkway bordered by waterfalls and you'll discover this serene, eco-conscious resort, with architecture inspired by the 13th-century Majapahit Empire. Each of Amarterra's 39 palatial villas comes complete with a garden perfumed by tropical flowers, and a private pool big enough to do laps in. Unique touches create an atmosphere of warm hospitality, from homemade cookies on arrival to traditional Balinese sweets left on pillows at turndown. Had enough solitude? Take a leisurely stroll to the ocean, where the hotel's beach club staff will have sun loungers, ice-cold water and towels all set up.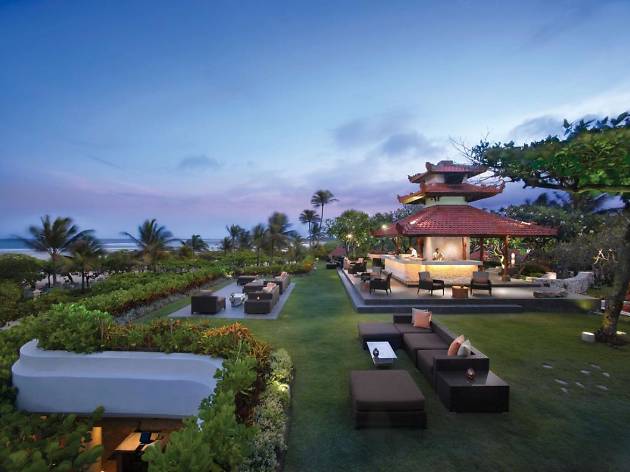 Courtesy of Booking.com
This sprawling, 42-acre resort is an aquaphile's dream. The Grand Hyatt doesn't just have a swimming pool – it has a "water palace", consisting of five lagoon-style ponds with winding waterslides and sheltered grottoes. And it's stylish too - a modern Balinese aesthetic pervades in the hotel's beautifully furnished rooms, as marble and teak mingle with traditional fabrics. Come dinnertime, you'll find a diverse selection of restaurants catering for every fancy, whether it's steak, spaghetti or sashimi. For a truly unique dining experience, grab a table under the stars and enjoy authentic Indonesian cuisine at Pasar Senggol - the eatery is styled as a contemporary Balinese night market, complete with cultural performances.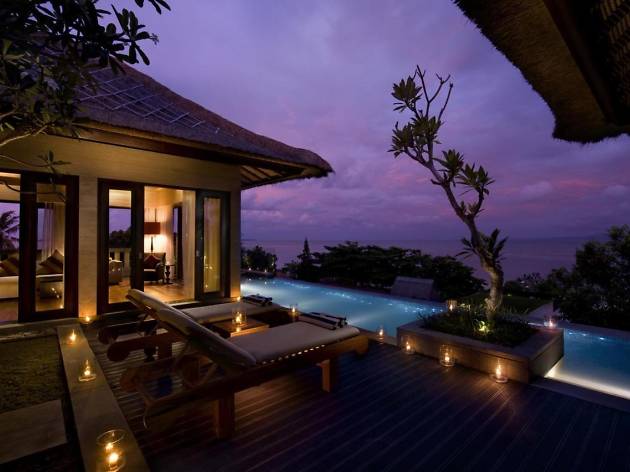 Courtesy of Booking.com
Travelling en famille? The Conrad is a brilliant option - a luxury hotel with all the leisure diversions of an activity holiday. Try your hand at kayaking, wakeboarding or parasailing, or work up a sweat on the tennis courts and running track. There's a strong family focus, with free meals for under-12s and adorable soft toys left on children's beds. But if you're after some alone time, leave the little ones flying kites and making puppets at the Kura Kura kids' club and head for the beach - you've got 1,000 feet of immaculate private sand to escape to.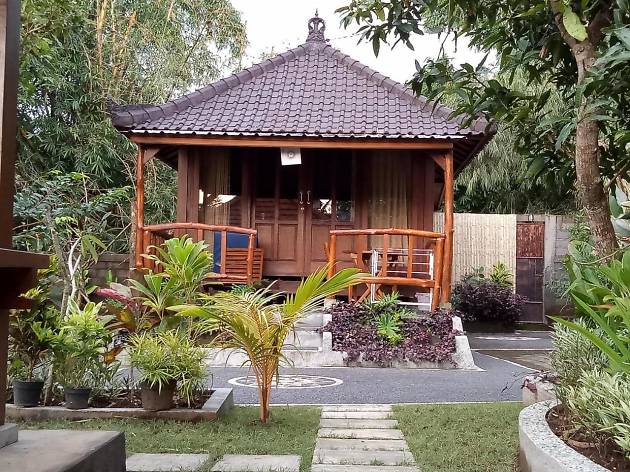 Courtesy of Booking.com
The huge, high-end Mulia is the biggest hotel complex on Bali, and its size means that every travelling taste is catered for (although perhaps not every budget!). Pick from a well-equipped room in the Mulia Resort, a sumptuously appointed suite in the separate Mulia wing or (if you're feeling flash) a beyond-opulent villa nestled into the hillside. It's all the height of glitz and glamour, from the dramatic centrepiece swimming pool surrounded by marble maidens, to the sophisticated Sky bar, serving beachfront tapas and tequila sunrises. There's a focus on nightly live music, with the resort even launching its own festival, featuring the likes of Mark Ronson and Fergie.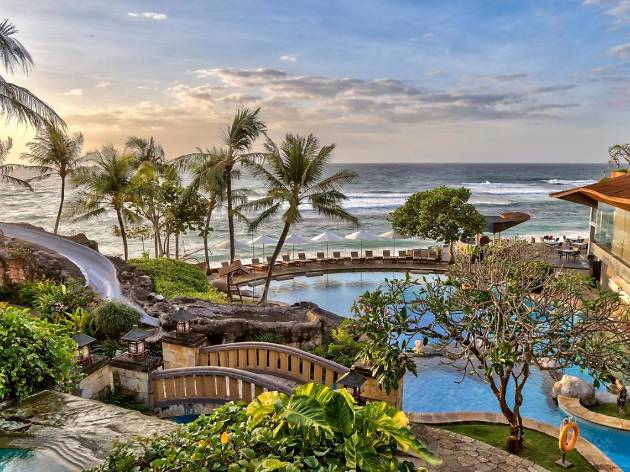 Courtesy of Booking.com
The Hilton's outpost in Bali is in an unrivalled spot - perched on a cliff overlooking the glistening Indian Ocean. Enter the hillside lobby 15 floors up, before checking in to your relaxing room with its very own balcony. Water slides, family pools and an outdoor playground will keep children happy, as will the free daily Kids Club. That leaves you to settle back with a good book in one of the peaceful poolside cabanas, or sprawled on a lounger on the private beach. Come sundown, head to the observation tower for the spectacular views of eminently-Instagrammable pink sunsets. And don't miss the in-house Balinese restaurant for tasty, authentic delicacies, including famed Babi Guling (suckling pig).