The 10 best hotels in Bali
An ever-popular destination for romance and relaxation, we've picked the 10 best hotels in Bali for the ultimate getaway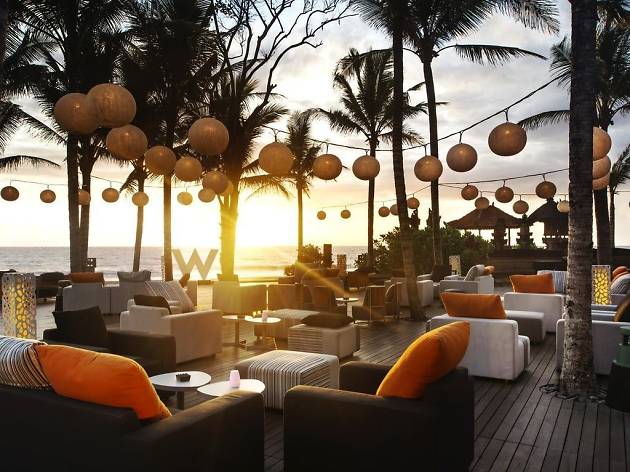 As you might expect from such a popular honeymoon destination, hotels in Bali abound. The island has plenty of accommodation options to choose from—indeed your only problem might be deciding where to stay (beach or hilltop?) or finding something that isn't filled with loved-up couples if you're not one of them! We're here to help. If you're chilling in surfers' beach paradise Canggu you'll find a great backpacking option at Serenity. Visitors to culture capital Ubud will appreciate the relative solitude of Komaneka, and those shopping and partying in and around Seminyak will love the peace of Kayana. And options for really getting away from it all include clifftop Alila Villas in Uluwatu, Alassari Plantation in Selemadag, or Sun Suko Boutique Resort in Pemuteran. A good choice for arrival or departure is Maya in Sanur, which is close to the airport, and has some excellent bars and restaurants. The number of amazing things to do in Bali is surely rivaled by the number of hotels to rest your head at afterward. We've picked our favourites below.
The 10 best hotels in Bali
1
Photograph: Courtesy booking.com
Where is it? Uluwatu
Why go? Clifftop Alila Villas are a glamorous Modernist dream, and have also won an award for environmentally sustainable design. There are 30 villas, each with their own butler, and all are simple stunners. Luxury bathrooms have deep tubs and a host of locally made smellies. The beach is way down the cliff so hang out around the 50m infinity pool (you get your own lap pool if you book the three-bedroom Penthouse) or check into the spa, before dining in one of two exceptionally good restaurants serving authentic Indonesian cuisine.
2
Courtesy of Booking.com
Where is it? Canggu
Why go? Fancy your own stylish villa, complete with a spa-inspired bathroom? Plus a separate living area with kitchen overlooking your private swimming pool and a generous verandah for hanging out on your Dedon loungers? Add 24-hour butler service, free afternoon tea, a sunset cocktail and a 30-minute massage – all included in the standard price - and relax... At this tropical hideaway the design is super-cool, with exposed timbers and stone softened by floaty fabrics and candles, and if you find yourself getting more zenned out than you'd like, buzzy Seminyak is just 20 minutes away.
3
Courtesy of Booking.com
Where is it? Nusa Dua
Why go? You'll feel like royalty from the moment you arrive at this expansive resort as your arrival is regally sounded by a gong, and that's before you even get to the enormous marble-and-chandeliered lobby/reception. Accommodation, spread throughout a lush resort dotted with lagoon pools, consists of huge rooms with giant beds and luxe bathrooms, all overlooking gardens or water. The spa opens onto more lagoons. Lavish breakfasts include sushi, curries and dim sum, along with more traditional fare, and the beachfront bar is the place for preprandial cocktails and an impressive nightly fire dance performance.
4
Courtesy of Booking.com
Where is it? Seminyak
Why go? One of the loveliest options in Seminyak, the five-star W has huge contemporary rooms (the Extreme WOW suite is more than 500 square metres), all decorated in sleek whites and muted tones with splashes of bold colour, while features include serious luxuries, including a Bose sound system. Four terraced pools with plenty of sunbeds lead down to the beach, and waiters are on hand to bring you that next mint julep. Bars and restaurants abound – our favourites include the Chill Bar within the 24/7 spa area and the beachside Starfish Bloo serving Pan Asian cuisine.
5
Courtesy of Booking.com
Where is it? Sanur
Why go? In an enviable beachfront setting, Maya has beautifully designed apartments that are stacked, Modernist style, over pools. Contemporary interiors have a stylish Danish mid-century vibe with glass doors opening onto balconies and terraces where lush planting has been used to increase privacy. Food and drink are a real feature here: Reef is the signature restaurant for al fresco dining, as well as an unbelievably comprehensive breakfast menu; Kuu serves contemporary Japanese, and Graze is open all day for cafe-style fare; for cocktails, the Tree Bar overlooks Sanur beach. The sea-facing spa's pretty special too.
6
Courtesy of Booking.com
Where is it? Pemuteran
Why go? This boutique retreat in the north-west of the island is perfect for anyone really wanting to get away from it all. Combining Balinese tradition with luxury, ten Javanese wood houses set around a pool feature traditional furniture and modern art, open-air showers and outdoor terraces. The sense of tranquillity is completed with a strong range of holistic treatments, and healthy, delicious food. Beyond the hotel it's a 15-minute walk to beach, and there are opportunities for diving, snorkelling and visiting nearby waterfalls.
7
Courtesy of Booking.com
Where is it? Seminyak
Why go? Stroll along a frangipani-lined path to your front door and be prepared to be wowed; behind it you'll find a private garden with plunge pool and sunbeds, and a detached thatched villa of a traditional wood construction – instant solitude. Within are enormous beds and spacious bathrooms. Have breakfast in your garden, or at the restaurant overlooking the swimming pool, before hitting the spa. There's free afternoon tea, meals can be served in your villa and the bars and shops of Seminyak are minutes away, including top hotspot Potatohead beach bar.
8
Courtesy of Booking.com
Komaneka at Monkey Forest
Where is it? Ubud
Why go? Bali's cultural centre, Ubud, offers four Komanekas; we've plumped for this one at Monkey Forest because it's a little oasis within a tropical jungle of palms and ferns, but with the advantage of being close the action. Guests have their own traditional Balinese style villas, with petal-strewn beds and all the amenities you'd expect from a luxury hotel, including a host of bathroom treats. For lounging, there's a heated infinity pool in a lush garden, plus a spa for beauty and massage treatments. Staff are delightful, there's a daily-changing breakfast menu, and free afternoon tea, with cake.
9
Courtesy of Booking.com
Where is it? Selemadag
Why go? Getting away from it all couldn't be easier when you're in a lofty bamboo treehouse in the middle of the rainforests of mount Batukaru. Vertigo-sufferer? You're catered for with luxurious Javanese wooden villas with verandahs, private bathrooms, coffee machines, bathrobes and free toiletries. Facilities include an outdoor pool, a small spa for personalised massages, morning yoga sessions and free laundry service, and a good range of off-site activities include mountain trekking, Balinese cooking classes, visiting local healers and meeting the local community at the regular full moon ceremonies.
10
Serenity Eco Guesthouse, Canggu
Where is it? Canggu
Why go? Experience Bali on a budget at this sweet eco stay in the heart of surf capital Canggu. Prices start at £6 for a dorm bed, and around £25 for your own space. Rooms are simple, but there are plenty of facilities here, including daily yoga sessions, a small pool, massage and beauty treatments, and an excellent all-day vegan café. There's a no-smoking or alcohol policy, but Serenity is close to plenty of bars and restaurants. It's a five-minute walk to the beach, and 20 minutes from the popular shopping and nightlife areas of Seminyak and Kuta.