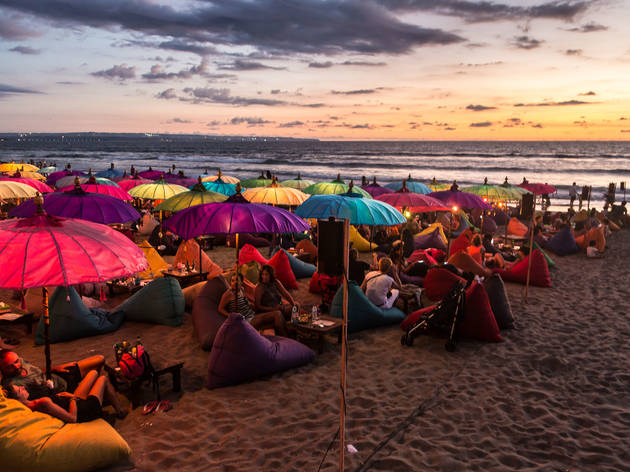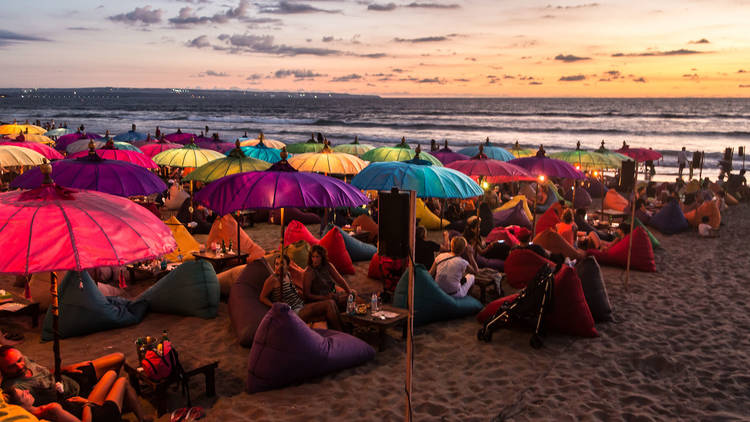 Nightlife in Bali: 12 best places to party
From luxe pool clubs to multi-level dancefloors, nightlife in Bali will delight you in many ways
This destination in Indonesia embraces its warm weather so nightlife in Bali kicks in a little earlier in the day than what you're probably used to.
Once you've figured out where to stay, you'll find luxe pool clubs dotted around the island where you can kick back on day beds and dip in and out of salt water pools before the lights get lower and things tick over into nightlife mode. Excellent restaurants and bars also embrace the party vibes after sundown, transforming from dining destinations into dancefloors when the kitchen closes. After a day well-spent at the beach or exploring other things to do on the island, head to these spots that combine a top-notch soundtrack with excellent vibes, great drinks and dancefloor antics.
Best nightlife in Bali
Potato Head Beach Club
1. Potato Head Beach Club
What is it? This beachfront pool bar is one of Bali's best day clubs – there are private daybeds, excellent cocktails (make sure you order the fresh lemongrass and passionfruit Kookaburra), restaurants and amazing views.
Why go? While the pool is the big drawcard, Potato Head is also a bit of a cultural hub. Expect anything from sculptural installations by art activist Liina Klauss; a DJ set by Floating Points; artworks by local painter Eko Nugroho; or the annual Sunny Side Up Festival (which has been headlined by the likes of Phoenix, Halsey and Flight Facilities).
Motel Mexicola
What is it? A colourful Mexican party bar and restaurant in the centre of Seminyak.
Why go? Settle in for a feast of empanadas, tostadas and tacos before working it all off on the impromptu nightly dancefloor. Bartenders will pour tequila laybacks to get the party started, and a soundtrack of reggaeton and Latin hits, plus classic party tracks will keep you grooving into the evening.
La Favela Bali
What is it? An eclectic indoor-outdoor garden bar in downtown Seminyak.
Why go? While you can head here early on in the evening for a sit-down dinner, La Flavela really cranks into gear after 10pm. Dinner tables are replaced by DJ decks, with local and international DJs spinning party tunes until 3am.
Singlefin
What is it? A multi-level balcony bar in Uluwatu.
Why go? The sunset views from Single Fin are legendary, with the spot being a go-to for surfers and locals alike. Watch the waves roll in while you're perched on one of the biggest balconies in Bali with a rum-spiked kombucha or a white wine sangria in hand.
Old Man's
What is it? Canggu's beachfront bar hosts international live music talent and a great mid-week party.
Why go? Even though the vibes are seriously relaxed at this Canggu bar, they score great international talent on a regular basis. You may catch a chilled acoustic blues set by Ash Grunwald one weekend, followed by a scratch heavy set from DJ Jazzy Jeff the next. Hump day is also a big drawcard here, with the weekly Dirty Ol' Wednesday party dishing out beer pong and plenty of ice cold margaritas.
Deus
What is it? This motorcycle juggernaut is behind one of the coolest hot spots in Bali, dubbed the Temple of Enthusiasm.
Why go? You can go full throttle at this workshop-meets-nightspot, with beers in the courtyard, DJs on the decks, rotating art and photography exhibitions, pop-up tattoo artists and more.
Woobar Bali
What is it? The glitzy poolside lounge bar in Seminyak's W Hotel.
Why go? There are loads of bars tucked away in Bali's five-star hotels, but Woo Bar is the one worth seeking out. Go for the daily two-for-one cocktail happy hour from 4-6pm, and sip on passionfruit mojitos underneath lantern lights and swaying palm trees. Head inside to the underground bar Woobase for thumping techno and house music.
Rock Bar
What is it? A world class cocktail bar that juts out off Jimbaran's rocky coastline 14 metres above the crashing ocean.
Why go? This swish spot is located within the Ayana Resort and is all about offering a refined and seriously picturesque drinking experience. Aside from the panoramic views of the Indian Ocean, the bar also does tapas-style eats, and DJs spin records from a booth that's carved directly into the cliff face.
La Plancha
What is it? A bar on Seminyak's main beach with rainbow beach umbrellas to relax on and cocktail jugs aplenty.
Why go? This chiringuito-style bar was one of the first on the beach, and its glowing lights, colourful facade and inclusive vibes keep it one of Seminyak's most popular. You'll also find DJ sets with live saxophone accompaniments and tropical cocktails.
What is it? An outdoor dive bar that takes cues from Californian skate culture, complete with a Lords of Dogtown-inspired skate pool.
Why go? A little entertainment never goes astray with a beer in hand, and local skaters here are more than happy to put on quite the show. Gather around the skate bowl's edge and watch locals glide, flip and spin in and out while DJs spin rock'n'roll records.
Sky Garden Bali
What is it? A sprawling multi-level club in the centre of Kuta.
Why go? Much of Kuta's nightlife is a drawcard for the wrong reasons, but if you're really set on going clubbing then do it here. It's the biggest nightclub in Bali with different levels that play house, RnB and techno over a good soundsystem.
Find more must-do's in paradise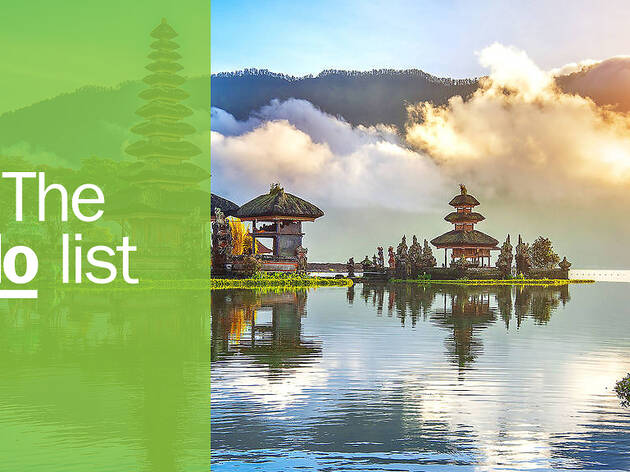 The tropical hideaway manages to be an adventurer seeker's paradise, a spiritual sanctuary, a family friendly getaway, a food lover's paradise and a surfer's oasis all at once. Here are the very best things to do in Bali.
Best selling Time Out Offers