Heads up! We're working hard to be accurate – but these are unusual times, so please always check before heading out.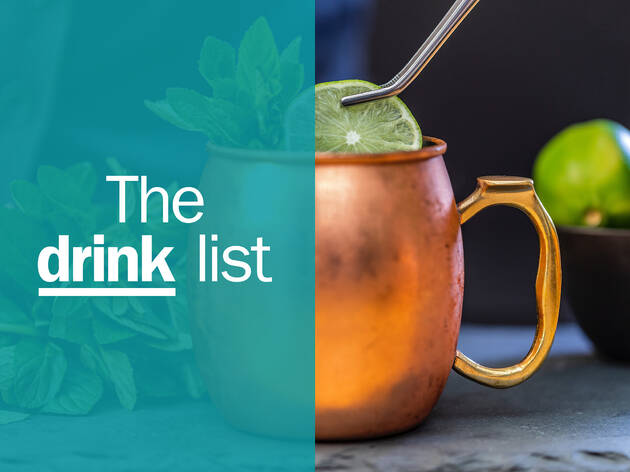 The 14 best bars in Orlando
From an all-year-round Christmas bar to swanky rooftop lounges, these are the best bars in Orlando (and then some)
What's most striking about the best bars in Orlando (other than their obvious juxtaposition to the Micky-Mouse-everything theme that resonates across all of Central Florida) is their rate of growth.
Peppering each neighborhood alongside top-notch restaurants, these drinking dens are found in the most unsuspecting locations, some of them catering to needs we didn't even know we had (craving a Christmas celebration on a random Tuesday in August? We've got you covered). Whether you're looking for a hole-in-the-wall dive bar to grab a beer at after a day spent at the local theme parks and museums, a swanky rooftop lounge or a cocktail heaven, the best bars in Orlando have got you covered. Cheers!
Best bars in Orlando
At Guesthouse, you'll find knowledgeable bartenders who create solid cocktails but we do suggest you don't frown upon a seemingly basic rosé: the venue boasts a shockingly impressive wine list for a neighborhood bar. When it comes to cocktails, you'll find everything from high-end Japanese whiskey to rare mezcals. In the back parking lot, notice the converted vintage airstream, used to host parties and serve frozen drinks when it's warm out.
The Courtesy is Orlando's first true cocktail bar. It's a small and intimate space, the kind that's ideal for a date night. The menu changes seasonally and regulars pack in for the new menu release parties. For imbibers that want to hone their at-home bartending skills, the staff offers 90-minute cocktail classes during the first and third Saturday of each month. Most bars in the area are thoroughly influenced by The Courtesy, so you'll definitely want to stop by here.
A well-known restaurant owned and operated by a James Beard nominated husband and wife team is also easily the best restaurant bar in Orlando. Expect authentic southern hospitality matched by adventurously approachable cocktails. Instead of the usual frosé, order a Freisling made with Reisling, Luxardo bitter bianco, Cocchi Americano and Granny Smith apples. Beer lovers will adore the ales brewed in house.
Located in the oldest building in downtown Orlando (it was once an actual shoe repair shop), Hanson's Shoe Repair requires a password for entry. Getting it is fairly easy: just check Twitter or call the speakeasy from 1pm to 7pm and listen to the pre-recorded message that changes daily. Once inside, you'll instantly feel like you've dove into the Prohibition era while reveling in the bartenders' expertise.
Attached to the legendary Will's Pub, a live music venue that has been in operation for 20 years, Lil Indies is where dive bar meets proper cocktail bar. Guests pile into the former for cool shows but always make their way into Lil Indies before or after for a legitimate cocktail experience.
Photograph: Courtesy Yelp/Bitters & Brass
While it's not exactly in Orlando proper, Bitters & Brass is the first bartender -owned and -operated bar in the area. Founded by two industry vets in a historic part of town, Bitters & Brass features a whole lot of bitters (duh) and absinthe on the menu. Although any of the classic cocktails will delight you, the bar's secret weapon are tiki drinks – the best ones in Central Florida.
Photograph: Courtesy Yelp/Colton C.
Yes, you have to purchase a theme park ticket to get in (the bar is inside the Mexico Pavilion at Epcot) but we promise you that it is totally worth it. Expect the largest selection of tequilas, mezcals and authentic Mexican spirits across the city, as well as selected barrels from some of the top tequila producers in the world. After all, when the bar staff includes two tequila ambassadors, you're sure to be well taken care of.
Locals love this fun neighborhood bar. It's dark and divey with plenty of seating, including a patio that draws big crowds during late night hours. The menu features adventurous cocktails, including a gin-and-tonic on tap for the purists. If you're looking for a fun drink, order the Kokomo made with Leblon Cachaca, lime, Banana De Breseli, Borghetti and orange bitters.
Photograph: Courtesy Yelp/Jeff K.
During the day, the Imperial is a rad furniture store that imports unique pieces from India and Southeast Asia. Starting 5pm daily, it transforms into what is possibly the best unintentionally well-designed bar in Orlando. Serving only beer and wine, 40 varieties of the former and 35 of the latter, the venue also hosts live music acts and food trucks in the beer garden. Expect a romantic vibe ideal for date night.
Another bar in a historic building, this one is decorated like the inside of a forest: the tables and the bar counter are actual pieces of trees. Strict about the number of people allowed in at any given time, The Woods is never overcrowded. The menu rotates monthly and, on Mondays, happy hour lasts all night long. Bonus points: on bacon Wednesdays, each cocktail or beer purchase includes free bacon.
Photograph: Courtesy Yelp/Juanita C.
11. Frosty's Christmastime Lounge
While you're not likely to ever experience a white Christmas in Orlando, you can sure celebrate it every day of the year at Frosty's. This spot looks like something straight out of National Lampoon's Christmas Vacation and the menu features snow cones, including the "Nightmare Before Christmas," made with Blackwell Jamaican dark rum, Rhum Clement light rum, orange liqueur, fresh lime, house-made black sesame orgeat and squid ink. This is the ideal destination for a bar crawl or a bachelorette party.
Photograph: Courtesy Yelp/Latitudes
Want to get rowdy on a rooftop? Latitudes is the place to do that. Go for the tropical vibes, stay for the three-for-one drink specials. Take in the downtown Orlando views with a cheap drink in hand while enjoying a live DJ or top 40 playlist. Latitudes is located on the third floor and below it you'll find two other bars: Cahoots, known for its beer and whiskey selection, and Chillers, home to the largest frozen daiquiri party bar in town.
Photograph: Courtesy Yelp/Marisa C.
Owner Tim Majors (the M is for Majors) is a classic car enthusiast whose collection is on display for all to enjoy. The first floor showroom is filled with roughly 150 vintage cars, from Rolls-Royces to Ferraris and Volkswagens, surrounding a bar that serves more than just classic cocktails. Upstairs, find a rooftop bar boasting great city views.
There's something about the combination of whiskeys and cigars that automatically creates a chilled out yet classy atmosphere. At Corona Cigar, you'll find tons of high quality cigars, but also a killer menu of whiskeys and rums. The Cuban decor sets the mood and invites guests to relax with a hand-rolled cigar and a glass of whiskey on the rocks or a refreshing mojito in hand. You know, to keep with the theme of course.
In the mood for a wilder night out?
Unlike Miami and Las Vegas, you won't find a plethora of over-the-top, pretentious bars, clubs and lounges around here. Even the swankiest clubs in Orlando boast a laid-back, welcoming vibe—much like the city itself.