Heads up! We're working hard to be accurate – but these are unusual times, so please always check before heading out.
The 15 best things to do with kids in Orlando
The best things to do with kids in Orlando vary from theme parks and attractions to science museums and gorgeous gardens
Don't let the Sunshine State fool you. There are plenty of things to do with kids in Orlando, apart from epic theme parks (though the city has those in spades).
Whether you're a local or a visitor, we'll help keep you busy after one too many rides on Space Mountain. We've rounded up some of the best attractions in Orlando, including the Harry P. Leu Gardens, and the best museums in Orlando (calling all scientists and art aficionados) that deserve a spot on your to-do list. Let's not forget about the magic shows, restaurants and attractions!
As much as we love Mickey, Minnie and co., we encourage you to take advantage of everything during your vacation or day out. Disney is but one of the many reasons why Orlando can be considered magical.
Best things to do with kids in Orlando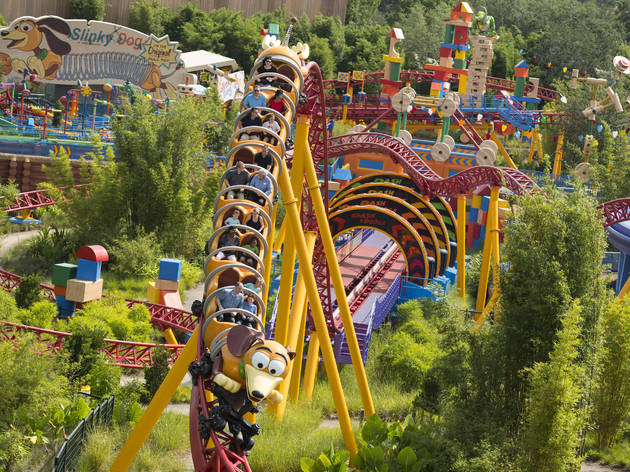 Photograph: Courtesy Disney
What is it? Rumor has it that Walt Disney World is the most magical place on earth! Grab your mouse ears and venture through the amusement park with Mickey, princesses and all of your favorite characters.
Why go? A trip to Disney World is essentially a rite of passage for kiddos. The young and young at heart have no shortage of entertainment options, including rides and thrills at Magic Kingdom, Epcot and Typhoon Lagoon. There's always a place where visitors can grab a bite and plenty of characters who are ready to pose for a selfie at a moment's notice. Seasonal events and entertainment options, including behind-the-scenes tours, dance parties and fireworks make the experience all the more enchanting. If you can't make a visit during an off-time during the year, you can still make the most out of your trip by booking things in advanced with the Disney FastPass+. But be forewarned: There always seems to be crowds here.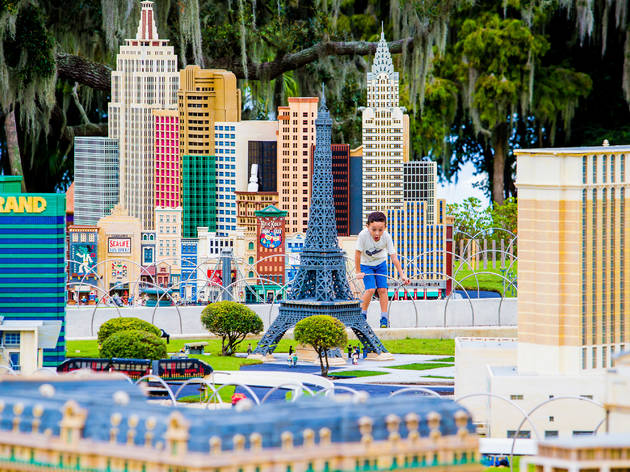 Photograph: Courtesy 2017 LOCK + LAND/Chip Litherland
What is it? Disney's not the only theme park in town. At LEGOLAND Orlando, pint-sized engineers can enjoy rides and water features inspired by their favorite toy bricks.
Why go? Not only does a trip to LEGOLAND Orlando make for a fun family outing, but it's a great way to keep kids interested in science-related activities. Bricks are at the heart of everything in the venue, from Build-a-Raft River and AQUAZONE Water Racers to the DUPLO Splash Safari and even the double-decker Grand Carousel, which features LEGO-looking stallions. Seasonal events, including the delightfully spooky Brick or Treat, and group programs add a fun, personal touch to your visit. For the STEM-obsessed families, we recommend looking into the perks of VIP Experiences.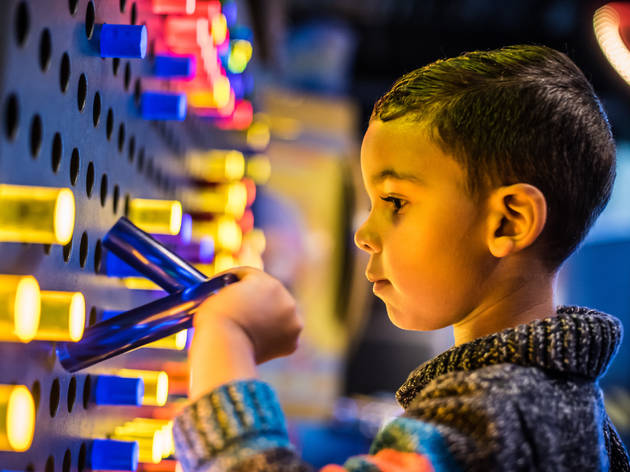 Photograph: Courtesy WonderWorks Orlando
What is it? Inspired by science and the world around us, WonderWorks is a cross between a museum and theme park that offers interactive exhibits to keeps kids curious and engaged.
Why go? The self-proclaimed edu-tainment center invites visitors to choose from six wonder zones, which includes themes such as space discovery and imagination. From there, adventurers explore a variety of activities that coincide with the zones, such as the forensic science exhibit in the imagination zone. If you're traveling with antsy kids in tow, make your way to the indoor ropes challenge or laser tag arena.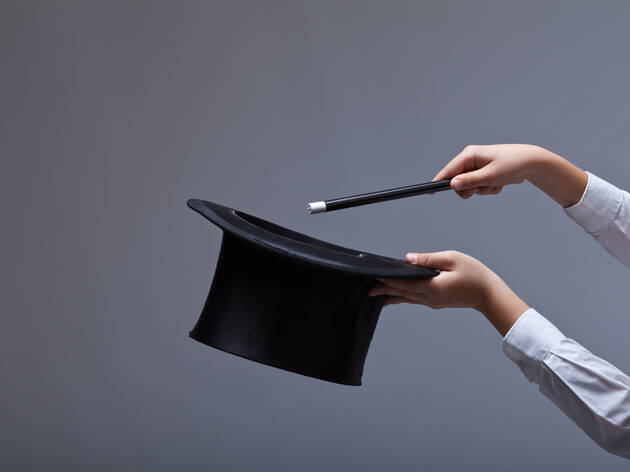 Photograph: Courtesy Shutterstock
What is it? With a wave of a wand, guests will experience see-it-to-believe it tricks and delve into the art of illusions. But this Florida attraction isn't just an ordinary magic show—it's an interactive, multi-room venue where visitors become participants and learn about the art's history, popular figures and classic stunts.
Why go? Thanks to a variety of shows, guest appearances and the popular Rooms of Wonder that beckon visitors to take a second look, The Great Magic Hall is a great follow-up to your theme park visit. Although it's a different form of entertainment than what you can expect from Epcot or Magic Kingdom, it's still equally as enticing.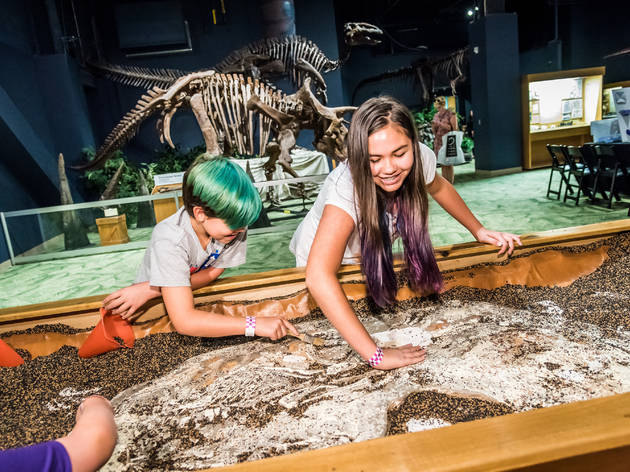 Photograph: Courtesy Roberto Gonzalez
5. Orlando Science Center
What is it? The 64-year-old museum with a deep focus on all-things science attracts youngsters to its STEM Discovery Center, camp programs and competitions the way positively-charged protons find their way to negitavely-charged electrons to form an atom.
Why go? Exhibits cater to all subjects, including nature, dinosaurs, the solar system and so much more. Even our favorite reptiles have time in the spotlight thanks to the latest exhibit, "Teenage Mutant Ninja Turtles: Secrets of the Sewers." Museum-goers can take advantage of three theaters, events and even birthday party options!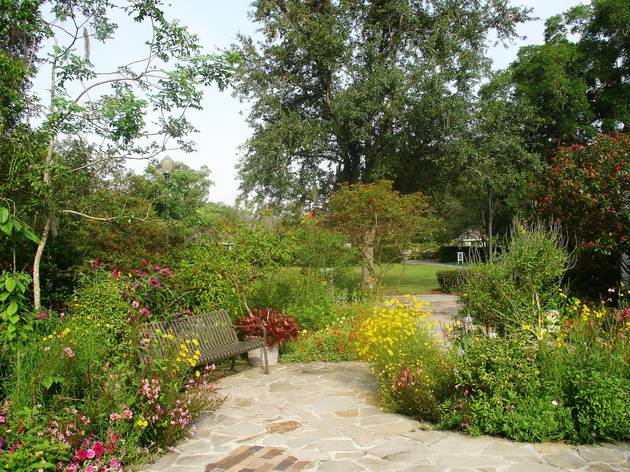 Photograph: Courtesy Leu Gardens
What is it? Even thouhgh families are operating at one hundred miles a minute in Orlando, everyone needs to stop and smell the roses! This botanical garden is the perfect place to do so!
Why go? There's so much to see at Leu Gardens, including a rose, butterfly and vegetable garden, scenic trails and an overlook at Lake Rowena. Classes, camps and events are on hand for guests, and the attraction's website posts a calendar to let plant enthusiasts know what is in bloom during their visits.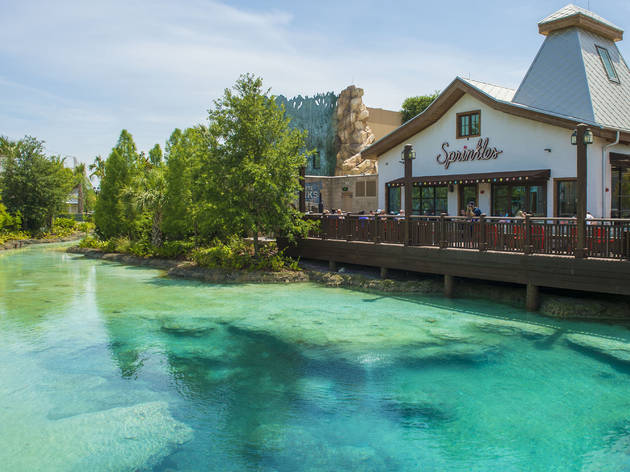 Photograph: Courtesy Courtney Di Stasio
What is it? Skip the rides and long lines for an adventure to the shops, restaurants and live shows in Disney Springs.
Why go? You can still get a Disney experience without paying the hefty park admission fees. Disney Springs is free to walk through (you'll just pay for entertainment as you go), and you can stock up on souvenirs along the way.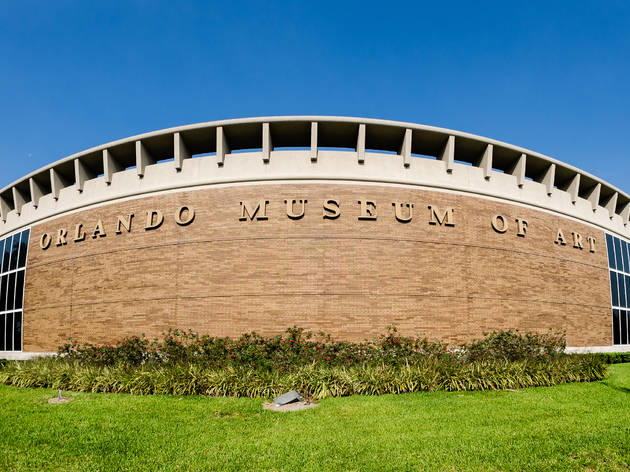 Photograph: Courtesy CC/Flickr/Camron Flanders
What is it? The Orlando Museum of Art, a hub of arts and culture since 1924, offers intriguing permanent and rotating exhibits in a variety of mediums.
Why go? Looking for a quiet afternoon? Bring your tweens and teens to ooh and ahh at permanent collections of African, American, ancient American and contemporary art (just to name a few) during your visit.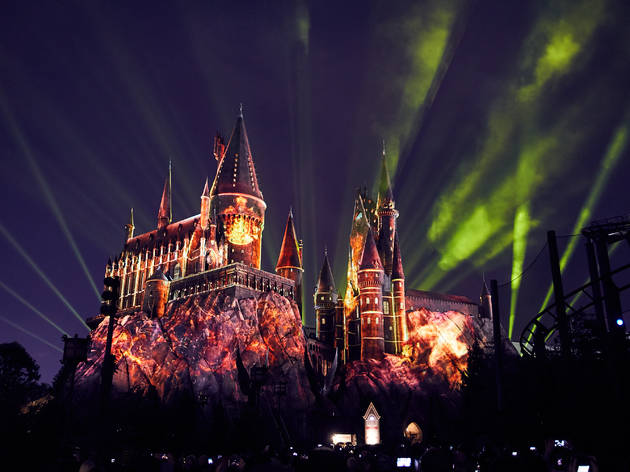 Photograph: Courtesy Universal Orlando and OCTAVIAN CANTILLI
9. Universal Orlando Resort
What is it? Perfect for movie-loving kids, park-goers at Universal get their fill of themed rides and experiences featuring their favorite characters.
Why go? Pick a Universal park to explore (there are three to choose from!), then to get your fill of Harry Potter adventures (The Hogwarts Express, Flight of the Hippogriff), check out Men in Black Alien Attack (you can use lasers to blast pesky aliens!), ride with the Simpsons or clean up the house with Cat in the Hat before mother gets home.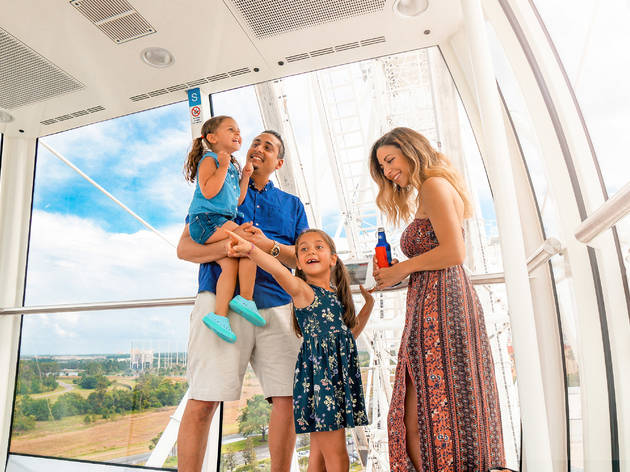 Photograph: Courtesy ICON Orlando
10. ICON Orlando (Orlando Eye)
What is it? The 400-foot-tall observation wheel is the sixth largest in the world and boasts sky-high views of theme parks and downtown Orlando.
Why go? Guests get a birds eye view of the city with a ride on ICON Orlando (formerly Coca-Cola Orlando Eye). Go at sunset to see the sights at their best from your air-conditioned capsule (shared with other passengers). There's free parking near the attraction to keep the experience stress-free for families.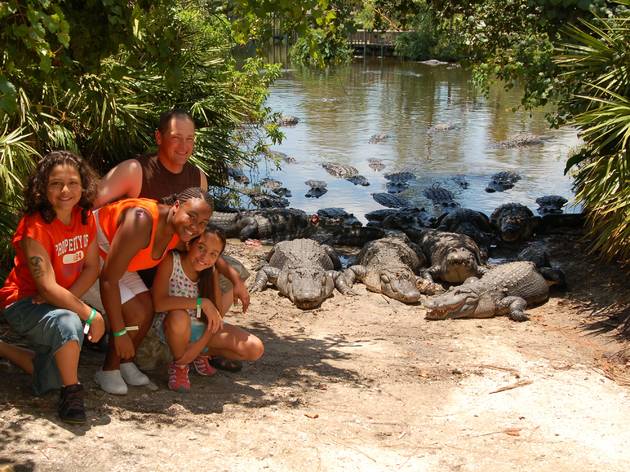 Photograph: Courtesy Gatorland
What is it? This top-rated animal sanctuary offers a closer look at Florida's most notorious toothy reptile (and other critters, too).
Why go? The theme park and wildlife preserve is perfect for kids who dig animals. See wildcats, alligators, crocodiles, birds, snakes and other neat creatures on foot or zoom via zip lines 350 feet over the Alligator Breeding Marsh. Eeep!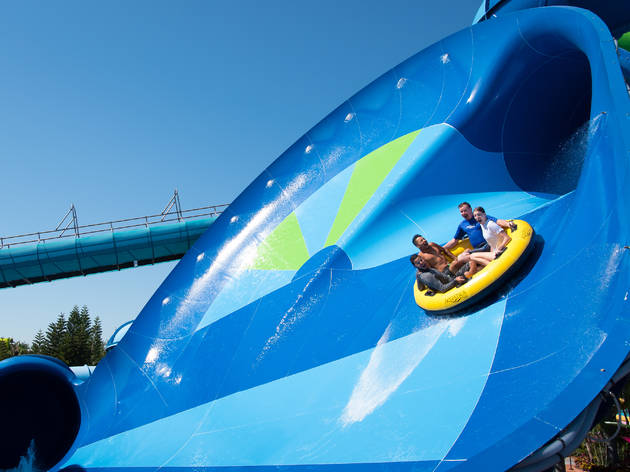 Photograph: Courtesy Aquatica Orlando
What is it? A year-round water park with rides and play zones for toddlers, kids, tweens and teens that will tire your most active Energizer bunny after a visit.
Why go? Check out Aquatica Orlando for maximum wet n' wild fun! There are zippy slides, thrilling raft rides, wave pools, lazy rivers, multi-level water playgrounds and other fun activities for tykes, kids and tweens.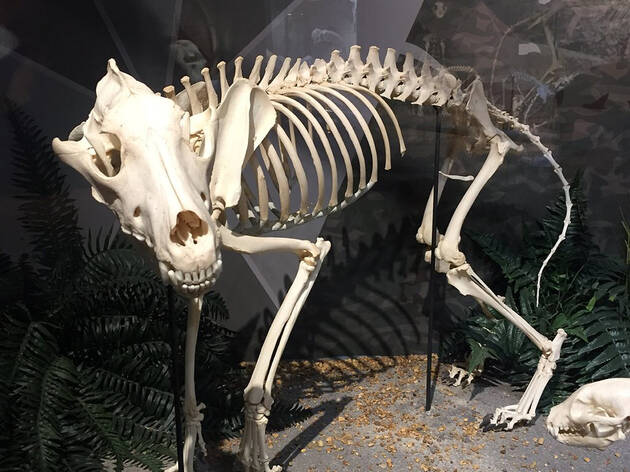 Photograph: Courtesy Tripadvisor/notabeagle
What is it? It's easy to spend an afternoon exploring this stretch of attractions, restaurants and souvenir shops.
Why go? Here, you'll find attractions like SKELETONS: Museum of Osteology (what curious kid wouldn't want to check out 500+ real animal skeletons?) and Titanic: The Artifact Exhibition, home to full-scale recreations of the Grand Staircase, Verandah Cafe, a three-ton section of the ship's hull and other interactive adventures.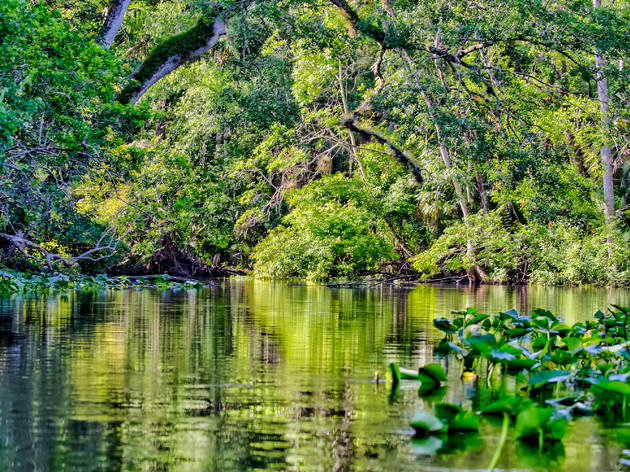 Photograph: Courtesy CC/Flickr/Rain0975
What is it? This no-frills day trip is ideal for those in need of some fresh air and pretty views.
Why go? Hop over to the spring-fed, crystal clear waters for swimming (the water is shallow for young swimmers), kayaking, boating, biking, hiking and wildlife-watching. Don't forget to bring a picnic and visit early to beat the crowds.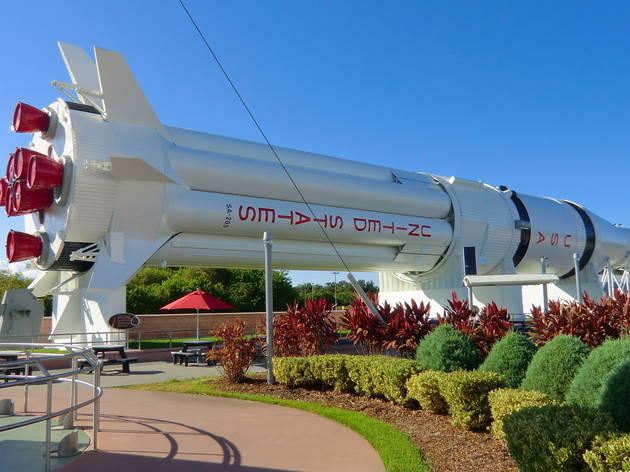 Photograph: Courtesy CC/Flickr/Reinhard Link
What is it? Get your fill of NASA displays (including real space shuttles), memorabilia and even more spacey awesomeness.
Why go? Yes, it's about an hour's drive from downtown Orlando, but we'd be remiss in excluding one of Florida's most impressive attractions from the list. A little time in the car is totally worth a look at the Saturn V Rocket and Atlantis, and you can even meet a real astronaut at Astronaut Encounter, a live presentation that's included in admission.
Find more attractions worth exploring
We all know that Orlando delivers big time when it comes to theme parks and amusement parks, but the best things to do in Orlando includes much more than just hanging with Mickey. Check out our guide for top shopping spots, parklands made for picnicking and a vibrant cultural scene.