The 19 best restaurants in Ottawa
Ready to get eating? The best restaurants in Ottawa serve diverse food (yes, alongside poutine) all across the city.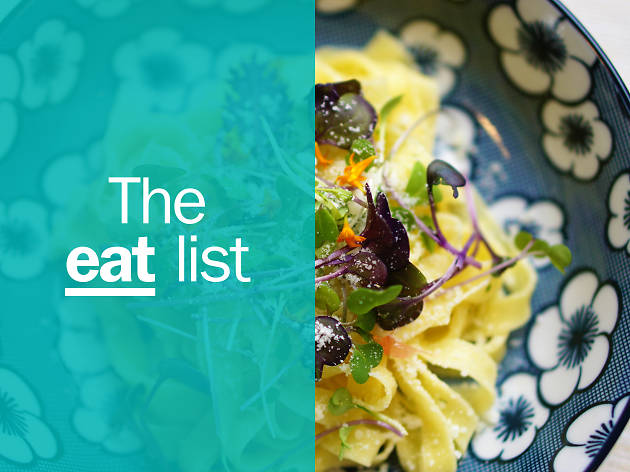 If poutine and Beavertails are all that come to mind when you think of Ottawa food, you've got some eating to do! (Though, you should give those clichés a try at least once.) The local foodie scene has grown exponentially in recent years, giving rise to upscale casual eateries, chef-run restaurants and specialty shops focusing on everything from ice cream to charcuterie. Chefs in the capital region are driven by seasonality—expect to see lots of local produce and products on offer—when deciding on what kinds of menus to present to diners.
It would be easy to stick to one neighbourhood: there's a row of great restaurants along Wellington West in Hintonburg, and plenty to choose from in Little Italy. Great things are popping up just east of downtown and you can't miss the gems just across the Ottawa River in Québec. You'll find a diverse array of cuisines (at diverse price points) across the capital city. Which means that traveling to eat at the best restaurants in Ottawa will help you explore local sights and things to do that you should have on your bucket list to begin with.
Are you ready to get eating?
Best restaurants in Ottawa
1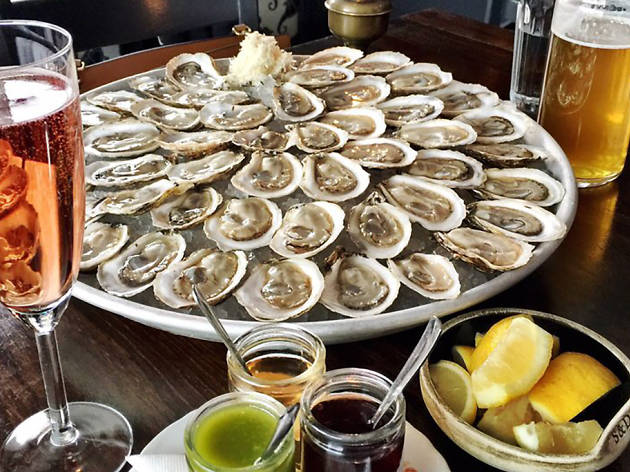 Photograph: Courtesy Yelp/Mimi J.
What is it: A stylish restaurant in Wellington West, Supply and Demand puts out a menu that focuses on raw bar offerings, vegetarian small plates, meat and fish from local producers, and pastas made in house daily.
Why go: If you're looking for high quality surf and turf, Supply and Demand will hit the spot. Make your dinner experience really special by taking a pasta class. Start in the pasta prep room before heading back to the dining room to enjoy the pastas you just made with wine pairings.
Price: Pricey
2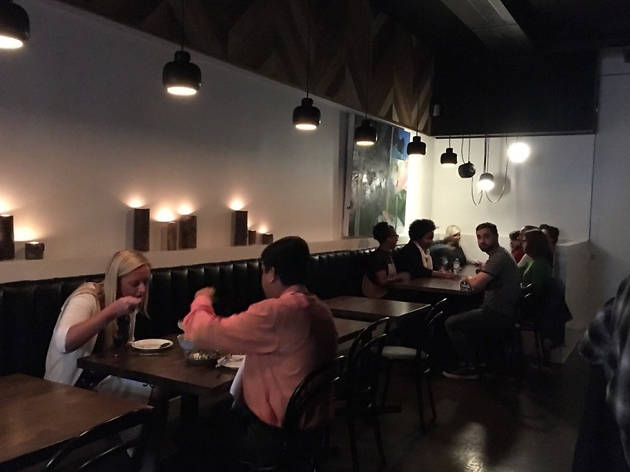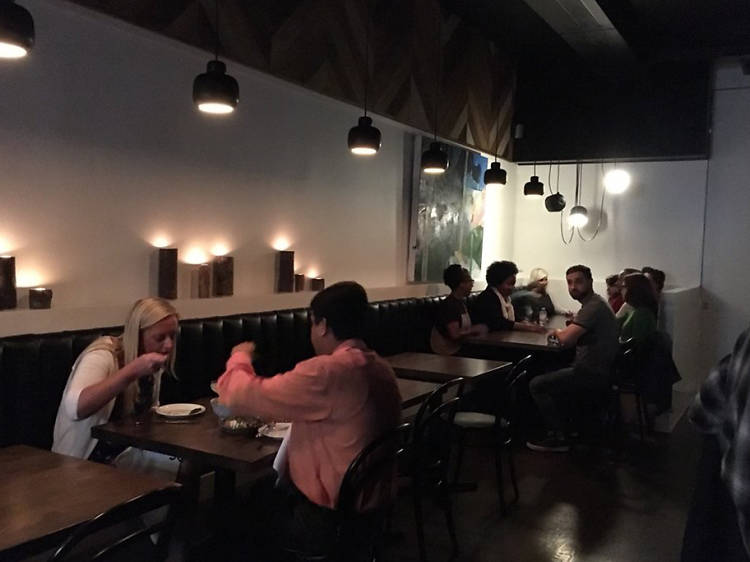 Photograph: Courtesy Yelp/Aatik C.
What is it: Boasting a casual Nordic-inspired aesthetic, this cozy spot serves beer, wine, cocktails and small plates until late.
Why go: Citizen is a great place to drop in for a full meal or simply a glass of obscure wine. The menu of small plates is eclectic—try the fried chicken sandwich or the "Spanish breakfast." There are always vegan and vegetarian options, but if you're in town on a Monday stop by to order from the meatless Monday menu, which changes weekly.
Price: Average
3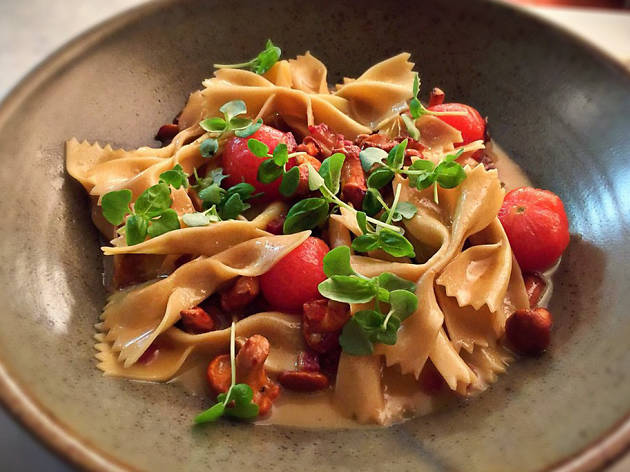 Photograph: Courtesy Yelp/Queenie C.
What is it: North and Navy plays with the similarities between the climates of Eastern Ontario and Northeast Italy, using traditional Italian cuisine as the inspiration and working with local ingredients.
Why go: Pretend to be Italian and have an aperitivo at the bar before a hearty meal. Pair polpette (meatballs), fried smelts with orange and basil, a glass of prosecco or a negroni. Sunday dinner is served family style and your grandmother eats for free. Don't skip the tiramisu—trust us on this one.
Price: Pricey
4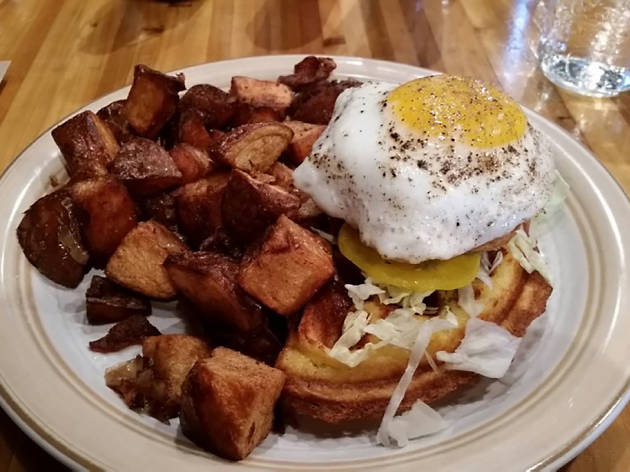 Photograph: Courtesy Yelp/Jeffrey B.
What is it: Three stories of good grub and great booze in an old brick house in Centertown.
Why go: Slip behind the bookcase for a drink in Union 613's speakeasy or rub elbows with locals at communal seating tables on the main floor. Union 613 is known for the fried chicken and cornbread, while their new sister bar on the second floor, Jabberwocky, serves a small menu of vegan snacks to pair with the meticulously made cocktails and carefully curated lists of wine, beer and spirits.
Price: Pricey
5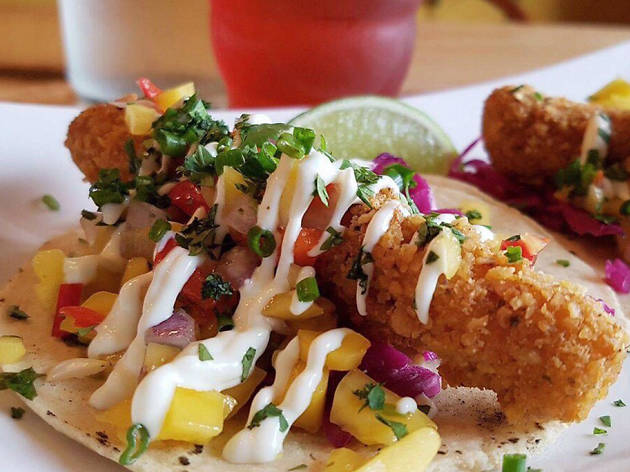 Photograph: Courtesy Yelp/Ola Cocina
What is it: An east Ottawa favourite that happens to be off the beaten path while serving tacos and other Mexican dishes.
Why go: Over a dozen taco options are the stars at Ola Cocina. Try a "usual suspect" like the cod fish taco with wasabi crema and mango salsa or an "Ola signature" like shrimp with melon pico and guacamole. Chef and owner Donna Chevrier makes her own hot sauces. Churros ice cream sandwiches are sinfully delicious. Open for lunch, dinner and weekend brunch, this place will revamp your tastebuds.
Price: Bargain
6
Photograph: Courtesy Yelp/Sesilia S.
What is it: Refined plant-based fare is served alongside creative cocktails at this local spot.
Why go: Chef Briana Kim's creativity knows no bounds. Go to Café My House and let yourself be surprised by the vegetable-focused dinner tasting menu or try the more casual weekend brunch. The smoky coconut bacon BLT is always a hit, while a breakfast charcuterie plate includes plant-based sausages, creamy cheeses and a deviled egg (made from an almond base, with a potato yolk and a carrot hollandaise).
Price: Average to pricey
7
Photograph: Courtesy Yelp/Laura W.
What is it: A creative charcuterie and sandwich shop in Hintonburg serving lunch Tuesday to Saturday, with dinner on Friday only.
Why go: If you're looking for an amazing sandwich, Meat Press has the answer. From the Cubano, featuring house capicolo and fried cheese curds, to the Smoked Duck topped with roasted veggies and a smoky sauce, this is a step above your regular ham and cheese. Carnivores will rejoice at the mere sight of the deli.
Price: Average
8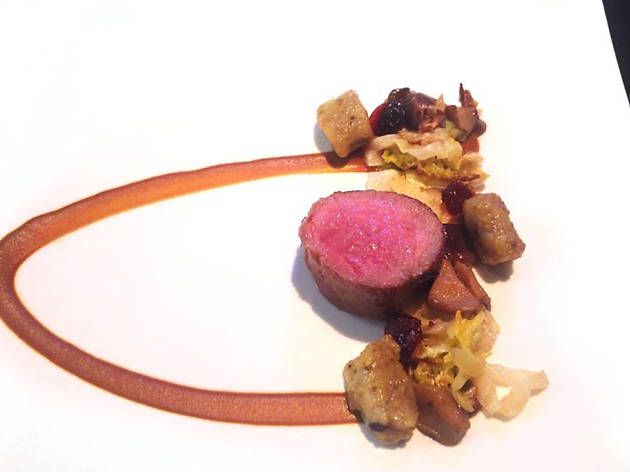 Photograph: Courtesy Yelp/Stephanie W.
What is it: A high-end tasting menu restaurant hidden behind a nondescript facade, with a focus on molecular gastronomy.
Why go: Atelie is, hands down, the most unforgettable dining experience in Ottawa. Chef Marc Lepine is recognized as one of Canada's most innovative chefs. Dishes are always visually stunning and often playful, but taste is never sacrificed. It's worth noting the thoughtful wine pairings as well.
Price: Blowout
9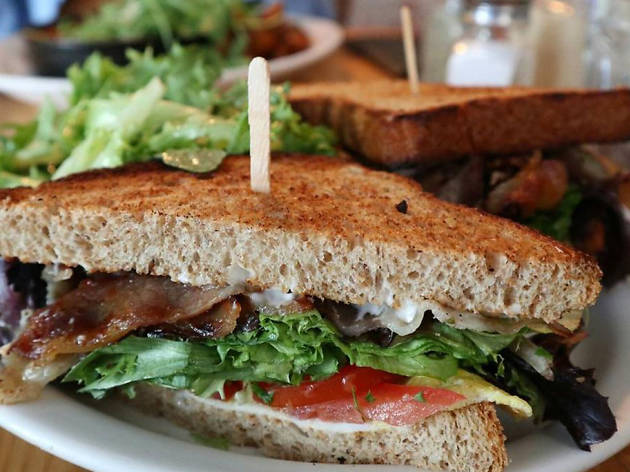 Photograph: Courtesy Yelp/Lillian T.
What is it: A charming from-scratch diner serving breakfast and lunch all day, seven days a week.
Why go: Hungry diners will be tempted to order the Dagwood, a triple decker B.L.T, or the loaded poutine with roast chicken. Brunch classics, like the eggs in purgatory (eggs poached in a spicy tomato sauce) are crowd pleasers. It's a bustling place so expect to wait for a table on weekends. While you do, grab a coffee from the sister spot next door, Arlington 5.
Price: Average
10
Photograph: Courtesy Yelp/Karkar F.
What is it: A small but mighty spot for breakfast, lunch and baked goods. The weekend brunch regularly attracts long lines that are totally worth the wait.
Why go: Chef/owner Marysol Foucault and her team have perfected the art of serving a big brunch in a tiny kitchen. The menu here changes weekend to weekend, except for the staple Dutch baby, a fluffy, pancake-like pastry that features maple syrup, aged cheddar, spiced apples and tender pork belly. This is the kind of place that brunch dreams are made of.
Price: Average
11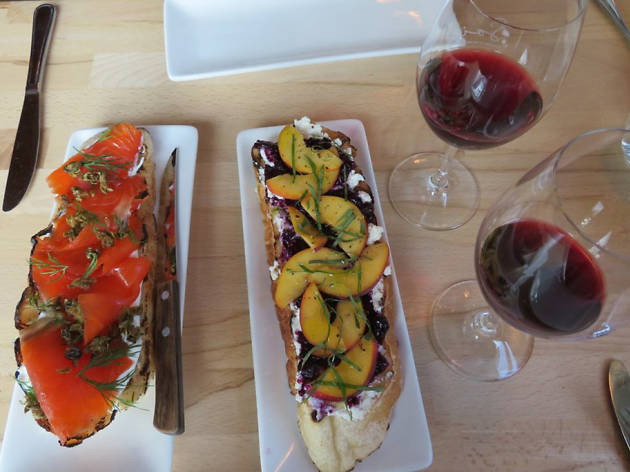 Photograph: Courtesy Yelp/Julianne M.
What is it: A wine bar in Hull that also serves sophisticated small plates.
Why go: Because the spot is owned and run by one of the top sommeliers in the world, Véronique Rivest, who makes sure there is something for everyone. Dishes like sea bream tartare or rapini toasts can all be experly paired with a wine. Whether you're a fellow sommelier or an unexperienced wine drinker, expect Rivest and her staff to guide you through the global wine selection without pretension.
Price: Average
12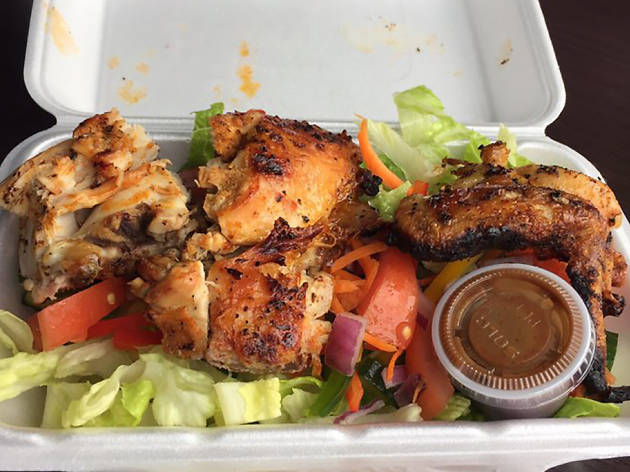 Photograph: Courtesy Yelp/Kat Z.
What is it: A small joint serving wood charcoal grilled pili pili chicken (aka peri peri or piri piri—in French African countries, it's pili pili!) in the Byward Market.
Why go: Go for the best charcoal grilled chicken in town. The smokiness from the grill is intoxicating without being overpowering and the spice and herb rub will leave taste buds tingling. Other grilled meats are also on offer. A side of fried plantain—perfectly crispy on the outside—is a must.
Price: Bargain
13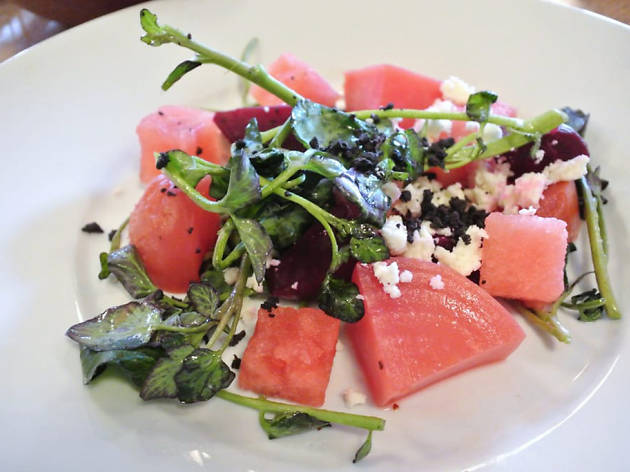 Photograph: Courtesy Yelp/Kathy L.
What is it: A gastropub in Wellington West serving seasonal Canadian fare.
Why go: For more than a dozen years, the Wellington Gastropub has been a neighbourhood favourite. It's the kind of place where you can comfortably roll in for a quick craft beer or sit down for a full meal ordered from chef Chris Deraiche's daily menu: expect local produce and meat to get star treatment, but don't leave without trying Adriana's ice cream (you can take a pint of it to go, too).
Price: Pricey
14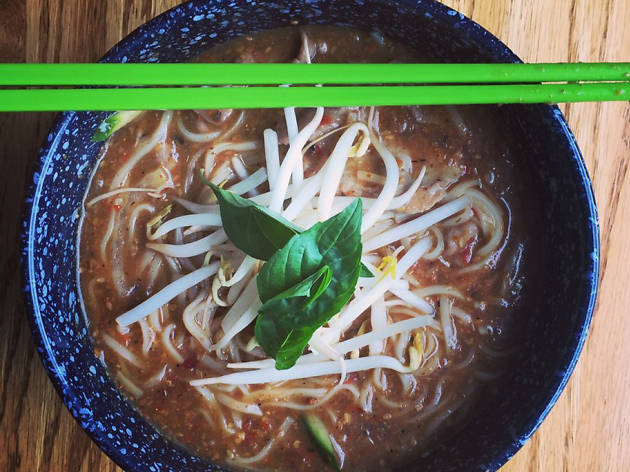 Photograph: Courtesy Yelp/William F.
Huong's Vietnamese Bistro
What is it: A Vietnamese restaurant located just off the main street in Chinatown.
Why go: With countless Vietnamese restaurants in Ottawa, locals can argue over their favourite spot to grab a steaming bowl of pho, but Huong's is a safe and steady bet for great Vietnamese comfort food. The Bánh xèo (savoury fried pancake) is always a tasty way to start. You can opt to slurp on the pho with beef tripe also, something chef and owner Huong Nguyen makes for her family every day.
Price: Bargain
15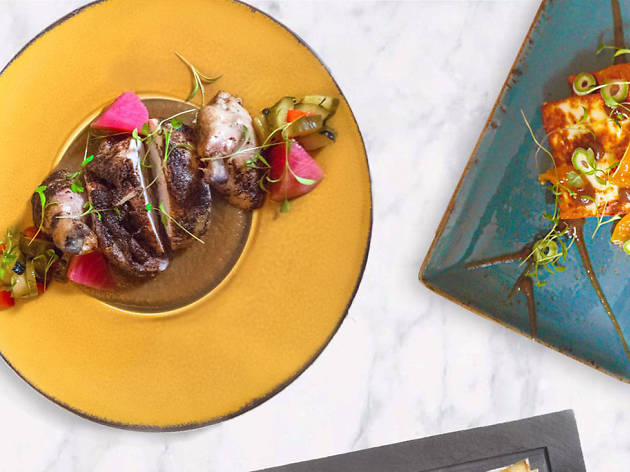 Photograph: Courtesy Yelp/Stephanie W.
What is it: A stunning restaurants serving delicious modern Middle Eastern cuisine.
Why go: In an elegant oasis on Somerset Street, chef Walid El-Tawel leads his team in dishing out Fairouz's sophisticated menu. Start off with fresh pita and a fennel tahini dip or dive right into sharing plates like zaatar crusted lamb sirloin. Be sure to save room for dessert: pastry chef Marta Caferra's creations—like a tahini ice cream or the spiced date cake—are revelatory.
Price: Pricey
16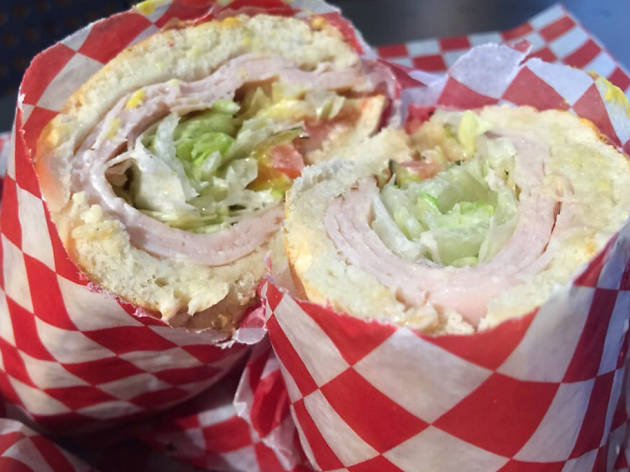 Photograph: Courtesy Yelp/Hazel H.
What is it: An unassuming lunch spot in Ottawa's business district.
Why go: With a name like Gooneys, you'd be forgiven for not realizing that this is the place in town for arepas. A Colombian and Venezuelan staple made of corn maize, at Gooneys the arepa makes the perfect sandwich wrapper. Open for breakfast and lunch, try the best selling pabellon: an arepa stuffed with black beans, shredded beef, plantain and feta cheese—all topped with cilantro salsa.
Price: Bargain
17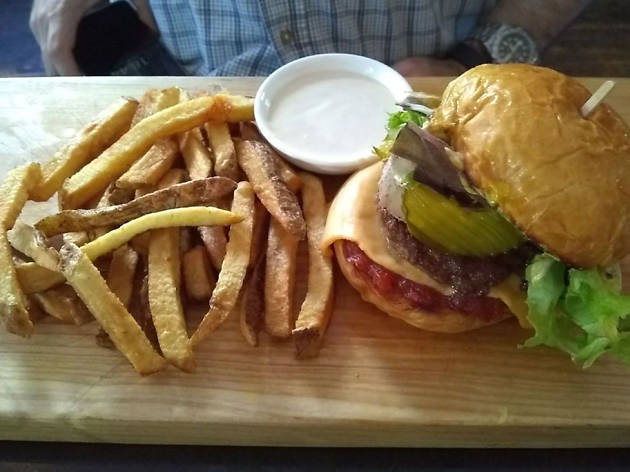 Photograph: Courtesy Yelp/Jennifer P.
What is it: A snack bar in Little Italy offering plates to be shared and great drinks.
Why go: The nose-to-tail menu is full of inventive and irreverent dishes featuring whatever is available from local farms. Some tried-and-true examples? Shawarma Brussels sprouts and the foie burger of local beef. The kitchen also takes cues from the Little Italy location: snack on arancini, fried risotto balls and finish with the cannoli (with seasonal flavours like matcha white chocolate sesame or beetroot).
Price: Average to pricey
18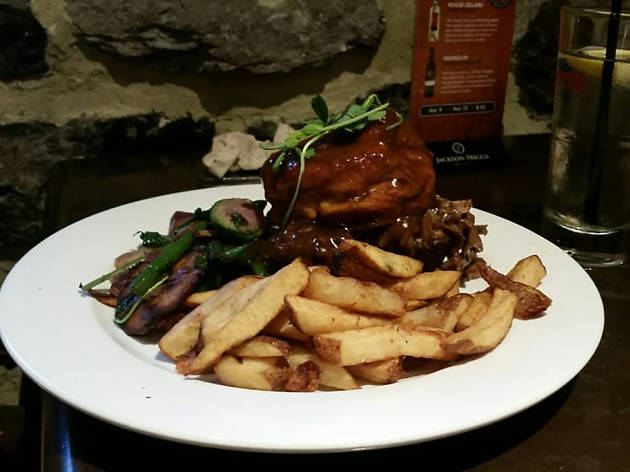 Photograph: Courtesy Yelp/Harley C.
What is it: After a fire devastated the much-loved Cat in the west of Ottawa, the British pub is rebuilt and back to serving loyal customers.
Why go: Join the regulars who fill this stalwart in the city's pub scene. There's an extensive craft beer list and the menu includes British favourites like fish and chips and Yorkshire pudding. It's cozy and convivial: you'll feel at home in this converted schoolhouse (from the 1800s!) in no time.
Price: Average
19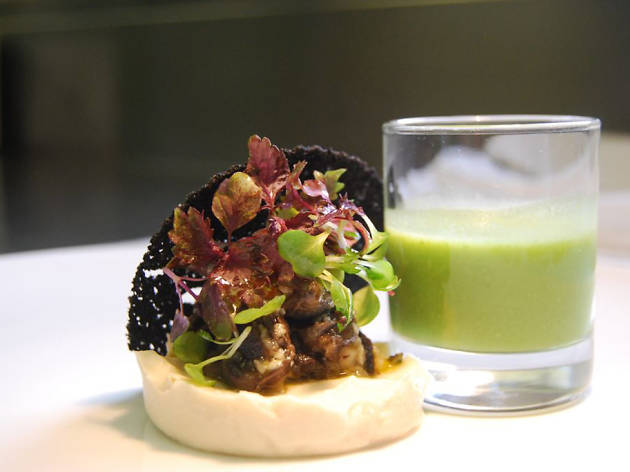 Photograph: Courtesy Yelp/Signatures Restaurant
Signatures Restaurant, Le Cordon Bleu
What is it: The restaurant attached to the famous French cooking school's only Canadian campus—and the first outside of Europe.
Why go: This is the place for upscale French cuisine in Ottawa. The cooking school and the restaurant are located in a beautiful old mansion that is worth a visit on its own. At $95 a head, the five-course menu gastronomique is a pretty good deal: taste Canadian ingredients cooked keeping traditional French expertise in mind.
Price: Pricey to blowout