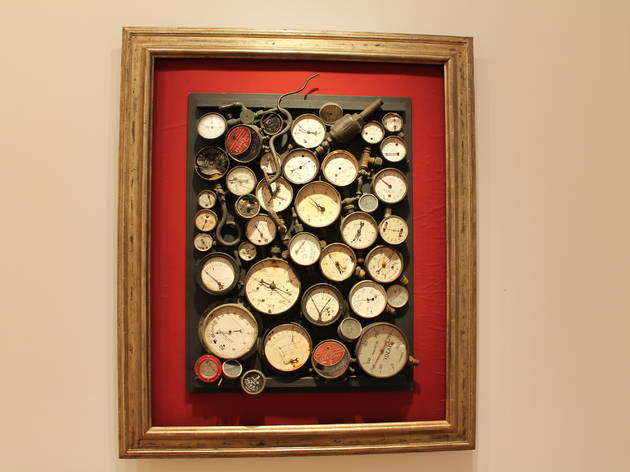 1/7
©C.Gaillard
'La colère monte', Arman (1961)
2/7
©C.Gaillard
3/7
© C.Gaillard
'Pistons pistonnés', Arman (1963)
4/7
©C.Gaillard
5/7
©C.Gaillard
'Clic-clac Kodak, Hélàs', Arman (1962)
6/7
©C.Gaillard
'Dans une autre galaxie', Arman (1964)
7/7
© C.Gaillard
'L'Affaire du courrier' et 'Le poids de la conscience' d'Arman
A mixed media series offering a tongue-in-cheek interpretation of our consumerist age.
To mark its 60th year, the Galerie Daniel Templon hosts French artist Arman and his 'Accumulations' series, forty or so works composed of repurposed manufactured objects that offer a humorous take on the violence and overconsumption of our mass-produced age.
Arman began working on serialisation in 1959, roughly contemporary with Andy Warhol and his Campbell's Soup cans. Arman showed more flexibility in technique however, with 'Accumulations' mixing heaps of scrap iron as well as tin cans crushed and sculpted into new shapes. Medical objects and traffic signals are also mummified in resin, like classical images seen in three dimensions.

Arman's celebration of throwaway objects has influenced many other artists, attracted by its metaphor for individual struggle against the grand formats of consumer-oriented society. Arman references this dynamic in the tongue-in-cheek titles of his pieces, such as 'Busy', an accumulation of telephonic objects. Well worth a look.
TRANSLATION: EH