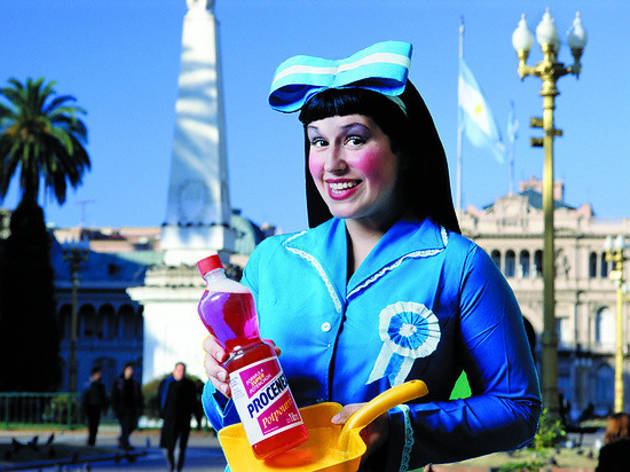 1/7
Marcos López, 'Laza de Mayo', Buenos Aires, série 'Pop Latino', 1996 © Marcos López — Collection privée, Buenos Aires
2/7
Ever Astudillo, sans titre, série 'Latin Fire', 1975-1978 © Ever Astudillo. Collection privée, courtesy Toluca Fine Art, Paris
3/7
Paolo Gasparini, 'El habitat de los hombres…', Caracas, Bello Monte, 1968 © Paolo Gasparini. Collection privée, courtesy Toluca Fine Art, Paris
4/7
Adriana Lestido, Sin título, série 'Mujeres Presas', 1991-1993 © Adriana Lestido. Collection Fondation Cartier pour l'art contemporain, Paris
5/7
Marcelo Montecino, 'Managua', 1979 © Marcelo Montecino. Collection privée, courtesy Toluca Fine Art, Paris
6/7
Claudia Andujar, sans titre, série 'Marcados Para', 1981-1993 © Claudia Andujar. Collection Galeria Vermelho, São Paulo
7/7
Eduardo Villanes, sans titre, série 'Gloria Evaporada', 1994 © Eduardo Villanes. Collection de l'artiste, Lima
In attempting to cover the recent history of Latin America from 1960 to the present day, the Fondation Cartier has undertaken a very ambitious project (perhaps overly so?). It involves presenting a continent shaken by revolutions and dictators, coup d'états and financial crises, not forgetting some successful democratic transitions and a fast-growing economy.

Photography developed new ways to better relate this other America. At least this is what the exhibition is trying to show, revealing how photography used textual imagery as powerful ally – to the point of transforming itself into a medium halfway between words and image. This new approach enabled photographers to better communicate, demand, denounce, and tell the world about what they saw, but also to bypass censorship and to fight, in thier own way, against authoritarian regimes.

From Mexico to Argentina via Brazil and Chile, 70 artists from 11 countries have been brought together for the exhibition at the Fondation Cartier.