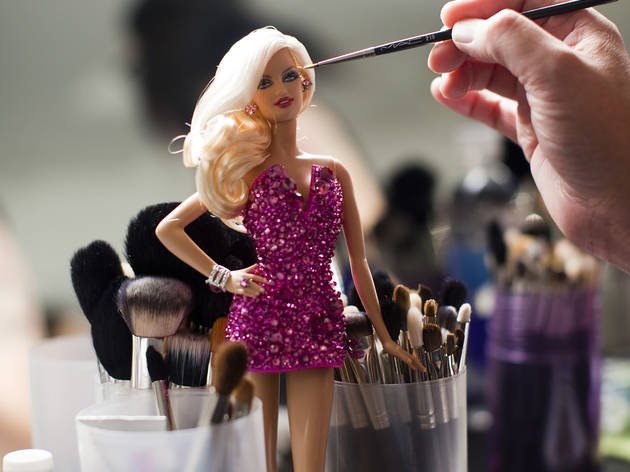 1/15
© Mattel
Making of Mattel
2/15
© Mattel
La première Barbie, sortie en 1959.
3/15
© Mattel
Andy Warhol, 'Portrait de Barbie', 1985
4/15
© C.Gaillard
Découvrez les secrets de fabrication d'une Barbie
5/15
©C.Gaillard
Découvrez les secrets de fabrication d'une Barbie
6/15
© C.Gaillard
Mais également les coulisses de ses séances photos.
7/15
© C.Gaillard
8/15
© C.Gaillard
Les mille visages de Barbie
9/15
© C.Gaillard
Barbie a aussi exercé plus de 150 métiers.
10/15
© C.Gaillard
11/15
© C.Gaillard
Défilé animé de Barbie en robes de grands créateurs.
12/15
© C.Gaillard
Non, Barbie n'a pas toujours eu du style...
13/15
© C.Gaillard
... elle a même fait du pédalo en amoureux avec Ken !
14/15
© C.Gaillard
Ken et Barbie, une grande histoire d'amour.
15/15
© C.Gaillard
Audrey Hepburn, les agents X-Files Mulder et Scully mais aussi l'héroïne de la saga 'Hunger Game' en version poupée Barbie.
Barbie® celebrates her 57th year with this super show, which delves into her history while bringing her bang up to date.
A 57, Barbie® has lived through thousands of incarnations. Secretary, air hostess, policewoman, astronaut – and that's even before her 2016 transformation from relentlessly unrealistic blonde nymphet into a radical new range of characters in a multitude of relatable body shapes and skin colours. Whether you played with Barbie® as a child or not, this show is worth a visit for its intelligent and fun exploration of a character who became a global cultural influence, from Aqua (yes, you'll get to listen to it again) to The Hunger Games. Fashion icon and mirror for social and cultural stereotypes in the '60s and '70s, Barbie® also represents the victory of a determined businesswoman – Ruth Handler – in the era's ruthlessly macho business world.

The show includes an exceptional range of dolls on show for the first time, plus videos of how they're made and displays explaining how the doll manages her time – and her own Instagram account. There are even workshops where you can learn how to make your own Barbie® clothes, and at the heart of it all a play area, to remind us all that in the end, none of us are too old to play with dolls.
TRANSLATION: EH