Bertrand Bonello: Résonances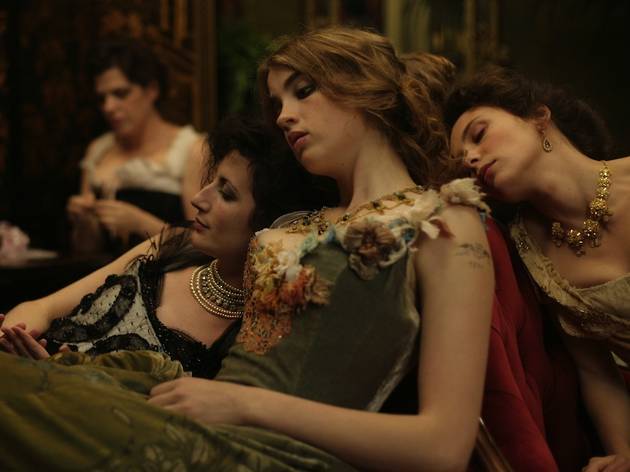 1/7
... de la maison close', de Bertrand Bonello, avec Hafsia Herzi, Céline Sallette et Adèle Haenel (2011)
2/7
de Bertrand Bonello, avec Mathieu Amalric, Asia Argento et Guillaume Depardieu (2008)
3/7
de Bertrand Bonello, avec Asia Argento (2005)
4/7
de Bertrand Bonello, avec Laurent Lucas, Clara Choveaux et Thiago Telès (2003)
5/7
de Bertrand Bonello, avec Jean-Pierre Léaud, Jérémie Renier et Ovidie (2001)
6/7
de Bertrand Bonello, avec Romane Bohringer et Laurent Lucas (1998)
7/7
de Bertrand Bonello, avec Gaspard Ulliel, Jérémie Renier et Louis Garrel (2014)
As his 'Saint Laurent' causes a stir in Parisian cinemas, director-cum-composer Bertrand Bonello comes to the Centre Pompidou with an exhibition dedicated to the relationship between – surprise surprise – cinema and music. 'Résonances' is essentially one big experiment in linking and dissociating sound and image, achieved by means of various intriguing projection set-ups and sundry technical sorcery.

The focal point of the exhibition is 'Remix', a mammoth installation in which Bonello's entire back catalogue of films is projected at once on multiple screens. But in a Godardian twist, their soundtracks have been replaced by a new score, composed for the occasion, which flits from one screen to the next, tying the movies together. Through this marvellous contrivance, Bonello highlights the themes that run through his work even as he deconstructs the formal structure of cinema.

It's a typically spiffy concept in a neat exhibition. Other rooms feature myriad short films: a 17-minute visual essay by Bonello delivered as a letter to his young daughter; a silent Russian short from 1928 screened with a choice of four soundtracks (including one by techno DJ Richie Hawtin!); even a bizarre piece by Brian Eno. Though in places it veers toward the obtuse, 'Résonances' retains a jocular, exuberant air that's a world away from the dry academic tracts in which aesthetic theory is usually played out. Highly recommended.