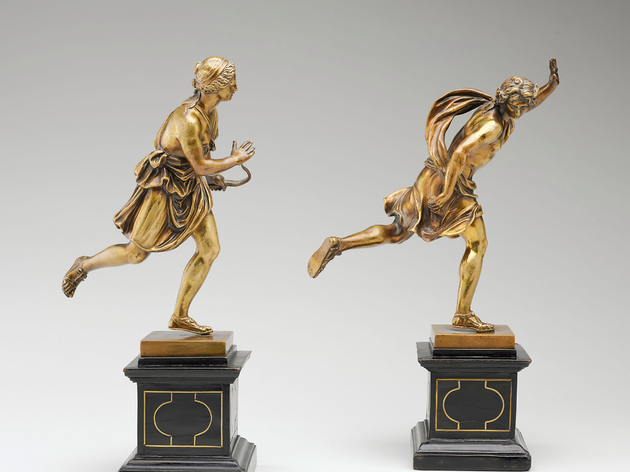 1/6
© RMN-Grand Palais (musée du Louvre) / Stéphane Maréchalle
Hippomëne et Atalante, vers 1715
2/6
© RMN-Grand Palais (musée du Louvre) / Philippe Fuzeau
Théodore Géricault (Rouen, 1791 - Paris, 1824), Course de chevaux, dit Le Derby d'Epsom, 1821
3/6
© Musée du Louvre, dist. RMN - Grand Palais / Thierry Ollivier
Mercure volant par Jean Bologne, dit Giambologna
4/6
© C.Gaillard
5/6
© RMN-Grand Palais (musÈe du Louvre) / Franck Raux
Pierre Paul Rubens (Siegen, Allemagne actuelle, 1577 ñ Anvers, 1640) La Kermesse ou Noce de village, 1635-1638
6/6
© C.Gaillard
Be drawn into this whirlwind of marching statues, twirling ballerinas and angels about to take flight
In the Richelieu wing of the Petite Galerie du Louvre, 'Corps en mouvement' – curated by renowned choreographer, Benjamin Millepied – draws us into a whirlwind of marching statues, angels about to take flight and twirling ballerinas (notably the sinewy Loïe Fuller captured on film by Auguste Lumière).
Alongside the Egyptian figurines and more contemporary works, are classic paintings capturing, for example, Apollo at full speed or the energy released by seemingly static Tanagra statues.
Although most works were created in a time when 3D was impossible to even fathom, their sheer momentum is fascinating. Look long and hard to dissect the rustle of a veil, the pace of a stride, the lifted hair or the arm stretched heavenwards. Scrutinsing details of 'Mercury flying' or an Indian kathak dancer, allows you to rediscover these works in all their majesty. And even though some of the body's contortions or tensions seem exaggerated – like in Géricault's 'The Epsom Derby' – their beauty and sophistication shine through.
This is not just a matter of contemplation, illustrative video footage teaches us how artists breathe life into inanimate objects. This thought-provoking, multi-faceted exhibition, if anything, ends too quickly. Fortunately, you can follow it with the Louvre's Cour Marly, which, with its giant marble statues practically leaping off their pedestals, could almost be an extension of the exhibition.
TRANSLATION: MEGAN CARNEGIE