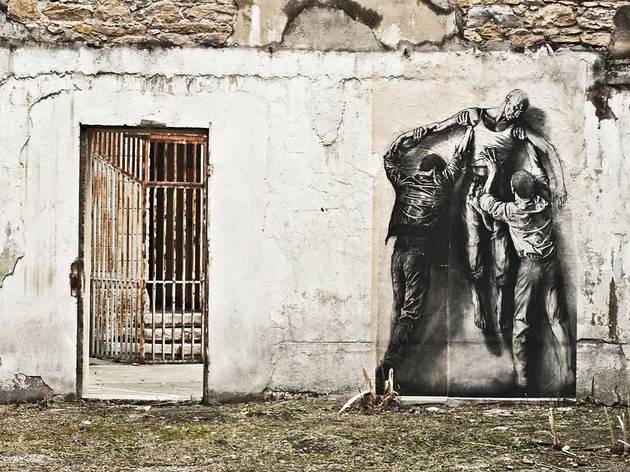 1/7
© Photographies de Bruno Paccard / Dessins et photographies d'Ernest Pignon-Ernest
2/7
© Photographies de Bruno Paccard / Dessins et photographies d'Ernest Pignon-Ernest
3/7
© Photographies de Bruno Paccard / Dessins et photographies d'Ernest Pignon-Ernest
4/7
© Photographies de Bruno Paccard / Dessins et photographies d'Ernest Pignon-Ernest
5/7
© Photographies de Bruno Paccard / Dessins et photographies d'Ernest Pignon-Ernest
6/7
© Photographies de Bruno Paccard / Dessins et photographies d'Ernest Pignon-Ernest
7/7
© Photographies de Bruno Paccard / Dessins et photographies d'Ernest Pignon-Ernest
Since their construction in the 1800s, the notorious Saint-Paul and Saint-Joseph prisons in Lyon have seen the guillotine, Pétain's police, Klaus Barbie, rebellions, torture and trafficking in food, tobacco and drugs. Closed in 2009, the sites are now destined to become offices and social housing, with a university campus scheduled to open in 2015. In the mean time, they lie empty – except for some images, despicting contained but terrible violence, that are fastened to the roughcast walls. They are the work of artist Ernest Pignon-Ernest, who has been putting artworks with political and social connotations into public spaces since the 1970s.
For his works in the Lyon prisons, Pignon-Ernest studied photos of prisoners executed in wartime and researched the conditions of life behind bars, including methods of torture, intimidation and discipline. Then he covered the walls with his chilling, solemn images. The commentary is univeral and without judgement: the works intervene furtively in the space, inserting a bit of human debris among the architectural ruins.

The photographs of his work are accompanied in this exhibition by more shots of the interiors by Bruno Paccard, another local artist who had access to the sites after they closed. All the pieces in the collection are marked by the same beauty – improbable and harrowing – of the destroyed buildings that surround them.