David LaChapelle: Land Scape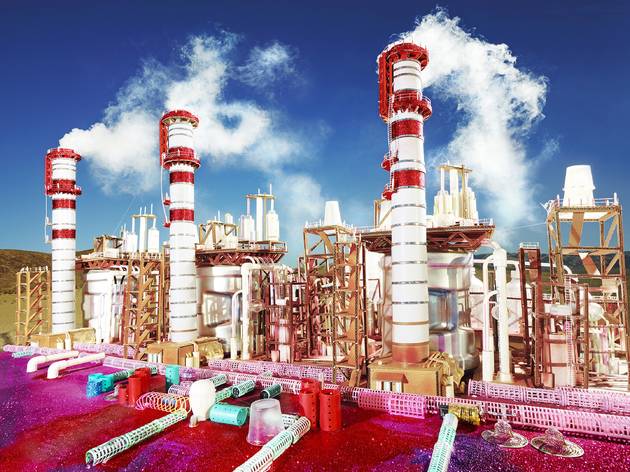 1/9
David LaChapelle, 'Land Scape Kings Dominion', 2013 / Courtesy de l'artiste et galerie Daniel Templon, Paris
2/9
David LaChapelle, 'Gas 76', 2012 / Courtesy de l'artiste et galerie Daniel Templon, Paris
3/9
David LaChapelle, 'Land Scape Pacific Sunset', 2013 / Courtesy de l'artiste et galerie Daniel Templon, Paris
4/9
David LaChapelle, 'Land Scape Luna Park', 2013 / Courtesy de l'artiste et galerie Daniel Templon, Paris
5/9
David LaChapelle, 'Gas BP', 2012 / Courtesy de l'artiste et galerie Daniel Templon, Paris
6/9
David LaChapelle, 'Land Scape Castle Rock', 2013 / Courtesy de l'artiste et galerie Daniel Templon, Paris
7/9
David LaChapelle, 'Gas Chevron', 2012 / Courtesy de l'artiste et galerie Daniel Templon, Paris
8/9
David LaChapelle, 'Land Scape Riverside', 2013 / Courtesy de l'artiste et galerie Daniel Templon, Paris
9/9
David LaChapelle, 'Land Scape Anahein', 2013 / Courtesy de l'artiste et galerie Daniel Templon, Paris
A world away from his fashion photography and garish remakes of famous works of art, industrial landscapes are the focus of American photographer David LaChapelle's latest exhibition 'Land Scapes'. The photographer's characteristic love of bright colours, gloss and the artificial are still going strong, but in this exhibition they are layered over a dark and bitter irony.

At first glance, his pictures appear to be elaborate mock-ups for ultra-sophisticated petrol stations, refineries and nuclear centres. But take a closer look and LaChapelle's infrastructures are made up of striped straws, clothes pegs, birthday candles, energy drinks, razors, egg boxes and hair curlers – symbols of mass consumerism and the industries that feed it.

For the base of these images, LaChapelle has carefully touched up shots he took in deserts, along the Californian coast and in the Hawaiian jungle. Reminiscent of Edward Hopper's petrol pumps or Ed Ruscha's collection of 'Gas Stations', his surreal pictures are a sardonic representation of the American symbols that lend the country its aura of success. He counters symbols of economic prosperity with the dark reminder of national energy disasters of recent years: the Gulf of Mexico oil spill (2010) and the Fukushima catastrophe (2012).

'Land Scape' portrays the 'American Dream' turned tropical nightmare. The exhibition is unsubtle and loud, but its crudeness seems remarkably appropriate to its theme.