George Shiras: L'Intérieur de la Nuit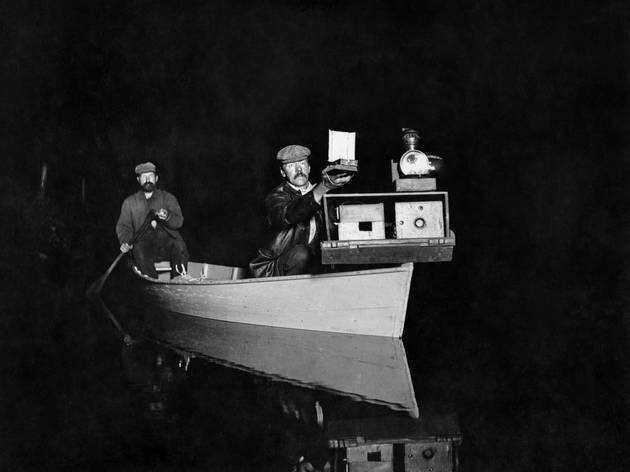 1/5
George Shiras, George Shiras et John Hammer à bord de leur canoë équipé pour le jacklighting, Whitefish Lake, Michigan, 1893 © National Geographic Creative Archives
2/5
George Shiras, Trois cerfs de Virginie, Michigan, vers 1893-1898 © National Geographic Creative Archives
DIGITAL IMAGING BY NICOLE ELLIOTTNATIONAL GEOGRAPHIC SOCIETYWASHINGTON, DC
3/5
George Shiras, Biche de Virginie, Whitefish River, Michigan, vers 1893-1898 © National Geographic Creative Archives
4/5
George Shiras, Élan, lac Supérieur, Michigan, vers 1898 © National Geographic Creative Archives
5/5
George Shiras, Lynx, Loon Lake, Ontario, Canada, 1902 © National Geographic Creative Archives
The idea of Paris's eccentric hunting museum might not be to everyone's taste, but the impressive Musée de la Chasse et de la Nature is well worth the visit. Not only is the museum home to a striking collection of stuffed lions and bears, but it is also often plays host to impressive temporary exhibitions.

Take L'Intérieur de la Nuit ('Inside the Night'), showcasing the work of American photographer George Shiras (1859-1942). A hunter who swapped his gun for a camera, Shiras spent four decades capturing his former prey on film at night, racking up an impressive 2,400 shots at no detriment to the wildlife concerned. The selection here is disappointingly small, but the photos allow the visitor an intimate glimpse of the animal kingdom.

Captions provided by curator Sonia Voss also provide insight into Shiras's advanced professional techniques. He even worked to try and persuade fellow hunters of the satisfaction of shooting wildlife with a camera rather than a gun. Shiras' enlightened transformation from hunter to eco-warrior goes to show how a leopard really can change his spots.
TRANSLATION: HESTER UNDERHILL