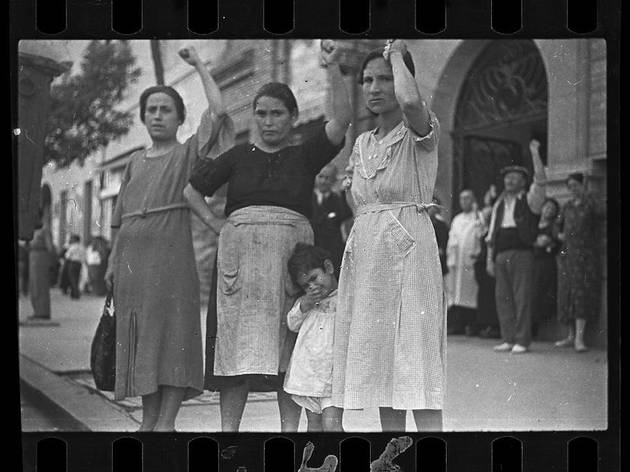 1/4
Gerda Taro, 'Spectateurs de la procession funéraire du Général Lukacs', Valence, 16 juin 1937 / © International Center of Photography
2/4
Robert Capa, 'Exilés républicains marchant sur la plage vers un camp d'internement', Le Barcarès, France, mars 1939 / © International Center of Photography / Magnum
3/4
Robert Capa, 'Le général Enrique Líster et André Malraux', front catalan, 1938–1939 / © International Center of Photography / Magnum Photos
4/4
Gerda Taro, 'Foule devant la grille d'une morgue après le raid aérien', Valence, mai 1937 / © International Center of Photography / Collection ICP


This is one of Time Out's top 50 things to do in Paris this summer. Click here to see the full list.
The story of the 'Mexican suitcase' is worthy of a Hollywood film: after 68 years of being passed from hand to hand, the long-suffering luggage came into the possession of a Mexican filmmaker, who got it from a dead aunt, who got it from her father, a former Mexican ambassador to the Vichy government between 1941 and 1942. Inside? Nearly 4,500 negatives of photos taken during the Spanish Civil War, by Robert Capa, Gerda Taro and David Seymour ('Chim'). As well as unusually valuable historical documents that bear witness to a key European conflict, the pictures also represent radical advances in photojournalism at the time.

Getting as close as possible to the combatants, Robert Capa strove to put the spectator at the heart of the battles, surrounded by the whistle of bullets and the smell of gunpowder. Gerda Taro, his companion, had a more detached approach, emphasising the macabre aspect of war, particularly with her visits to hospitals and morgues. As for Chim, he concentrated more on life behind the lines, capturing the daily life over which the civil war hung like a dark cloud. The alliance of these three perspectives gives the exhibition a remarkable historical richness, forming a mosaic portrait of a bloody Spain. Communists, miners, Americans, child soldiers, Nazi planes and Ernest Hemingway all meet here, and the three photographers united with the combatants to the very end – Gerda Tardo died in 1937 aged 27, one victim among the 25,000 dead at the battle of Brunete.