Heads up! We're working hard to be accurate – but these are unusual times, so please always check before heading out.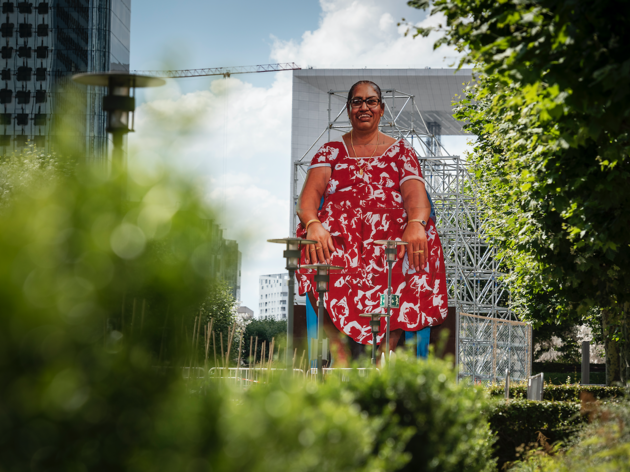 Les Extatiques, the dazzling outdoor art trail you have to see this summer
Artistic orgasm
La Défense has always found it difficult to shake off its reputation as a same-y, austere district with little going on. But a new initiative to celebrate 60 years since the financial quarter was built could change all that.
This summer, from July 5 to October 21, visitors to the area can follow a vast, multi-sensory art trail – Les Extatiques, literally 'the overjoyed' – that should put all naysayers in their place. Signed up so far are a dozen or so artists whose giant-scale works span sound, sculpture and light art.

Your starting-point should be a permanent work – the 49 multi-coloured lights that spring from artist Takis' basin, which marks the entrance to the city. Facing the Grande Arche, move on to the film by sound artists Soundwalk, projected on your right. Its compelling narrative by Harry Bellet, performed by actress Anna Mouglalis, aims to take visitors on a poetic journey exploring La Défense's history and architecture, as well as its new temporary artworks.
What follows is a true feast for the senses. First you'll come across a striking five-metre-long bench by large-scale master Lilian Bourgeat, who adds yet another outsize work to his oeuvre. Next on the trail is a blown-up portrait of a woman (pictured below) by British novelist and artist Hanif Kureishi and, right next to it, Fanny Bouyagui's awesome labyrinth of 4,000 fragrant sunflowers. None of these quite match the dazzling heights of Projection, also pictured, in which plane trees along the Esplanade have been coated in slaked lime.
Two clear highlights lie further along the trail: Argentinian artist Leandro Erlich's Inner City, which goes full Inception by allowing you to walk on the walls of a down-town Buenos Aires apartment, and Kinematope by Pablo Valbuena, who transforms the never-before-seen Salle des Colonnes with a 20-minute light show performed at regular intervals. Of all the works, the latter probably does the best job of making you see beauty in such an under-appreciated and ascetic environment.
For more information, click here (https://www.ladefense.fr/en/les-extatiques-en)

Les Extatiques - Paris La Défense - Lilian Bourgeat, Banc public © Carlos Ayesta
Les Extatiques - Paris La Défense - Fanny Bouyagui/Art Point M, Sun City © Carlos Ayesta
Les Extatiques - Paris La Défense - Leandro Erlich, Inner City - Paris Buenos Aires © Carlos Ayesta
Les Extatiques - Paris La Défense - Encoreunestp, Insta'mirror #Stilllike © Carlos Ayesta
Les Extatiques - Paris La Défense - Vincent Lamouroux, Projection © Carlos Ayesta
Les Extatiques - Paris La Défense - Leandro Erlich, Inner City - Paris Buenos Aires © Carlos Ayesta
Les Extatiques - Paris La Défense - Matteo Nasini, Untitled Pass Through © Carlos Ayesta