L'Esprit français - Contre-cultures en France 1969-1989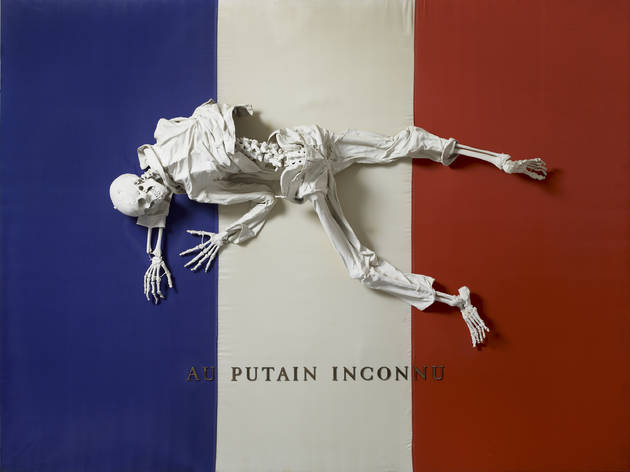 1/14
© Archiv Acquaviva, Berlin, photo: Thierry Ollivier / ADAGP, Paris 2017. Courtesy Galerie Christophe Gaillard, Paris
Michel Journiac, Hommage au Putain Inconnu, 1973
2/14
© Copi
Copi non conforme, pour la pièce 'Le Frigo'
3/14
© C.Gaillard
4/14
© Marc Domage
5/14
© Musée des Beaux-Arts de Dole / Photo: Claude-Henri Bernardot
Coopérative des Malassis, détail de Qui tue? ou l'afaire Gabrielle Russier, sous-titré ' L'histoire vraie d'une jeune femme, de son histoire d'amour, de sa mort ), 1970
6/14
© C.Gaillard
'Jeanne-Louise', 1987-2017, Jean-Louis Costes
7/14
© C.Gaillard
Les arts plastiques mais également la littérature, représentée par les éditions Champ Libre, ont été des médiums emblématiques dans la diffusion de "l'esprit français".
8/14
© Marc Domage
9/14
© C.Gaillard
10/14
© C.Gaillard
Guillotine en formica blanc de Michel Journiac, 1972.
11/14
© C.Gaillard
12/14
© Philippe Morillon
Philippe Morillon, Membres des bandes des Gazolines et To the bop devant la boutique Pendora de Luxe aux Halles, 1975
13/14
© C.Gaillard
14/14
© C.Gaillard
A in-depth study of French identity and dissidence, with over 700 multi-disciplinary works, including film, music and art.
What's France's speciality? The baguette? Smoking? Wine? No, the true star quality of the French is rebellion. Or rather chronic dissatisfaction, tinged with cynicism, which leads them to criticise, blame and disapprove of everything. Impertinence and decadence is the French raison d'être. And La Maison Rouge's L'Esprit français, Countercultures 1969-1989 looks at the formation of a critical, irreverent, dissenting 'French spirit' by proposing a multitude of crossovers and affinities.
In a relatively chronological order, the exhibition is divided in themed sections – sex, austerity, exclusion, gender and the many faces of militancy are interspersed throughout. With a soundtrack including Renaud, Trust and Gainsbourg (singing a reggae version of the Marseillaise, naturally), you can trace socio-political events with a wall of Nouvel Observateur, Figaro and Charlie Hebdo covers – some of which seem strangely current. The post-May 68 and pre-nineties period is marked with the creation of the newspaper pamphlet L'idiot international, le « Manifeste des 343 », the assassination of the Maoist worker Pierre Overney and Jacques Mesrine's famous escape from jail. It's a little on the academic side but completely necessary before the full plunge into this melange of impassioned countercultures.
Using newspapers, flyers, posters and extracts from films, videos and television shows, it considers other creative genres than those typical of contemporary art. Each of the works testifies to a change in the mentalities of his time, whether these are markers of progress or regression: alternative means of production and diffusion in the media, ongoing violence and its equally brutal repression contributed to a darkening social landscape. But the aesthetic dissidences are all forms of resistance to a formal order, and restore diversity to France's colourless art history.
It's a shame La Maison Rouge concentrated purely on countercultures from 1960 to 1980, while the pre-revolutionary eighteenth century was positively packed with revolt and rebellion. Nevertheless, with more than 700 works by sixty artists in just 2000m2, the need for a zoom lens is understandable. This selection, which took the curators Guillaume Désanges and François Piron four years to put together, sheds a non-nostalgic light on cultural mutations and reinvigorates the French identity.