Nuit Blanche • Artworks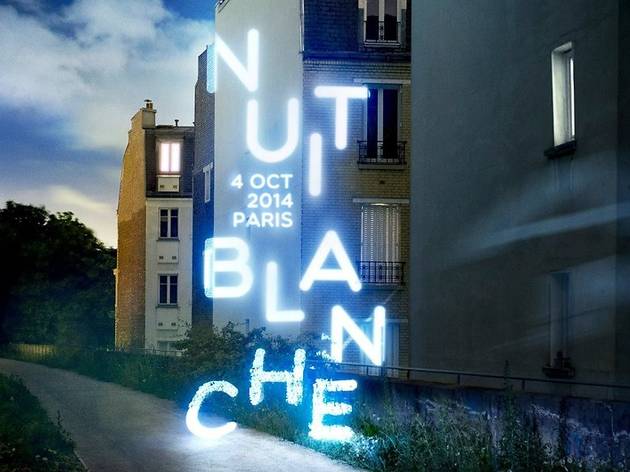 1/17
The 2014 edition of Nuit Blanche will take place across six Parisian neighbourhoods on Saturday 4 October from 7pm to 7am. Read on for our guide to the artworks to watch out for.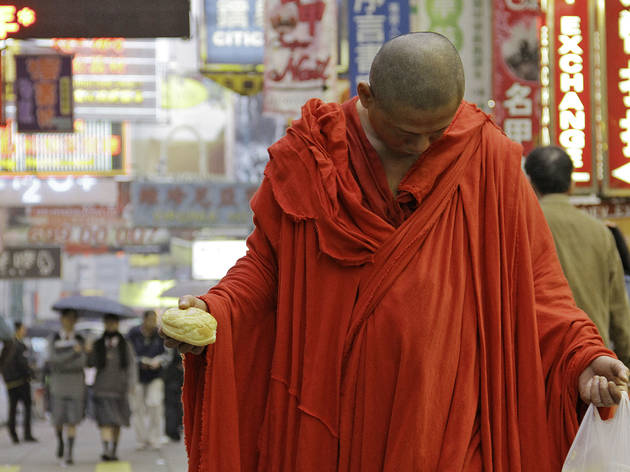 2/17
Tsai Ming-liang – 'Walker' © Homegreen Films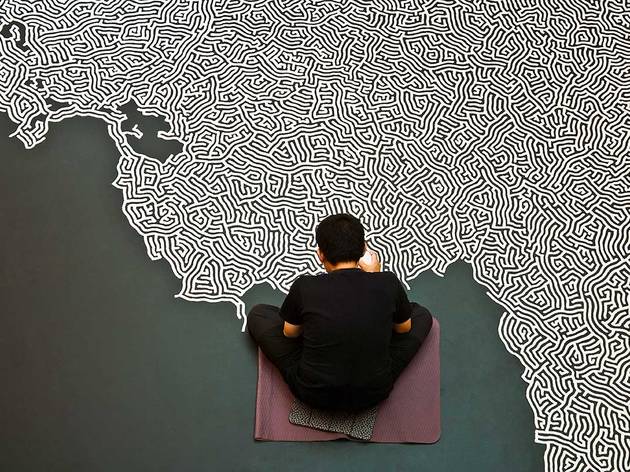 3/17
Motoi Yamamoto – 'Labyrinth' © Motoi Yamamoto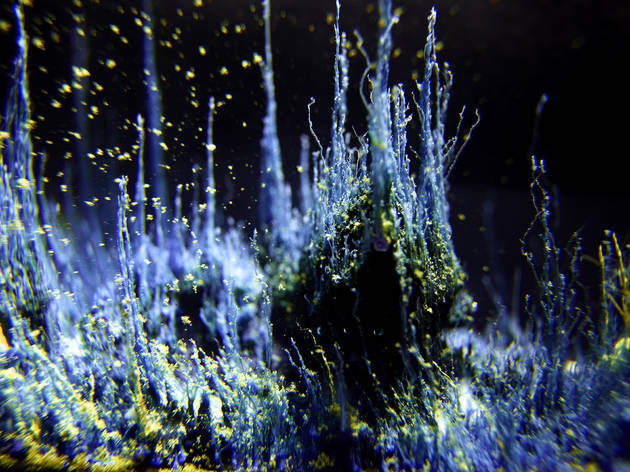 4/17
Hicham Berrada – 'Présage' © Hicham Berrada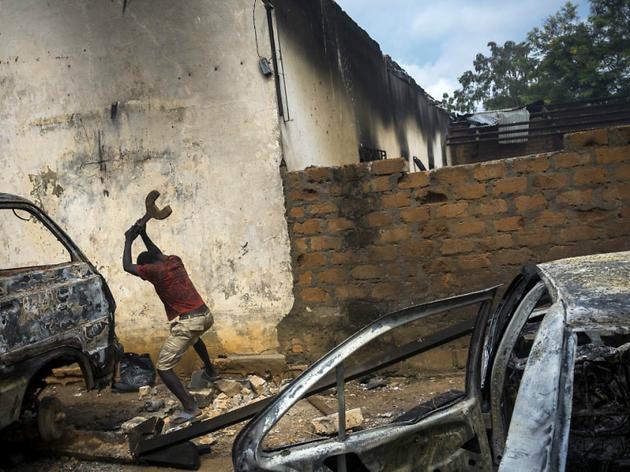 5/17
William Daniels – 'Nuit noire Centrafrique' © William Daniels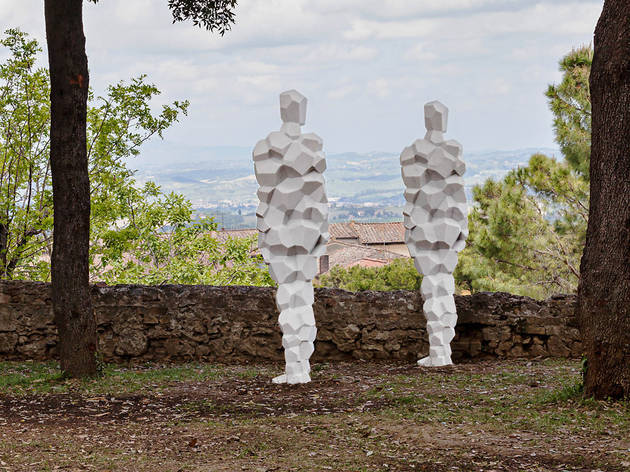 6/17
Antony Gormley – 'Another Time' © Antony Gormley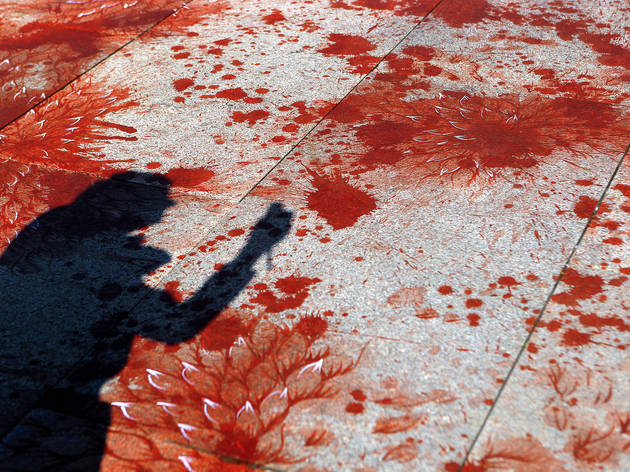 7/17
Imran Qureshi – 'And They Still Seek the Trace of Blood' © Chang W. Lee/The New York Times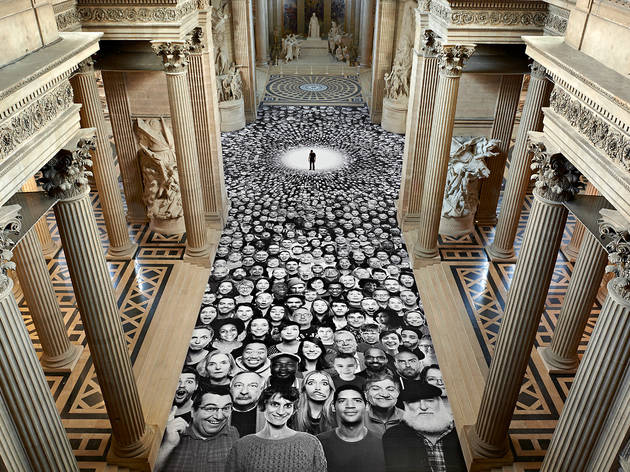 8/17
JR – 'Au Panthéon !' © JR, Fabien Barrau JR-ART.NET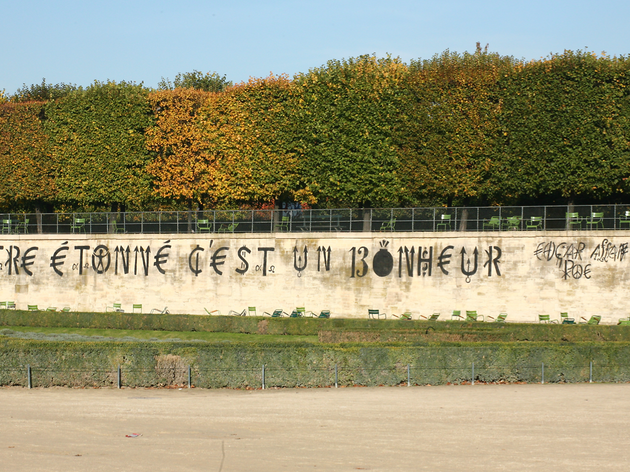 9/17
Jacques Villeglé – 'Etre étonné c'est un bonheur' © Jacques Villeglé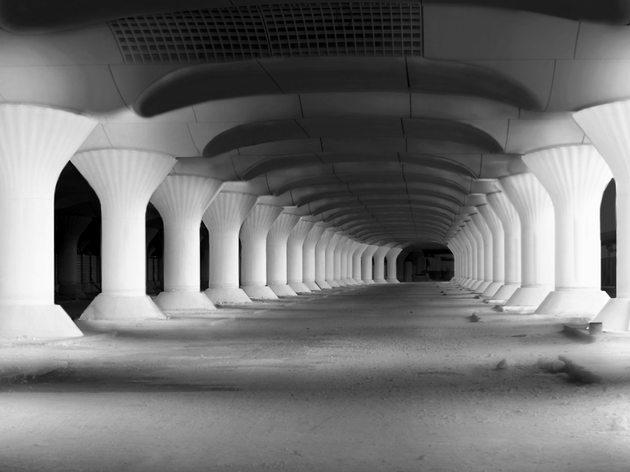 10/17
Pablo Valbuena – 'Kinematope' © Mairie de Paris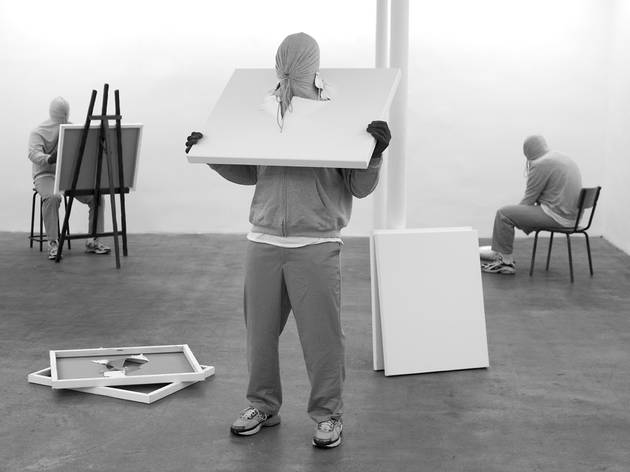 11/17
Mark Jenkins – 'Embed Series' © Mark Jenkins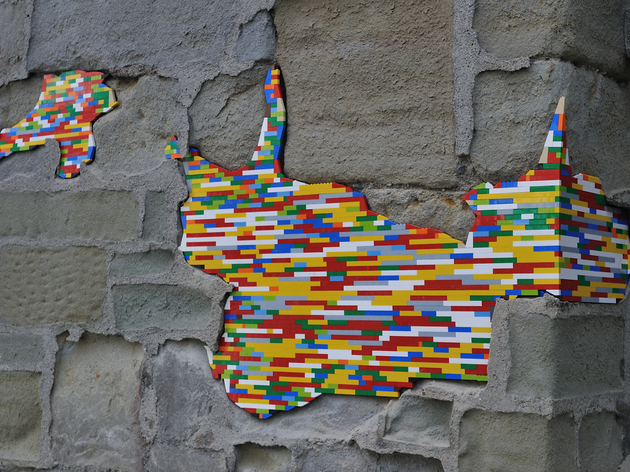 12/17
Jan Vormann – 'Dispatchwork' © Jan Vormann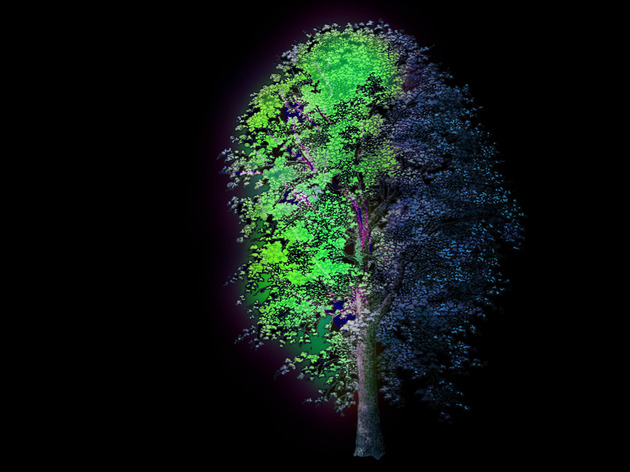 13/17
Héhé – 'Radiant Tree' © Héhé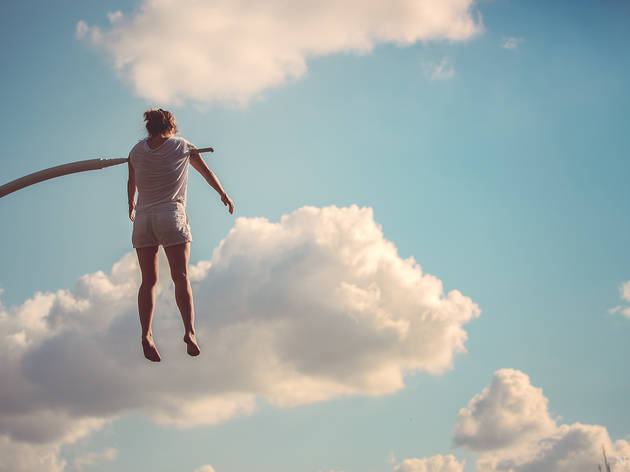 14/17
Chloé Moglia – 'Absences' © Nans KONG WIN CHANG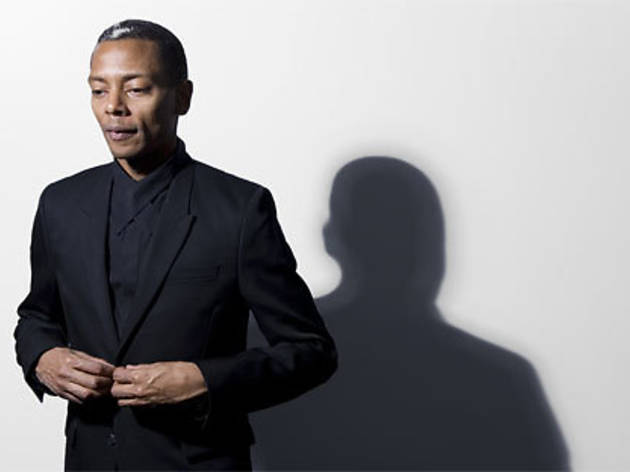 15/17
Jeff Mills – 'Together is Better' © Shauna Reagan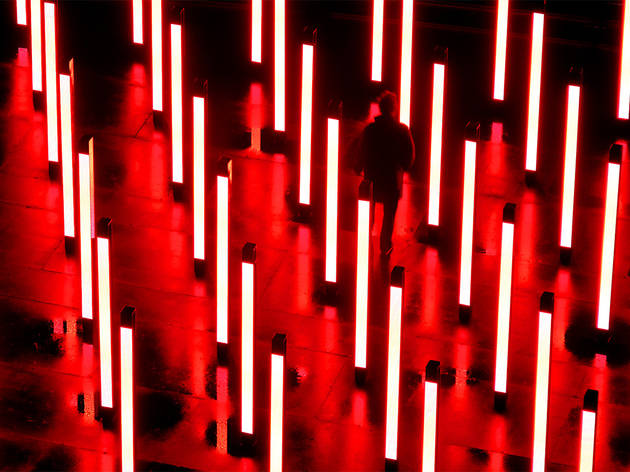 16/17
UVA – 'Volume, 2006' © Barbican Art Gallery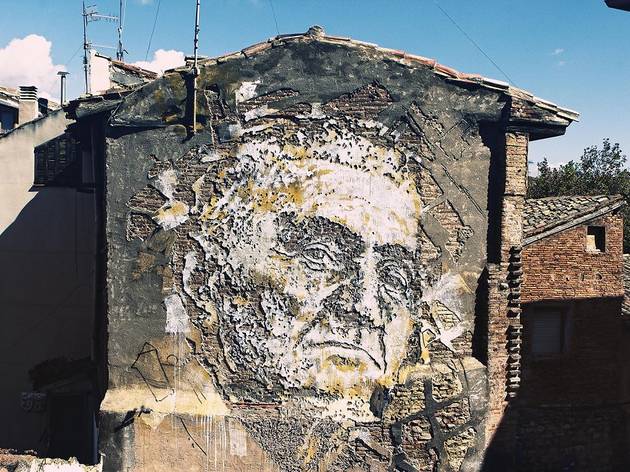 17/17
Vhils – 'Scratching The Surface' © Vhils
Hôtel de Ville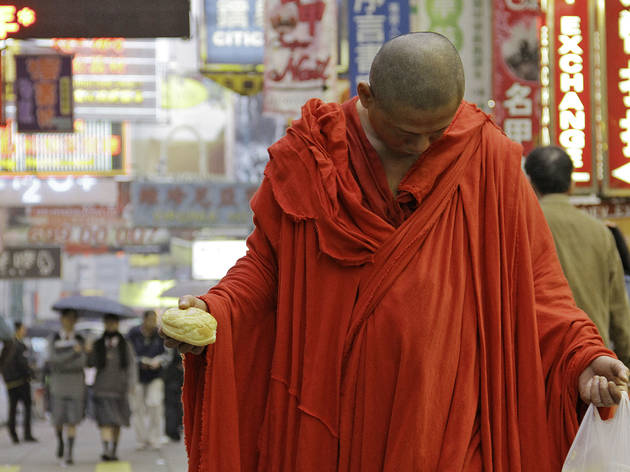 Tsai Ming-liang – 'Walker'
Having picked up the Grand Jury gong at the 2013 Venice Film Festival, Malaysian-Chinese director Tsai Ming-liang promptly turned his back on traditional filmmaking and delved into the world of experimental video art. The first fruit of his new work, 'Walker', sees him assuming the role of a Buddhist monk inching his way through the streets of Hong Kong and Marseilles. Added bonus: über-gymnastic French actor Denis Lavant also features.

Opposite the Bazar de l'Hôtel de Ville, where Rue Rivoli meets Rue des Archives

8pm–7am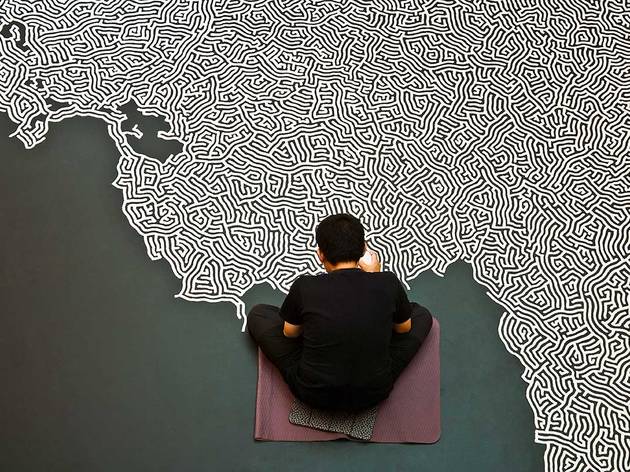 Motoi Yamamoto – 'Labyrinth'
Motoi Yamamoto takes his art with a pinch of salt. Hailing from Japan, where salt carries strong associations with funerary rites, the artist works wonders with this simplest of materials. Motivated by the tragic early death of his sister, Yamamoto has built a reputation on his vast, abstract saltscapes, laid out on the ground with nothing but vast quantities of sodium chloride. At Nuit Blanche, you'll have the chance to see him create one on the fly. Not to be missed.

Hôtel de Ville. Entrance: 3 Rue Lobau

8pm–7am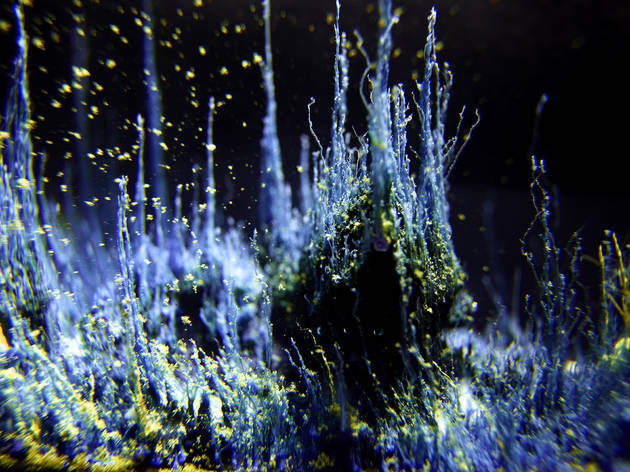 Hicham Berrada – 'Présage'
It takes a great talent to unearth the lyrical in the biological, but Morocco-born conceputal artist Berrada does just that. Holed up in his lab, he films chemical reactions on a microscopic level; the random movements captured by his camera resemble a sort of abstract David Attenborough programme, with his beaker serving as an aquarium for the pseudo-aquatic undulations of the material inside. With a background in both science and art, Berrada blurs the distinction between the two more boldly than any other.

Left bank of the Berges de Seine, 3 Rue Lobau

8pm–7am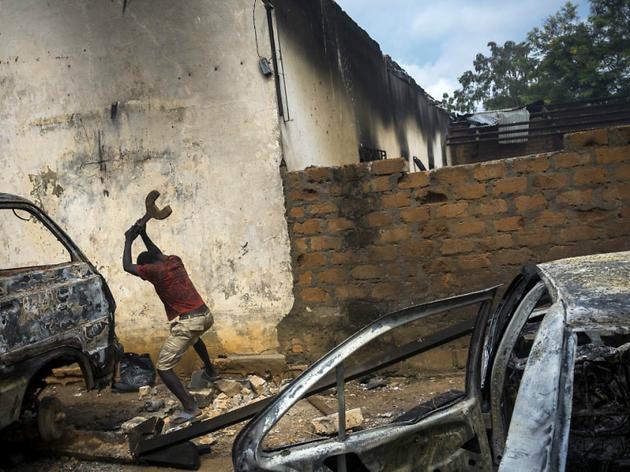 William Daniels – 'Nuit Noire Centrafrique'
A splash of black in the heart of the White Night, William Daniels's photojournalistic report from the Central African Republic makes for a provocative deviation from the otherwise meditative art on display tonight. His subjects inhabit a world of browns and greys, blown-up cars and stolen arms. These harrowing photos provide an all-too-rare insight into this most obscure of failed states, and more generally into the sheer atrocity of warfare.

Quai du Marché Neuf & Promenade Maurice Carême

7pm–7am
Panthéon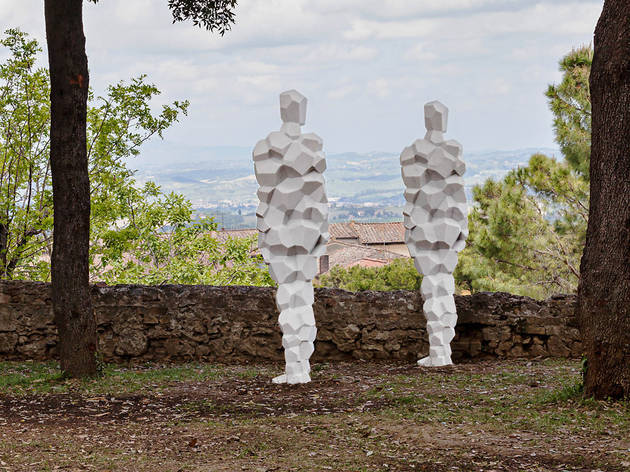 Antony Gormley – 'Another Time, 2012'
Brits will know Gormley for his artistic excesses. There's 'Field', his mammoth installation of 35,000-odd terracotta figures. There's 'Angel of the North', its 54-metre wingspan looming over the A1 into Tyneside. And of course, there are those sinister statues who perch over the roofs of public buildings across south-east England, threatening to jump. His contribution to Nuit Blanche is in the vein of this last oeure. If you pass the Sorbonne campus, look up – you're in for a surprise.

On the roof of the Université Paris I Panthéon-Sorbonne

7pm–7am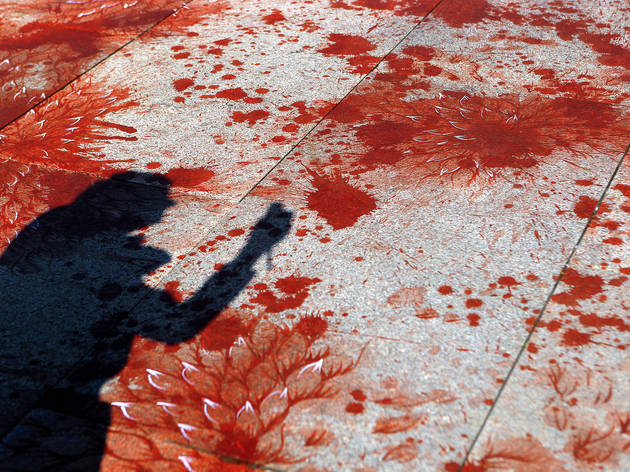 © Chang W. Lee/The New York Times
Imran Qureshi – 'And They Still Seek the Trace of Blood'
Traditional Indian miniature art meets an altogether more modernist aesthetic in the work of Pakistani artist Imran Qureshi. His epic frescoes throb with the imagery of blood and flowers, somehow channelling the serenity of Muslim art and the violence of his country's recent history at the same time. The medium in which he works brings to mind Motoi Yamamoto, who's also exhibiting at Nuit Blanche (see above); but the idiosyncratic style is all his.

10 Place du Panthéon

7pm–7am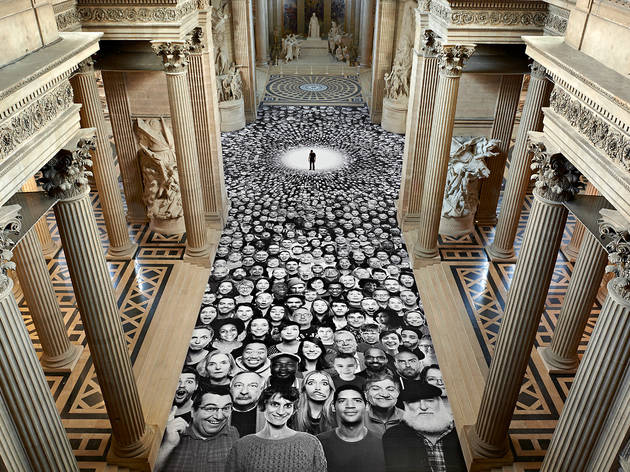 ©JR, Fabien Barrau JR-ART.NET
From the favelas of Brazil to a famous Parisian landmark, French photographer-cum-street-artist JR certainly gets around. His latest project sees him convert the Panthéon into his latest makeshift gallery. Having amassed almost 4,000 selfies from people across France, the artist has pasted them over over the Panthéon's floor, walls and dome like a vast monochrome tapestry. The exhibition has been running all summer, but closes after Nuit Blanche. Catch it while you still can.

Place du Panthéon

7–11pm
Austerlitz and Quai de Seine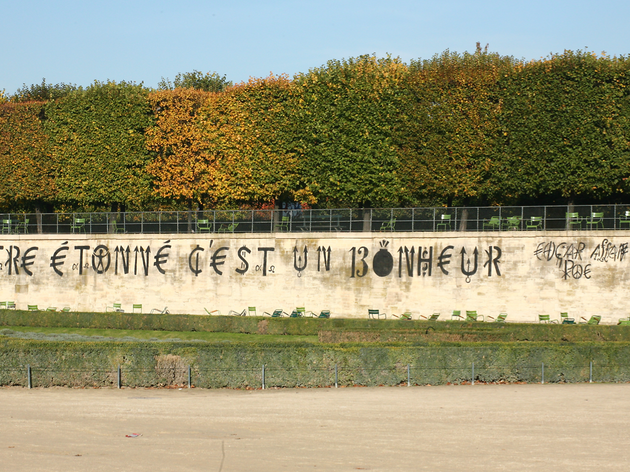 Jacques Villeglé – 'Être étonné c'est un bonheur'
This year Nuit Blanche is themed around 'street art', and the event would have been incomplete without a contribution from Jacques Villeglé. At 87, he's a veteran of high-concept public art, well known for his collages assembled from torn posters and his peculiar alphabet of symbols. The latter is employed in this installation, in which Villeglé splashes a quote from Edgar Allan Poe across the wall of the Quai d'Austerlitz.

85 Quai d'Austerlitz

7pm–7am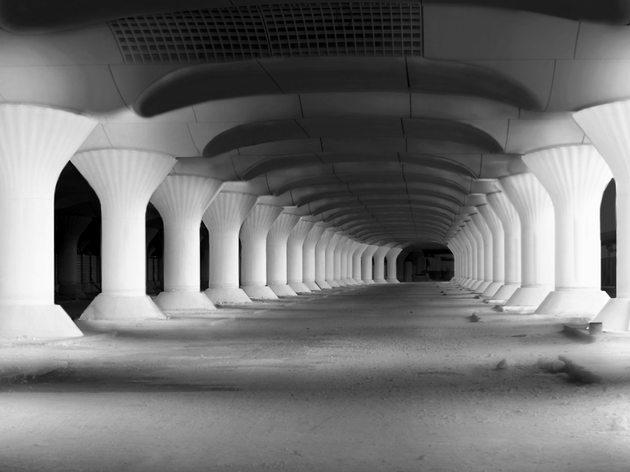 Pablo Valbuena – 'Kinématope'
Few people have heard of him – but once they've experienced his virtual trips through 3D dreamscapes, none will be able to forget him. For some years now, Spain-born Pablo Valbuena has conjured up strange geometric environments through digital trickery. For Nuit Blanche, he takes over a physical space – one of the platforms at the Gare d'Austerlitz – for an evening of sonic experimentation and optical trickery. Think the stargate sequence from '2001', minus the dilated pupils.

Gare d'Austerlitz. Enter via platform 7

7pm–7am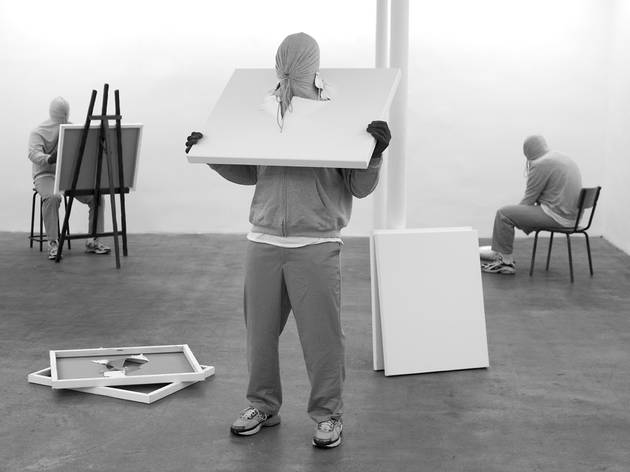 Mark Jenkins – 'Embed Series'
Ever wondered what mannequins get up to when they're not posing in shop windows? American artist Mark Jenkins gives us an answer: his blank-faced humanoid sculptures can be spotted in cities across the world, hanging out inside dustbins or relaxing in fountains. Precisely what they're doing there is never explained; whether they're happy is for the viewer to consider. What's for sure is that Jenkins's absurdist humour never fails to raise a puzzled smile.

On the traffic island where Boulevard Vincent Auriol meets Avenue Pierre Mendès-France

7pm–7am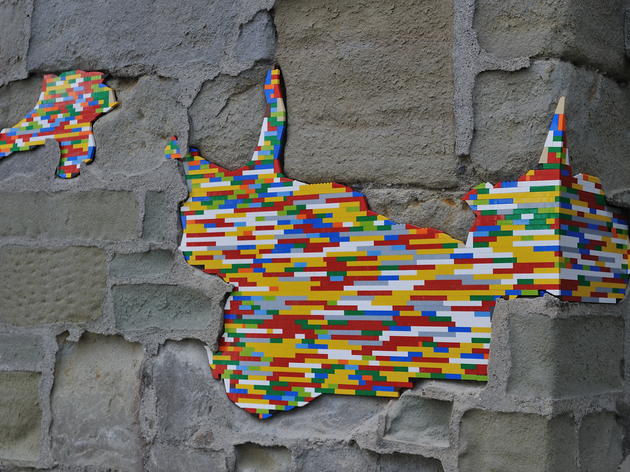 Jan Vormann – 'Dispatchwork'
When Jan Vormann started to fill holes in buildings with Lego some five years ago, his aim was not to cover up the structural deficiencies but to draw attention to our neglect. His project worked: enthusiasts around the world took note, and today the little coloured bricks adorn buildings in dozens of cities around the world. As museums struggle to broaden their appeal, Vormann's work is a joyous reminder that art can be democratic. All you need is a psychedelic polyfilla substitute.

121–147 Rue du Chevalret

7pm–7am

Montsouris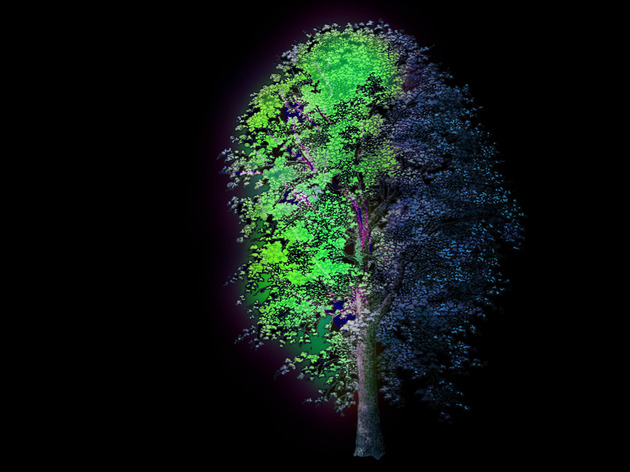 Grey matter is deployed both literally and figuratively in the highly imaginative works of Helen Evans and Heiko Hansen (aka Héhé). There's a strong environmentalist thrust behind their work, which explores the relationship between man and his urban environment. Past oeuvres have made use of railway tracks, coloured sand and grey soot disgorged by factory chimneys. This time around, they'll be illuminating a tree on the fringes of the Parc Montsouris with fluorescent lights. Expect a spectacle – with a political message.

2 Rue Gazan

7pm-7am

Montparnasse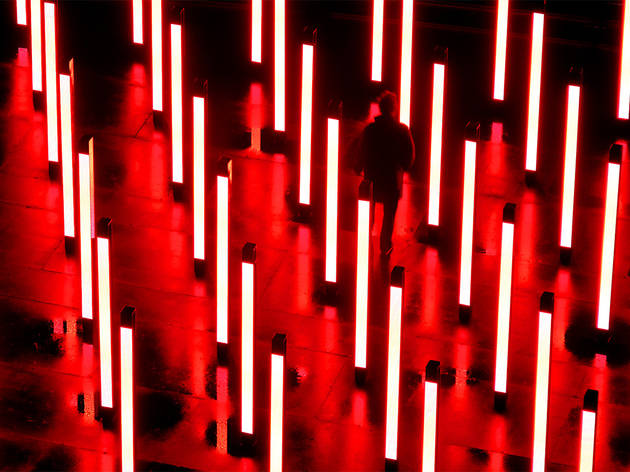 Sculpture, installations, performance art, architecture, engineering – over the past decade, the London-based collective UVA (United Visual Artists) has proved that it can juggle disciplines without losing its integrity. In England, its members are perhaps best known for their ongoing collaboration with sombre trip-hoppers Massive Attack. 'Volume', an installation consisting of 48 luminous sound-emitting columns that pump out a soundtrack by the band, was first displayed in London in 2006. It finally makes its way to Paris for this year's edition of Nuit Blanche.

Esplanade de la tour Montparnasse. A

ccess via Place du 18 juin 1940

7pm–7am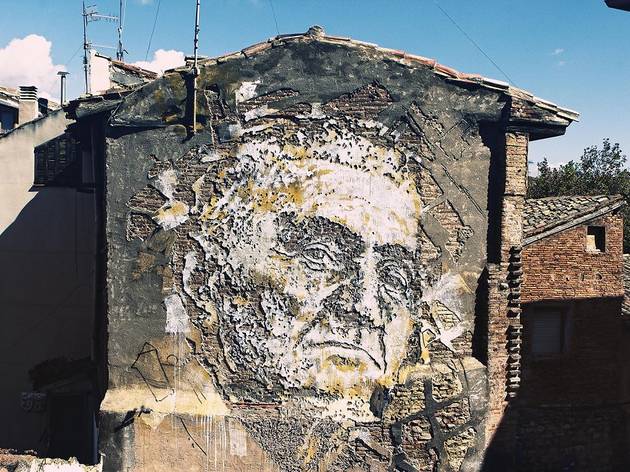 Vhils – 'Scratching the Surface'
Portuguese artist Alexandre Farto (aka Vhils) took up the chisel while studying at London's Central Saint Martins, and he's since carved himself a niche as one of the world's pioneering purveyors of the chiselled portrait. Yet to turn 30, he's already seen his shows sell out in Lisbon and elsewhere. Paris's council has commissioned him to engrave three works on walls around the 6e, by the children's hospital Necker – Enfants Malades. They're situated such that the kids can see them through their windows.

Near 149 Rue de Sèvres.

7pm–7am

Petite ceinture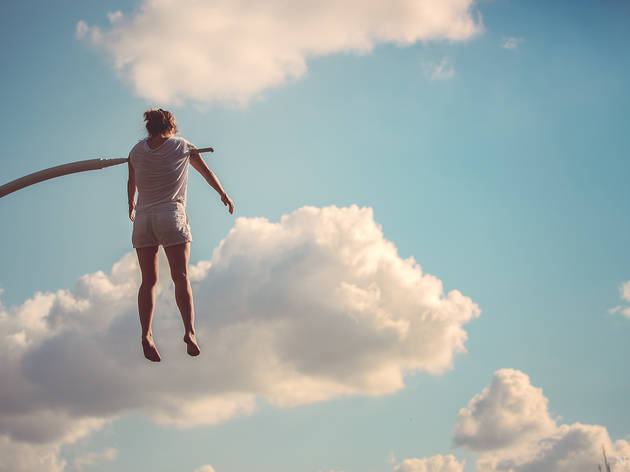 © Nans KONG WIN CHANG
Chloé Moglia – 'Absences'
Looking for a bit of suspense to spice up your evening? Head over to Rue Olivier de Serres, where you'll find Chloé Moglia suspended mere centimetres above the ground on the end of her trademark curved pole. Drawing on Tai Chi and circus acrobatics for inspiration, the French conceptual artist has made the stunt her signature act over the course of some 450 stagings. Not much happens in the way of incident, but it's all oddly engaging – don't be surprised if you end up staying till the end of the five-hour performance.

Access via 99 Rue Olivier de Serres or Place Balard

8pm–2am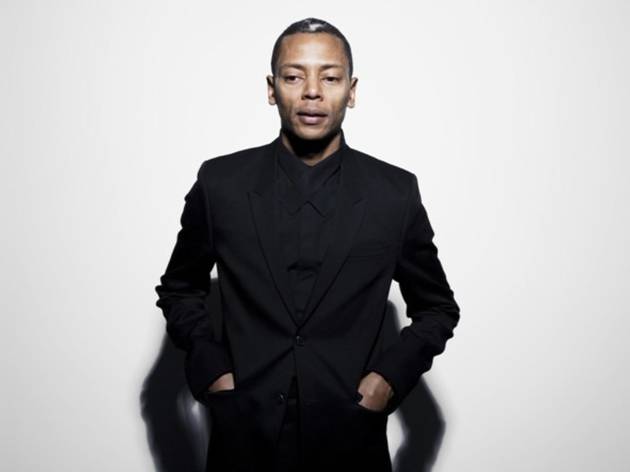 ©Shauna Regan
Jeff Mills – 'Together Is Better'
Ravers and discerning technoheads will know Jeff Mills as one of the pioneering DJs on the Detroit scene in the '80s. More recently his passion for cinema has led him to score new soundtracks for old films, including Fritz Lang's 'Metropolis'. Tonight, he's dipping back into the world in which he made his name with a freewheeling set themed around partner dances. Expect a mad medley of music designed for two to dance to, from medieval gigues through to '30s swing and contemporary disco. Together is indeed better.

6 Rue de la Montagne de la Fage

8pm–2am
More to explore