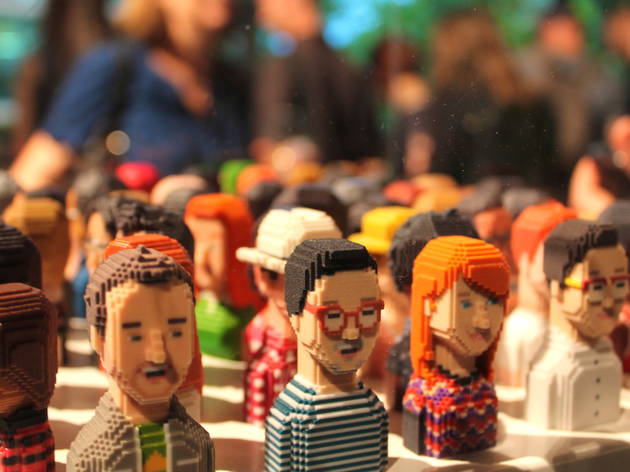 1/10
© T.Sevin
Avatars en Pixel Art par Leblox
2/10
© T.Sevin
La table de ping-pong cylindrique de Laurent Perbos
3/10
© T.Sevin
'Masomenos Dance Class'
4/10
© T.Sevin
'Bantoosh' par Fichtre
5/10
© T.Sevin
Le 'Grand chantier' pour adultes.
6/10
© T.Sevin
'Babel' par Minh Ta.
7/10
© T.Sevin
Les illusions d'optique d'Objets Pubics et le Morpion géant de Plus+Mieux Création.
8/10
© T.Sevin
Le 'Phonofolium' de Scenocosme.
9/10
© T.Sevin
'Kitchen Run' imaginé par L'Art et le Matière.
10/10
© T.Sevin
Les confettis signalétiques d'Elise Fouin.
Awaken your inner child through inventive interactive installations at this colourful playtime-themed exhibit.
You can easily infer the theme of the Cité de la Mode et du Design's nostalgic summer art show from its in-your-face imperative title, 'PLAY!' It is, in fact, 'games'. Frolicking around with your friends not only constitutes the main starting-point for all learning and social interaction, the curators claim, but could also be considered a precious (and extremely undervalued) vehicle for artistic expression.
That's the main takeaway here, as the Cité's colourful new exhibit aims to allow visitors to rediscover their inner puckish child through a range of fun artistic activities. Élise Fouin's confetti décor provides a brilliantly vibrant setting for the exhibit's various interactive features, which range from a musical cabin that comes across like some sort of psychedelic decompression chamber to food workshops featuring paintable sablé biscuits and a particularly entertaining mock-up construction site.

TRANSLATION: HUW OLIVER