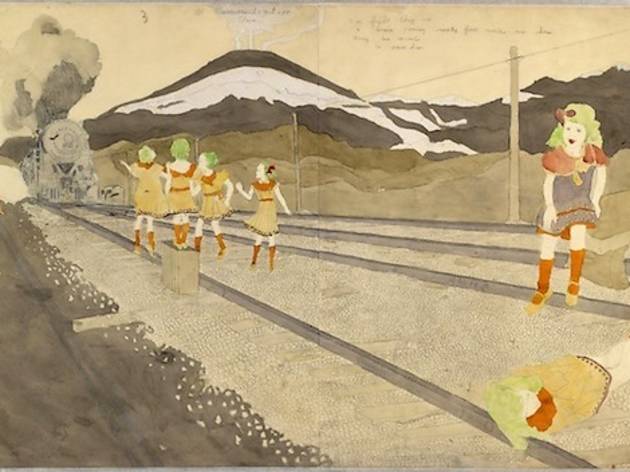 1/11
Henry Darger, 'Untitled', c. 1960 / © The Museum of Everything
2/11
Anonymous, 'Untitled', 1950 / © The Museum of Everything
3/11
Sister Gertrude Morgan, 'Untitled', 1966 / © The Museum of Everything
4/11
Josef Karl Rädler, 'Untitled', 1902 / © The Museum of Everything
5/11
Vue de l'exposition 'The Museum of Everything', Instillation exhibition #1.1, Chalet Society, Paris / Photo : Pavlos Metaxas / © The Museum of Everything
6/11
Courtesy Chalet Society / © Photo : TB - Time Out
7/11
Sam Doyle, 'Untitled (I was a Bad Boy Comeon Man)', 1902 / © The Museum of Everything
8/11
Courtesy Chalet Society / © Photo : TB - Time Out
9/11
Georges Liautaud, 'Untitled', c. 1970/1980 / © The Museum of Everything
10/11
Courtesy Chalet Society / © Photo : TB - Time Out
11/11
Courtesy Chalet Society / © Photo : TB - Time Out
Hermit, hobo, medium, savant, autistic schizophrenic – just some of the descriptions applied to the creators of the extraordinary works on show in a new art venture called The Museum of Everything. The artists represented here are all outsiders; untrained individuals, often socially marginalised and psychologically fragile, whose drive to create powerful, fantastical drawings, paintings, objects and texts using whatever materials are at hand, comes purely from an obsessive need to manifest their often troubled inner feelings and experiences.
Outsider art, which can encompass visionary art, naive art, primitive art and folk art (definitions are debatable but the term broadly applies to art produced outside of the influence of mainstream culture and art institutions) has been acknowledged and widely exhibited by the art world since Jean Dubuffet first coined the term 'art brut' (raw art) in the mid-1940s. More recently, in 2006, the Whitechapel Gallery's exhibition 'Inner Worlds Outside' in London showed work by outsiders along with famous 'insider' artists who have adopted a naive style, such as Paul Klee, Wassily Kandinsky and Joan Miró.
Outsider art can also be sidelined as quirky craft but the team of curators involved in this enterprise have found the right tone with the branding and marketing of the space; respectful of the power and sensitivity of the work but without the overburdening gravitas that sometimes accompanies breathy accounts of the outsider art world.
After last week's showy commercial fest built around FIAC, a visit to this exhibition is a welcome reminder that at its base, the desire to create satisfies a basic human rather than financial need. One not to miss.

Wednesday-Sunday, 12mid-8pm.