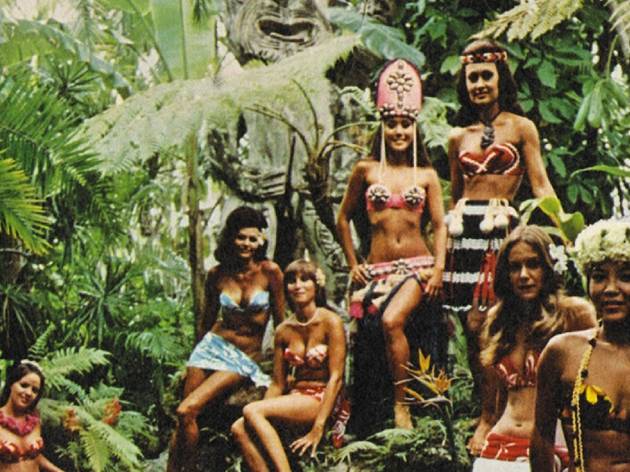 1/11
'The Mai-Kai girls await you on their suburban island' (détail) / Collection Tim Glazner / © D.R.
2/11
Carte de cocktails polynésiens et ses mugs, début des années 1960 / © D.R.
3/11
'Un avant-goût de paradis' / © D.R.
4/11
'The Mai-Kai girls await you on their suburban island' / Collection Tim Glazner / © D.R.
5/11
Carte postale originale d'un jardin Tiki / © D.R.
6/11
Kon Tiki Hotel, Phoenix, Arizona, 1961 / Collection Scott Schell / © D.R.
7/11
Kon-Tiki Polynesian restaurant, Montreal, 1958 / Collection JP Balak / © D.R.
8/11
Affiche du film 'L'Expédition du Kon-Tiki', 1951 / © D.R.
9/11
Vue de l'exposition / © Musée du quai Branly / Photo : Gautier Deblonde
10/11
'Hawaiian mug from the Aloha Hut' / Collection Martijn Veltman / © D.R. / Photo : Jennifer Patrick
11/11
Dossier de presse du 'Roi des îles' / © D.R.
Starting with Gauguin's paintings and London and Stevenson's stories, an idealised vision of the southern seas stretches from the 1930s right up to modern American music and cinema. Saturated with easy living, sun and beautiful half-naked women, this fantasy also helped a post-war America find a cathartic antidote to the trauma of fighting against the Japanese on the beaches of the Pacific.
From Marlon Brando to Elvis (who is strangely absent from this exhibition), and from bars made out to look like beach hut motels or bowling alleys decked out in a coconut and bamboo décor (not forgetting the plastic palm trees), everyone moves to the Hawaiian groove. Embraced by Hollywood and its wahine-playing starlets, Polynesia became the newest suburb of Los Angeles.
If the exhibition is good at showing how this exotic imagery permeated all aspects of American society, becoming the number one fantasy of your standard American family man, it misses the mark with its design and layout, which is dark and monotonous (except for a Hawaiian bar which, being empty, doesn't really help). It's a sore disappointment for viewers hoping to capture a bit of the exuberant atmosphere of this tacky aesthetic.
Still, perhaps that's part of the point. '50s America remained corseted by a Puritan hypocrisy and oppressive McCarthyism – so Nixon might drink mai tais and the hula girl be a sex symbol, but the misogynistic imagery fuelled by lingering traces of colonialism couldn't survive the counter-cultural shift at the end of the 1960s.