A day around Montreuil and Vincennes
Nestled side by side, Paris's eastern suburbs offer woodland, a medieval château and a coveted antiques fair...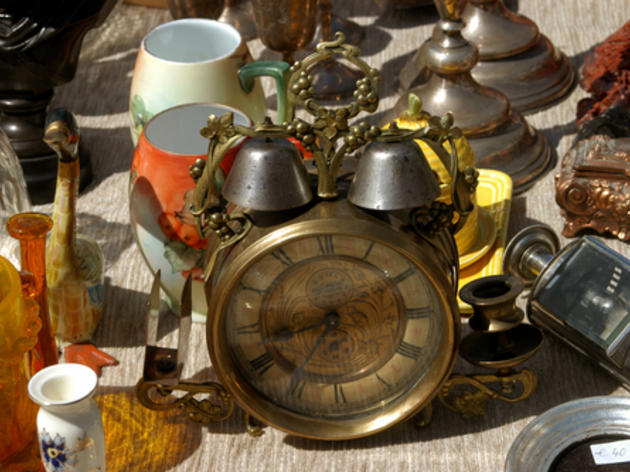 If you're a Paris old-timer, or you're just looking for a fresh angle on sightseeing, consider this day itinerary, which takes you across the
périphérique
to Paris's closest eastern suburbs,
Montreuil
and
Vincennes
. The former is famed for its rough and ready flea market,
Les Puces de Montreuil
, open all day Saturday, Sunday and Monday; while Vincennes is home to the post-card perfect
Château de Vincennes
, which contains Europe's tallest medieval dungeon. Both are accessible by Métro, and lie just 15 to 20-minutes apart on foot.
Despite this proximity, Montreuil and Vincennes have distinct personalities:
Montreuil (on Métro line 9) is a former agricultural-turned-industrial quarter dotted with reconverted factories, garages and warehouses. It was also the cradle of cinema: In 1889 Emile Reynaud invented the 'praxinoscope à projection' here, an optical theatre that projected moving drawings - precursors of cartoons. And George Mélies built the world's first film studio in his garden in 1896 - a glass conservatory (no longer in existence) he called his 'workshop of cinematographic shots' (l'atelier de prises de vues cinématographiques).
Though less pretty than Vincennes, Montreuil's population has a distinct arty streak, visible in the town's numerous galleries, artist's workshops and graffiti clad walls.
To learn about the area's agricultural heritage, the Tourist Office runs free tours around the labyrinthine murs à pêche (peach-growing walls) - 19th-century throwbacks to a time when Montreuil's St-Antoine quarters were dedicated to peach farming (Sun 2.30-4.30pm; access via 23 rue Saint Just - Impasse Gobétue; bus 102 or 121 to Danton, or bus 122 to Saint Just). If you decide to visit the walls, you can reverse this itinerary.
A world away from fruits and industry, chic Vincennes (Métro line 1 and RER A) is steeped in royal history, with Charles V's royal castle and dungeon, and the Bois de Vincennes (officially part of Paris since 1929), a lake-studded, former hunting forest, now frequented by weekend pleasure seekers, dog walkers and families.
Start at the Puces de Montreuil, where you can easily spend a couple of hours rifling for bargains. Then walk through Montreuil to the Château de Vincennes (approx. 20-mins). Once you've been around the dungeon and admired Charles V's former living chambers, make your way back to Paris through the Bois de Vincennes, where, upon arriving at Porte Dorée, you can visit the Cité de l'Immigration (immigration history museum). Or hop on the Métro at Vincennes to Nation, where you can fill up on hearty bistro fare and wine at Chez Prosper.
If you've followed this itinerary in reverse, or just fancy a night out in Montreuil, we recommend Le Mange Disc bar, with its cool retro rock vibe and Montreuilloise beer (made in Montreuil, of course).
Tip: Because of the flea market's opening days, this trail is best followed on weekends.
For more information, check out the tourist office websites for Montreuil and Vincennes.