Beaujolais Nouveau 2017
Where to find the new young wine in Paris on November 16 2017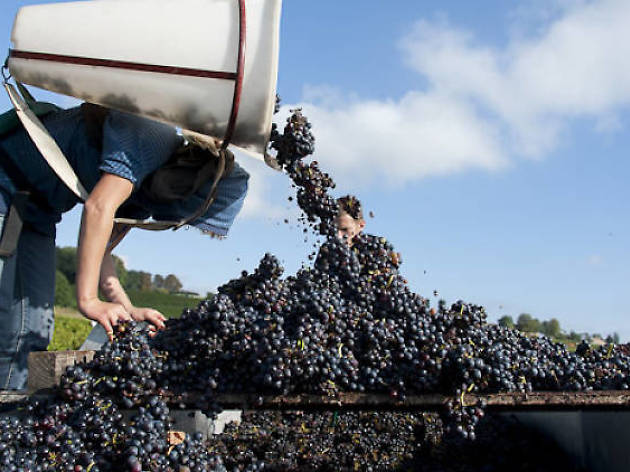 When? November 16 2017
What? A nationwide festival celebrating two-month-old Beaujolais Nouveau red wine
Where? In bars and shops around Paris

Every year on the third Thursday of November, the young red vin de primeur Beaujolais nouveau is released on to the market in a frenzy of promotion, buying and drinking. Just 6-8 weeks old, the wine is intended for immediate consumption.

Not everyone in Paris is a fan. In fact, the light, fruity wine is as divisive in France as football or politics. But what's certain is that the night of Thursday November 16 2017 will be given over, in many places, to committed (and raucous) testing of this year's vintage – and Time Out Paris will show you where to partake.
Where to celebrate Beaujolais Nouveau in Paris
Staying faithful to organic wines, there'll be several on offer: Beaujolais, Karim Vionnet, Julien Merle, Isabelle et Bruno Perraud, Côtes-du-rhône, Marcel Richaud muscadet and Muskadig Breizh. And to accompany this beautiful selection: sausage galette and oysters from Normandy. Things kick off at 6pm and continue until midnight.
Inaro are going against the grain and celebrating beaujolais vieillot (beaujolais wine from several years back). This year Roland Pignard is showcasing a 2012 Mognon by the magnum, as well as vintages from 2013. The event will continue for several days from November 17 – or until stocks run out!
Slake your thirst for good wine with quality local vintages in a blue-collar bar with no time for pretentious oenophiles.
Expect guitars and accordions at La Cave de l'Insolite on November 17, plus a menu specially designed for the occasion – and of course, plenty of beaujolais nouveau.
This yellow-fronted cave is the place honour beaujolais wine with six or seven different vintages: Beaujolais nouveau, as well as spring wines from other regions (notably the excellent vintage from Jean-François Nicq in the Languedoc, 'October'.)
Le Lapin Blanc, Menilmontant's charming wine bar is celebrating its 4th birthday on the same day as Beaujolais Nouveau, with a four-day party. Of course, the evening of November 17 will be spent drinking the famed spring wine.
This is a celebration of Beaujolais Nouveau but 'without the Beaujolais Nouveau,' showcasing beautiful wines from their winery with no corkage fee (usually €4).
This cute Pigalle wine bar is intimate and friendly – making it the perfect spot to celebrate Beaujolais Nouveau.
Looking to broaden your wine horizons?