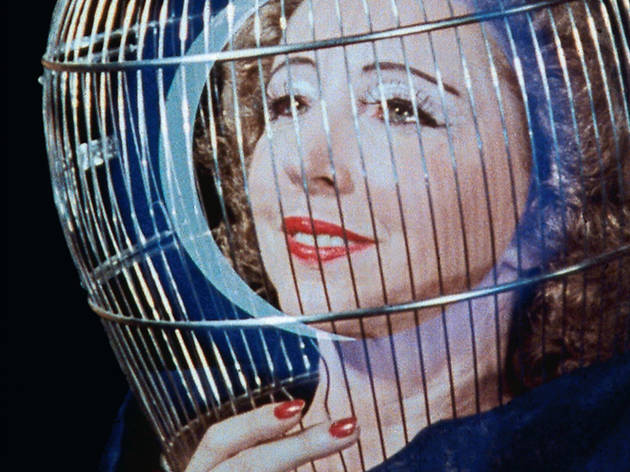 Like Maya Deren, Stan Brakhage and Jonas Mekas, Kenneth Anger is one of the foremost names of experimental American cinema from the 1950s and 60s. And although 'experimental' often serves to mark out the difficult or disturbing, it's easily forgotten with his films. So we can rejoice in the screening at the Galerie du Jour of Anger's two most famous works: 'Puce Moment' (1949) and 'Inauguration of the Pleasure Dome' (1954) (a promising title if there ever was one).

Pass quickly over the photos and memorabilia on show; taken from Anger's personal archives (he was a compulsive collector for most of his 85 years), they have little function here other than to illustrate the filmmaker's taste for the early day of cinema and Hollywood imagery from the 1920s and 30s. Pass over the portraits from the silent era as well, with the suggestive and eccentric poses of heart-throbs and femmes fatales, and concentrate on the two films. Start with 'Puce Moment', a six-minute short that is the ideal point of entry into Anger's fetishist-surrealist world.
With an atmosphere somewhere between glamour and spirituality, a few glittering dresses quiver in front of a dancing sofa. Then there are the blue eyes and mischievous lips of Yvonna Marquis (who Anger, a huge gossip, revealed as the mistress of a former President of Mexico, Lazaro Cardenas). In a handful of images, accompanied by a couple of splendid original psycho-folk songs from Jonathan Halper, 'Puce Moment' is by turns an erotic dream and an essay on colour, an extension of the work of French filmmaker Georges Méliès and a personal homage to Anger's grandmother, a Hollywood costume designer. It's enlightening to consider how much more inventive these few minutes are than most feature films on general release.
The second film, 'Inauguration of the Pleasure Dome', is longer (38 minutes), and far more esoteric, taking inspiration from the English occultist Aleister Crowley. Similar visual language – clothing, jewels, dyed hair or wigs – serves different ends, as a discourse on variations in form and colour, manipulated through slow or double exposures. A psychedelic montage with an operatic background offers us prophetic mirrors, glass pentacles, grimacing demons, or Anaïs Nin with her head in a birdcage. But whether or not you feel on a level with Anger's hermeticism, 'Inauguration of the Pleasure Dome' remains a fascinating visual journey where, free of dialogue, the images develop a reflexive form of narration that recalls Germaine Dulac ('La Coquille et le Clergyman', 1926) and anticipates the deviant symbolism of 'Eraserhead' (David Lynch, 1977).
So, two angry, dazzling and deranged films, which you can see for free on the big screen at the Galerie du Jour – ideally twinned with a drink on the Rue Quincampoix. All we need now is a more complete retrospective, to include the deranged masterpiece 'Lucifer Rising'.