Heads up! We're working hard to be accurate – but these are unusual times, so please always check before heading out.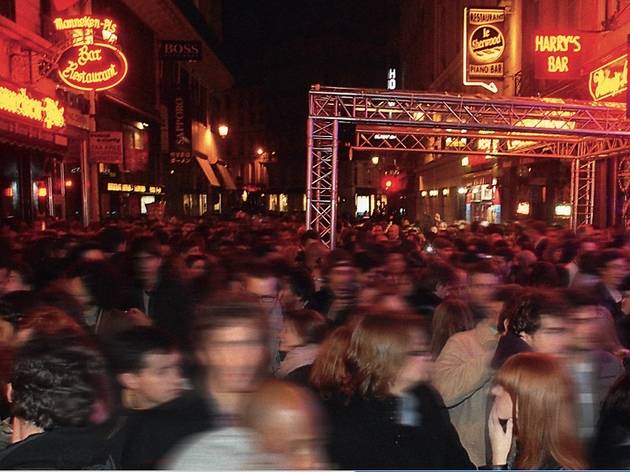 1/13
Harry's New York Bar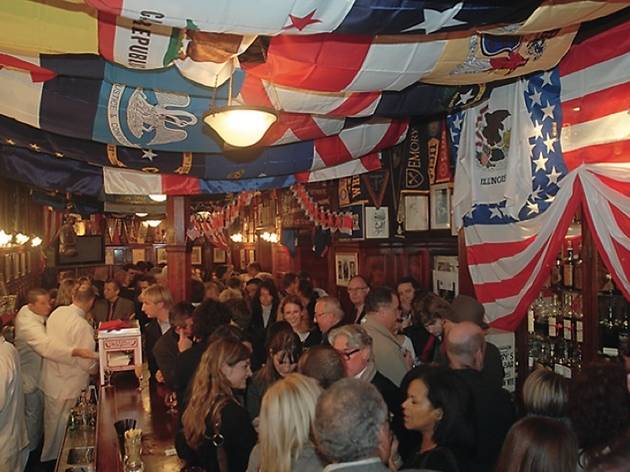 2/13
Harry's New York Bar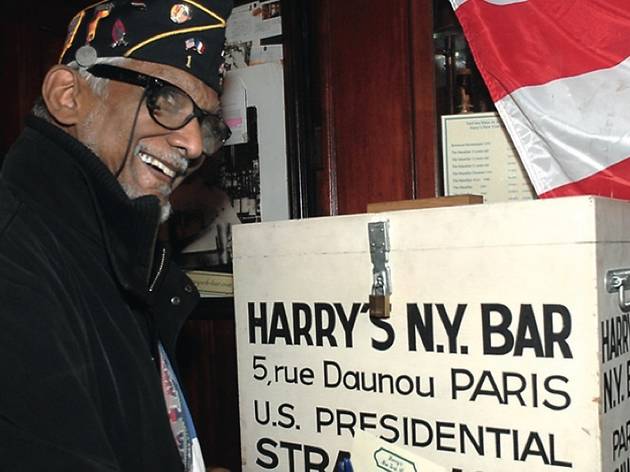 3/13
Harry's New York Bar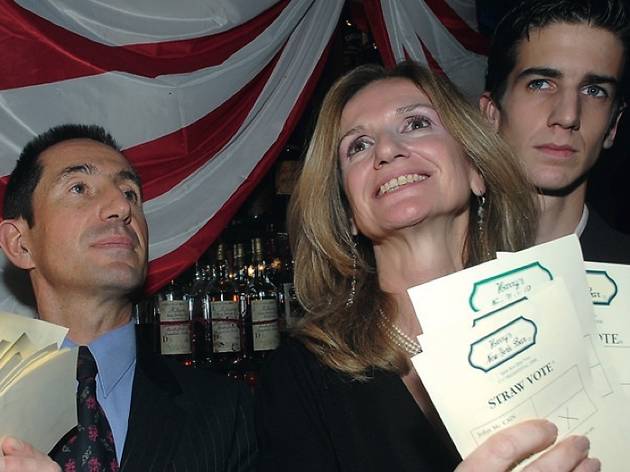 4/13
Harry's New York Bar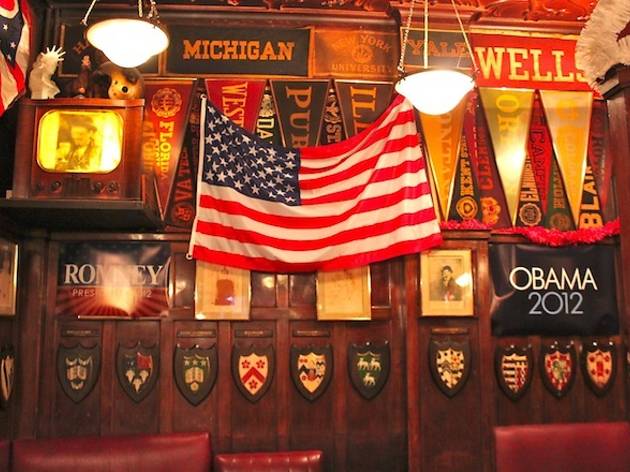 5/13
Harry's New York Bar / © Time Out C. Griffoulières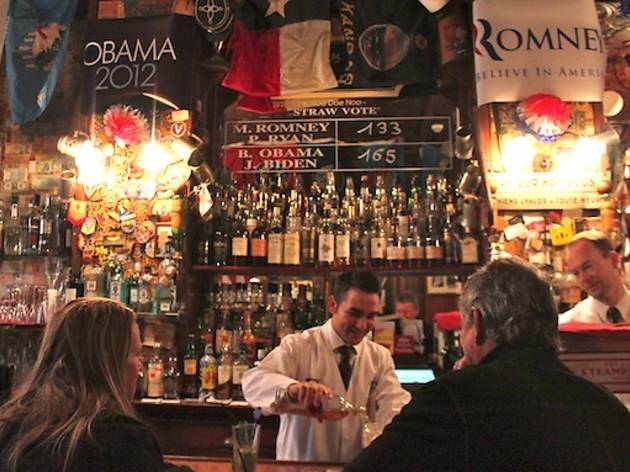 6/13
Harry's New York Bar / © Time Out C. Griffoulières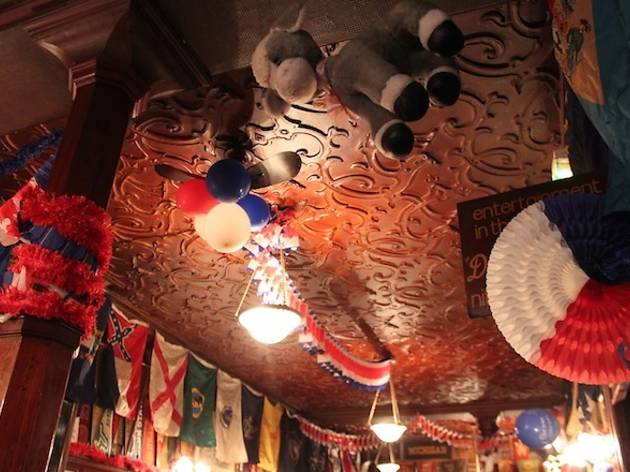 7/13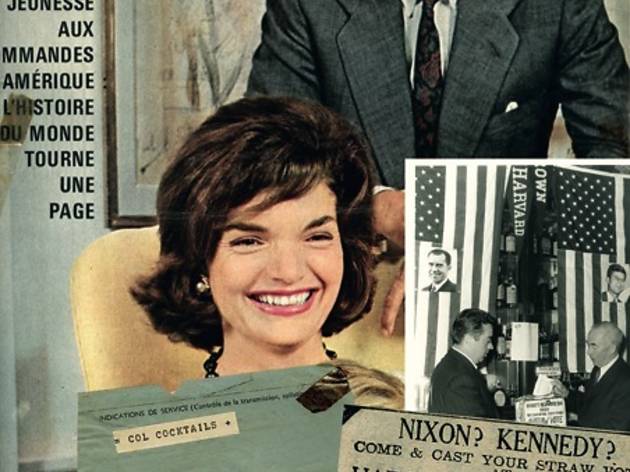 8/13
Harry's New York Bar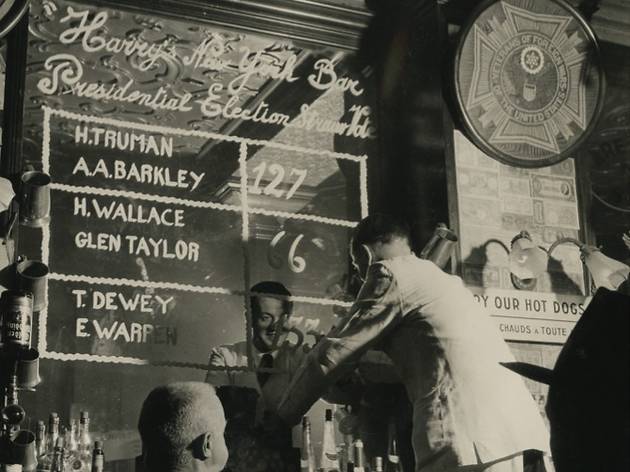 9/13
Harry's New York Bar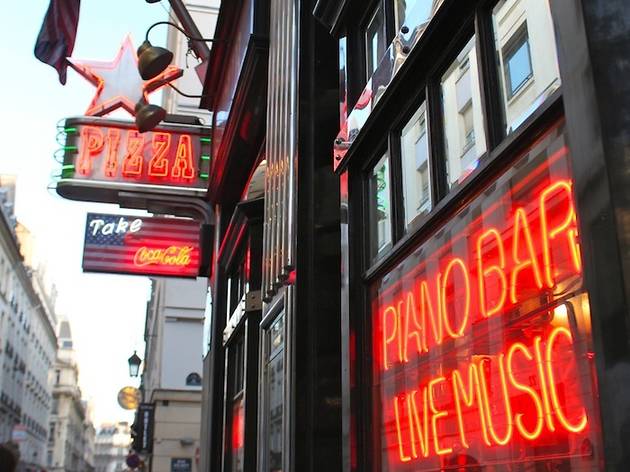 10/13
American Dream / © Time Out C. Griffoulières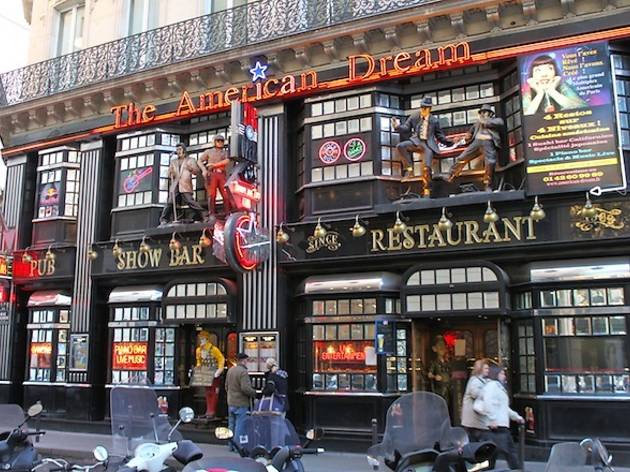 11/13
American Dream / © Time Out C. Griffoulières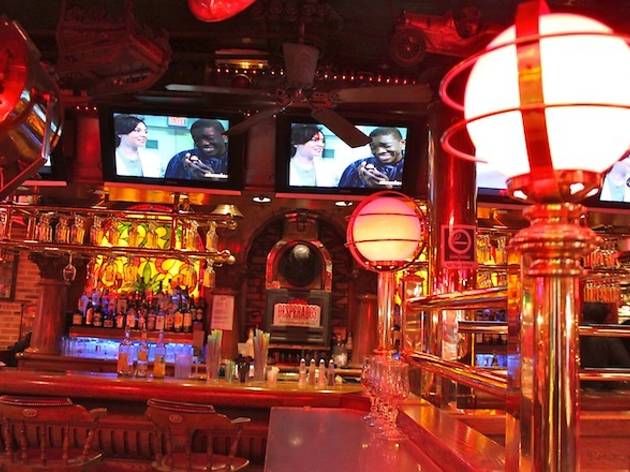 12/13
American Dream / © Time Out C. Griffoulières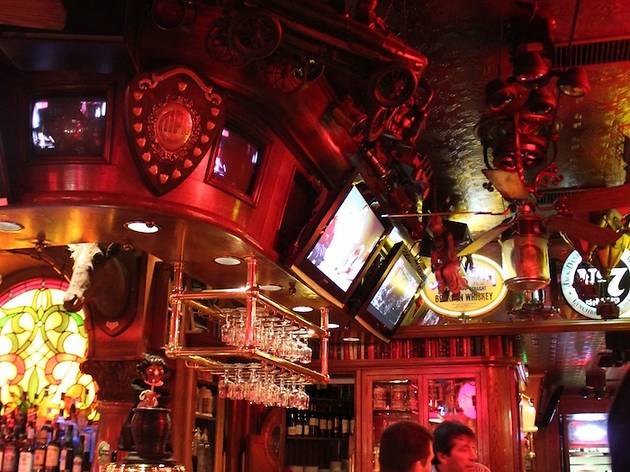 13/13
American Dream / © Time Out C. Griffoulières
Election night in Paris
Obama vs Romney 2012, beer in hand
Even with the time difference, you won't be reduced to trying to stream the nail-biting 57th US presidential election on your laptop: Paris will provide. We've sourced the best bars and restaurants for following the race, as well as a slew of burger and cheesecake providers so that you can celebrate or drown your sorrows in style the day after.
The whole of Rue Danou (nearest Metro: Opera) will be shut down for the occasion and equipped with giant screens showing the election until 3 or 4 in the morning. Come prepared to deal with the cold, and with a football scrum of French, British, Republicans and Democrats. Don't expect to be able to take refuge in Harry's New York Bar, either – sadly, it's closed for media and members fof the whole evening. Head instead to MKP Opéra just opposite, which will screen the show in the warm.
Alternatively, there's
American Dream
, a huge American bar a bit further down the road – you can't miss the frontage, and enormous neon-lit temple to all things kitsch that looks exactly like a theme park. It will show the elections, naturally, but also be aware that the principal attraction here is stripteases on the bar and the drunken antics of young Americans. Still, it's free entry, you don't need to reserve, and it's open until 2am.
The cream of American ex pat society in Paris will already have reserved their places at Pershing Hall – a symbolic venue that was the residence of General Pershing during the first world war, then the seat of the American Legion for almost a century. Full entry on election night will be fearsomely expensive (€80 for the night, inclusive of petits fours, two drinks and a small dinner per person), but the luxury hotel is also opening six rooms to the public, equipped with plasma screens, and with six live concerts running from 11pm until 6am. Suits or evening dresses are required, and tickets are between €45 and €75 depending on the menu you choose – some available on the door.
If you don't fancy freezing your politically engaged behind off in the street, or dropping €80 to get into Pershing Hall, you can still be well fed and watered and watch the results come in in comfort at Joe Allen. This charming American brasserie is offering a €40 buffet with guacamole, Caesar salad, spinach salad with mushrooms, tomatoes, bacon, avocado, grilled pork, roasted peppers, baked potatoes and burgers. Reserve ahead if you want to eat, but you'll still be able to get in for drinks from about 1am and stay until 4 to catch the last of the results.
More American bars
Opened in trendy So-Pi (South Pigalle) by the team behind Candelaria, Le Glass is all about novelties flown over from the US: special cocktails, mixers with Pisco, 'Boilermakers' (a shot followed by a beer) and a wide selection of imported bottled beers, all accompanied by hot dogs and pickles.With a décor of broken mirrors, disco balls and soft lighting, you may get the impression of being in a club rather than a bar, and the small space quickly fills up with the local chic, beautiful crowd. Drinks-wise, we recommend the Tattoo You (mezcal, ginger, grapefruit, lime and beer), and the marvellously named beer BrewDog Trashy Blonde. If you're up for a Boilermaker, make sure you line your stomach with a hot dog first, then try the Patti & Robert (a shot of Jim Beam followed by a Brooklyn East Indian Pale Ale), or a Lila & Santana (El Jimador Reposado tequila ending and a Mexican Modelo Especial).
This is one of Time Out's 100 best bars in Paris. Click here to see the full list. The Barbershop is a thirsty art-lovers' landmark. Recalling Brooklyn's trendy gallery-bars, it's always worth the visit. Temporary exhibitions of street art decorate the walls, and canvases by young painters are for sale at affordable prices, offering great opportunities for the hard up but style-conscious looking to re-do their apartments. Visitors can even consult piles of art and design coffee table books, while comfortably installed in padded Chesterfield armchairs or in shabby chic second hand sofas.DJs mix hip-hop, funk and soul every weekend, and often for private views of the exhibitions. There's also an affordable menu of good food, a typical menu will take in organic poached eggs en cocotte with creamed mushrooms, followed by the house cheeseburger or a tender faux-filet of Angus beef in a Roquefort sauce. For dessert, we recommend the sinfully good tiramisu with a cinnamon biscuit base. The midday menu is really very reasonably priced – €13 on weekdays – or €22 for brunch. Outside, there's a lovely terrace, heated in winter.
For burgers
The best burgers in Paris are a tall order, in a city devoted to fine dining and elite restaurants. But our hunt for perfect patties and fantastic fries turned up more than snooty gourmet versions of the American classic (though a few of those as well). The obsession with fine ingredients that has gripped burger-makers in New York and London for the last few years has caught on in the French capital too, with happy results: Our 'Best burgers in Paris' list includes full-on American diners, signature restaurant versions and even a jolly burger truck, proving that French versions of US cuisines are much more than just a load of old viande hachée.Did we miss you favourite Parisian spot for American-inspired dining? Join the conversation in the comments. La Maison Mère If you somehow managed to miss La Maison Mère throughout the media frenzy around its opening in January 2011, it's time to get up to speed. First, forget any ideas of a traditional French kitchen: it's more Mom than Mère. Embrace, instead, the New York-esque décor, with its white tiles, vintage furniture, enamelled mirrors, lamps disguised as bowler hats and a sign declaring: 'In food we trust'.The menu is much what you'd expect given the setting, but the management has added a few dashing bourgeois touches. Leek vinaigrette, eggs 'mimosa', bone marrow sandwiches, grilled cockerel and chocolate mousse all appear alongside a variety of dishes directly imported from the Yankees – crab cake, Brooklyn platters, Long Island platters and so on. The five burgers (which range in price from €15 to €20) will delight enthusiasts, be it a breaded cod burger or the Black Label with its thick-cut Black Angus steak. The cooking is perfect, and if the sides are a little lacklustre, it's only so as not to distract from the main event.Pride of place is given to T-bone steak and caramelized pork ribs, Bavarian prime rib, Black Angus striploin and Charolais tartare. Phwoar. The house fries could have been better and the whole doesn't come cheap, but nobody's perfect. Friendly service, a nice wine selection and top cheesecake all go a long way towards sweetening the bill. Blend Parisians have officially gone burger bonkers: After the Camion qui Fume (a mobile gourmet burger van) and Big Fernand (an über-trendy take-away burger joint in the 10th), Blend has opened its doors, in the bobo quarters of Etienne Marcel. And if the queues are anything to go by, this modern, 24-seater burger bar is going to be relished for a long time. The secret is in the ingredients: Made with hand-cut veal and beef mince, provided by star butcher Yves-Marie le Bourdonnec, burgers are succulent and flavoursome, and marry wonderfully with the fresh toppings (think bacon, bleu d'Auvergne cheese, spinach leaves, chorizo, mint and cheddar). The bread and fries (both potato and sweet-potato) are also homemade, making the whole affair rather gourmet. Our burgers came wrapped in baking paper (to keep their toppings snug inside the bun until they got to the table), accompanied by delicious, knobbly, golden fries served in a metal basket and sprinkled in salt and fresh parsley. The initial bite of the 'Sweet' burger (veal mince, with Chorizo and carrot, mint and pepper relish) was very satisfying, with alternately crisp and squishy layers of cheese, salad, salsa and bun. The toppings on the 'Signature' burger (beef mince with blue cheese, apple, bacon and onion chutney) also worked together perfectly; and the fries were some of the best we'd tasted in Paris, with just the right balance of crunch and fluffiness. Desserts (though less exciting) were decent: a moist peanut and caramel cupcake, and a creamy, yet tangy, raspberry cheesecake with a crunchy, buttery base. Indeed, the only downer was the lack of space (only 24 seats for dozens of clients who inevitably have to queue or share with strangers) and an abundance of plastic cups – a problem linked to Blend's unexpected success. As the manager explained to us, they didn't anticipate becoming a hit so soon, so haven't got enough 'proper' crockery to go round! Let's hope they sort it out soon. Low-grade containers are passable in McDo, but when you're a modern eatery trying to build a reputation, you just can't serve wine in a bog-standard plastic cup. Vegetarians are catered for too, with two veggie options: the 'Champ', a mushroom and tofu burger in a spinach bun, with aubergine and fresh mint; and the 'Green', an intriguing pea 'steak' in a spinach bun with curried apricot chutney. Big Fernand A brilliant little burger joint, which takes the traditional American burger and gives it the French terroir treatment. Nowhere's been left out, with regional specialities from all over France wedged between delicious sesame seed buns from the bakery next door. There's fourme cheese from Ambert, tomme cheese from Savoie, Saint-Nectaire cheese, Charolais and Blonde d'Aquitaine beef and more.The menu lists five house burgers, but you can also build your own. Choose from beef, chicken, lamb and veal and then add cheese, grilled vegetables, streaky bacon, sauces, herbs or spices. You order at the counter and then try and find a seat, which isn't always easy – but if all else fails you can get it to go. Chips (known here as 'fernandines') come with, and the concept even extends to the drinks and desserts, with homemade soda, organic lemonade, and traditional puddings.Quick and friendly service comes from moustachioed men in checked shirts, all part of why Big Fernand has shot to the top of Paris's burger ranks. The only slight quibble is the price – about €15 without dessert. The quality of the ingredients is high, but the portions aren't huge and it feels a little much to pay for what is still fast food. Le Camion qui Fume Fancy one of the best burgers in Paris? Forget your posh napkins, tablecloths and seating, the Camion Qui Fume is Paris's first American-style burger truck, run by Californian Kristin Frederick; and you only have to look at the long lines of salivating bobos to know that the burgers here are good. The secret lies in the ingredients: baker-made bread, top quality meat, hand-cut fries and real cheddar (for just €10). The truck's nomadic concept is quirky too: driven to a different spot everyday (often place de la Madeleine, Porte Maillot, the Canal St-Martin, MK2 Bibliothèque and in front of the Musée d'Orsay), its whereabouts is confirmed just days before on the website and on the Camion's Twitter and Facebook pages. Breakfast in America Even in Paris, the city of haute cuisine and knock-your-socks-off Brasserie fare, there comes a time when nothing but bacon, fried eggs, juicy burgers and fluffy pancakes drizzled in maple syrup will do. For those moments, Breakfast in America (known lovingly amongst regulars as B.I.A) offers bona fide American diner surroundings, all-day breakfasts and artery clogging delights like sticky pecan pie, washed down with bottomless mugs o' Joe. Needless to say it's a hit with the brunch crowd who come in droves so large they queue up outside, rain or shine. Fortunately turn over is quite fast, so you rarely have to wait more than half-an-hour. The €15.95 brunch menu gets you comfort staples like sausages and eggs (over-easy, sunny-side up or scrambled) with toast and fries or a generous Connecticut ham and cheese omelet and a squidgy chocolate muffin. B.I.A won't take reservations, but there's a second branch in the Marais, so if Latin Quarter students have hogged all the tables, you can try your luck on the Right Bank. American Kitchen Opposite the Hôpital Saint-Louis, a handful of restaurants cluster in a charming collective that's well-known to residents and regulars of the 10th. Among the bouquet of enticing smells, the red frontage of the American Kitchen is a favourite with hungry passers-by. On the tables of its vast terrace, pots of ketchup and mustard are the welcome signs of cones of fries to come. Inside, there are no pink faux leather booths, no neon lights and no waitresses on roller skates – of which clichés only the latter might be mourned. A tricolor flag and a few all-American stars integrate well with the industrial décor, mixed with metal lamps and woven bistro chairs.The portion sizes can be eye-popping, so be prepared to share – good thing too, as it's not cheap (€10 a starter, €15 a burger, €8 a dessert). And don't expect great things from the house fries – hold out, instead, for the steaks, the brioche buns like small mushrooms, the burgers and the warm bagels. Unusually for a burger joint, vegetables also get star treatment: take the vegetarian crostini, made from thick slices of black bread, mozzarella, peppers, courgettes and aubergines. For dessert, try the creamy carrot cake or the traditional brownies. And to wash it all down: a great Californian wine. Supernature Who said eating healthily was boring? Certainly not the many regulars who flock each afternoon (and on Sunday for brunch) to this tiny canteen in the 9th arrondissement. There's no overriding organic or vegetarian concept, just well-cooked, daily-changing healthy dishes. There's at least one delicious vegetarian dish each day, and they often have an 'Assiette vitalité' which brings together fresh vegetables goat's cheese and organic galettes in a wondrous combination. Coffee Parisien When the grand old dames and moody wannabe writers tire of Café de Flore, they head to Coffee Parisien. Just steps from the Mabillon metro, this noisy, busy diner is never empty. Behind the bar, crowded with hurried diners, you can see the chefs at work – coleslaw virtuosos, hash brown geniuses. On the walls, there are portraits of Kennedy and Obama (a burger bears his name as well), Stars and Stripes, frescoes of dollars and clippings from the New York Times, all overlooking battered old red leather banquettes. On the wooden tables, paper placemats list all the U.S. presidents since George Washington. Food-wise, the New York feel continues. Divine cheeseburgers, fluffy pancakes, crisp bagels and delightfully runny eggs benedict: a bit greasy, but in the way that gets plates licked clean. This is a typical American diner with a touch of French refinement – which unfortunately also means that the service is chronically slow and rude.
For cheesecakes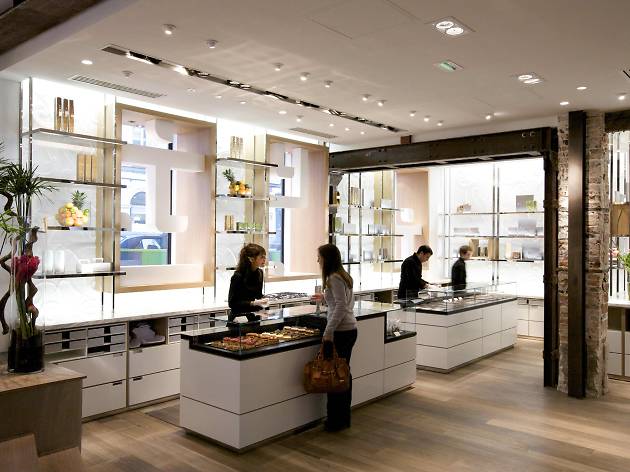 Voted the 'best chocolatier in the world' by critic Mort Rosenblum, Jacques Génin's creations could previously only be tasted in top restaurants. But now his impressive boutique allows you to taste sur place or take a bag home. The signature eclairs and tarts glisten in glass cases, and the millefeuilles are made to order for perfect freshness.The chocolate ganaches include Menthe Amante, a two-phase taste sensation that finishes with mint leaves bursting on the tongue. One part of the vast space is given over to a tearoom, and a spiral staircase leads to the ateliers.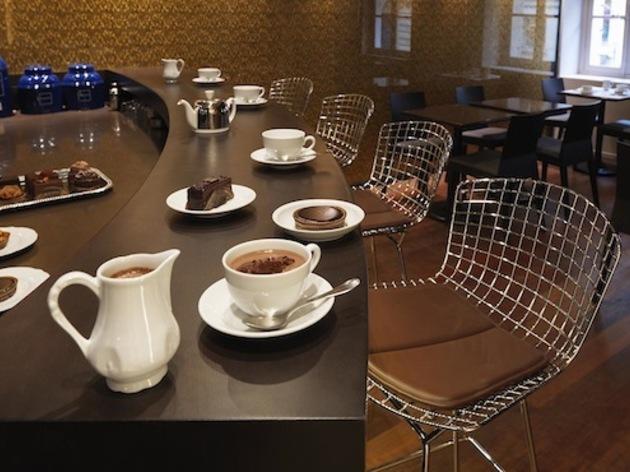 His creations are as much art as they are confection. Chocolate shoes, guitars, and diamond rings decorate the dark wooden counters, prompting dropped jaws among passersby. And they taste as good as they look, which is remarkable. For the adventurous, Hévin specialises in the beguiling combination of chocolate with potent cheese fillings, which loyal customers serve with wine as an aperitif.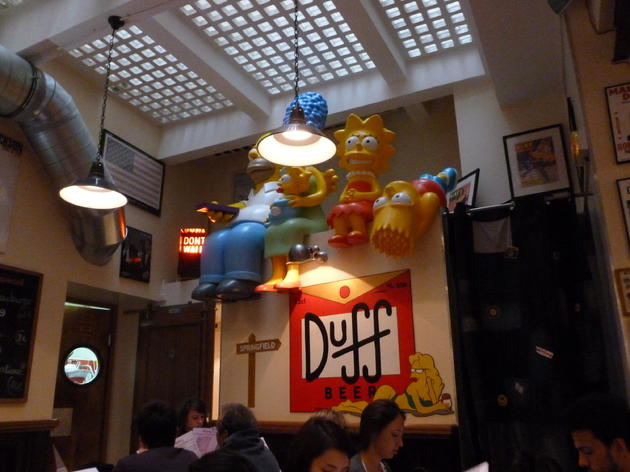 A little corner of kosher Brooklyn lost in the Marais, Schwartz's is all hot dogs, pastrami, pecan pie and onion rings. The area's locals swap family news with the waiters, and mix easily with hipsters among the old film posters, red leather banquettes and checked tablecloths.A must-try is the pastrami sandwich, a mountain of dried beef wedged between two hunks of bread, served with fries and a little pot of coleslaw for €16.50 (or €19 for the version with veal). Or you could go for one of the numerous burgers (€12-€24), from classic cheeseburger to avocado, or even the Rossini (steak, foie gras, rocket and port sauce) – impressive, if not quite as decadent as its price would suggest. Also a good bet are the milkshakes (€7.50), often with real chunks of Oreos or other biscuits, though you'll want to save room for dessert: the strawberry cheesecake is one of the best in Paris – and at €7 a slice, it should be.Overall, Schwartz's wins out with its friendly service and boisterous atmosphere, but feels slightly overpriced. That doesn't seem to put anyone off, however, as two more branches have opened recently: on Avenue Niel in the 17th, and Avenue d'Elyau in the 16th.