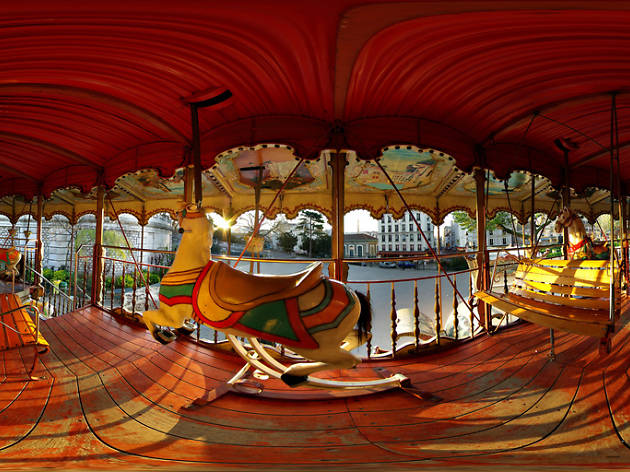 1/11
© Alexandre Duret-Lutz
Hôtel de VilleEnjoy riding the wooden horses and carriages on one of Paris's most popular old fashioned two-storey carousels. This beautiful carrousel comes and goes from the outside the Hôtel de Ville, but when it's there it's a great way to relax after skating on the nearby rink.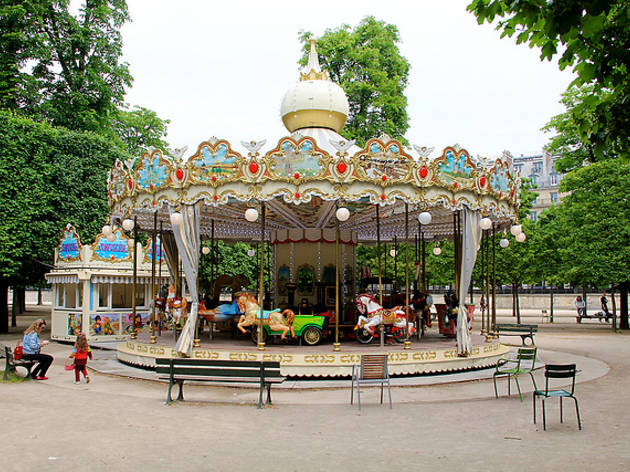 2/11
© Elsa Pereira
TuileriesThis beautiful old-fashioned ride turns faster than any other carousel in Paris. Complete with two storeys, wooden horses, carriages and plenty of mirrors, a ride on this Tuileries attraction is always well worth it. Afterwards enjoy the nearby playground before heading for hot chocolate at Angelina's.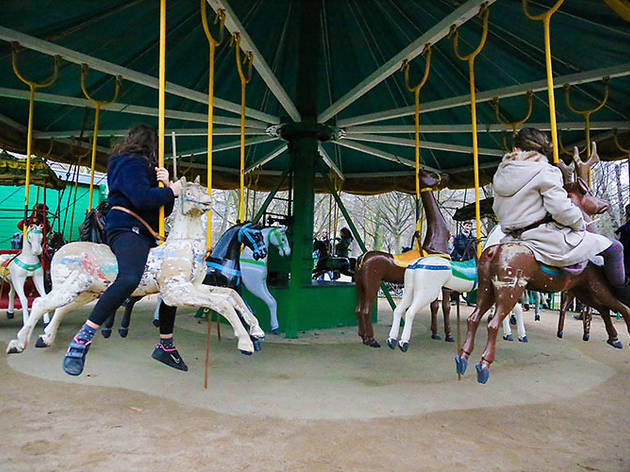 3/11
Jardin du LuxembourgLess fancy than the double-decker carousels scattered around the city, the carousel at the Jardin du Luxembourg is charming nonetheless. One of the oldest ones in Paris it dates back to 1879 and was designed by the Opéra's architect Charles Garnier.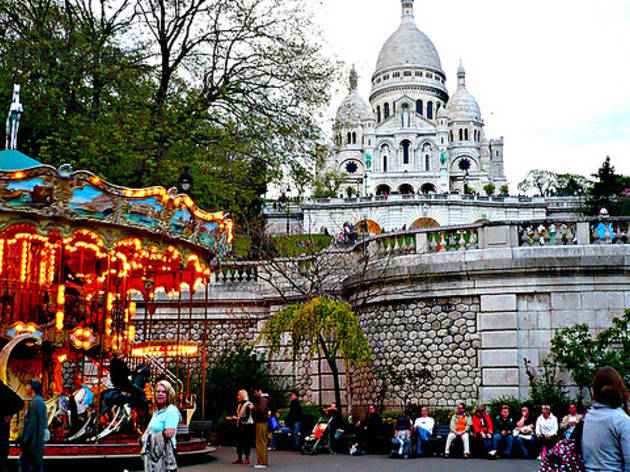 4/11
Sacré-CoeurChristmas cheer abounds in Montmartre, so take a few spins to really soak it all in. After taking a stroll around the artist's stands at Place du Tertre and visiting the Sacré Coeur, relax on this Venetian 18th century merry-go-round at the foot of the Butte.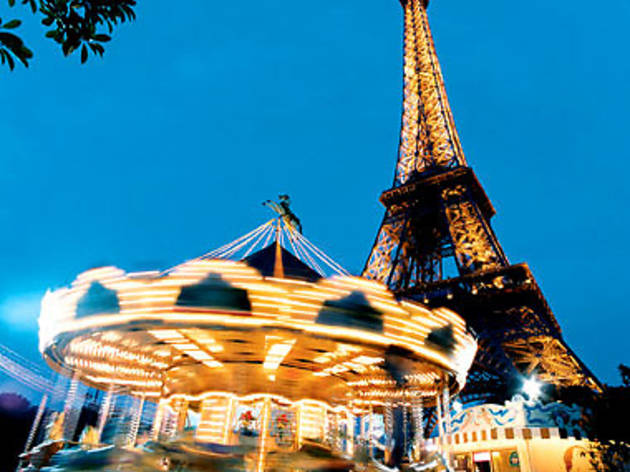 5/11
TrocadéroWith the Eiffel Tower just behind, it's a stellar photo op for next year's Christmas card. Ride horses, cars or even a hot air balloon at this double level carousel in the Jardins du Trocadéro.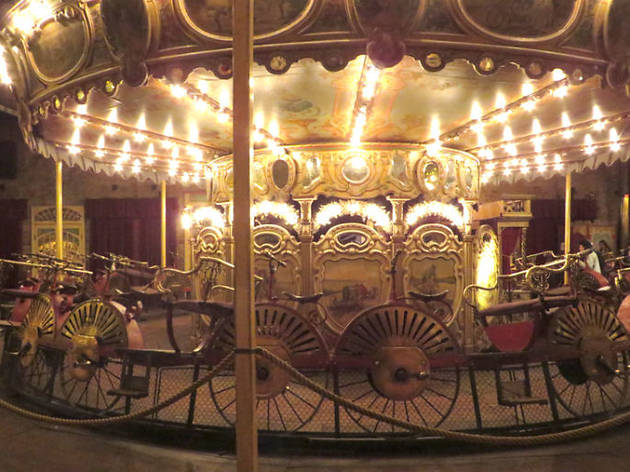 6/11
@ Flickr/Lodyséedekloé
Musée des Arts Forains In a former Bercy wine market, is an extraordinary cabinet of curiosities dedicated entirely to the fairground arts. In this unusual dreamlike museum, expect to marvel at a crystal chandelier suspended from the roof, a magic fountain, an elephant balloon, a unicorn playing the piano...and of course, beautiful carousels of wooden horses or Venetian gondolas. A magical must-see for any family.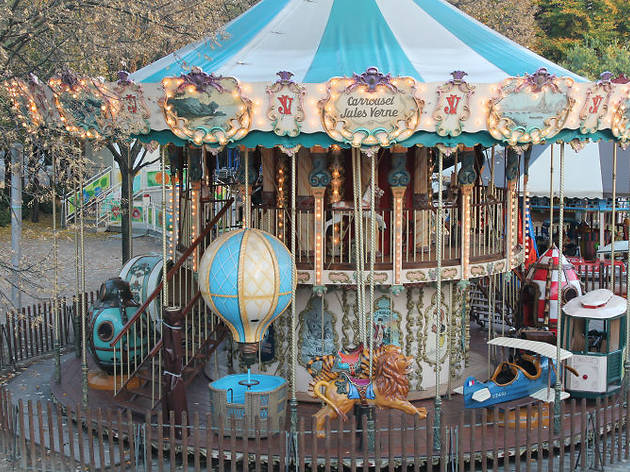 7/11
@ C. Gaillard
Parc de la Villette This merry-go-round sits in the middle of the banks of the Canal de l'Ourcq, almost like an island made up of different means of transport. It's straight out of a sci-fi novel, complete with aeroplanes, space rockets, hot air balloons, trams and submarines. The more daring kids can even straddle a formidable lion or a Siberian tiger.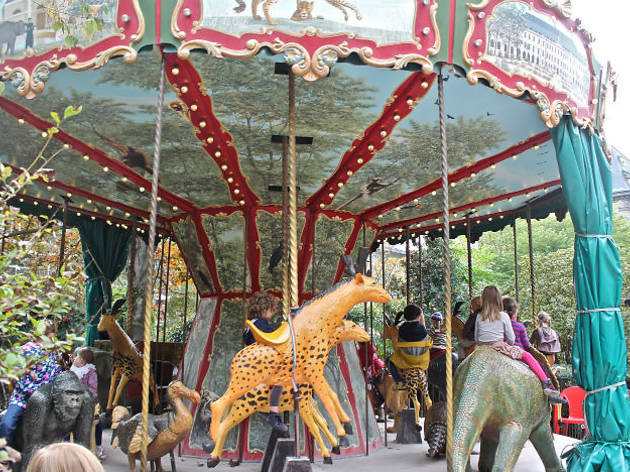 8/11
@ C. Gaillard
Jardin des Plantes Budding explorers will delight at this prehistoric menagerie at the heart of Jardin des Plantes. The animals of this exotic carrousel have all disappeared or are in the process of extinction; a dodo, a triceratops, a thylacine (a Tasmanian wolf which became extinct at the beginning of the twentieth century), a horned turtle, a panda and several sivatheriums (a hybrid between the giraffe and the deer). It's a poignant reminder of the fate of wild animals at the hands of man.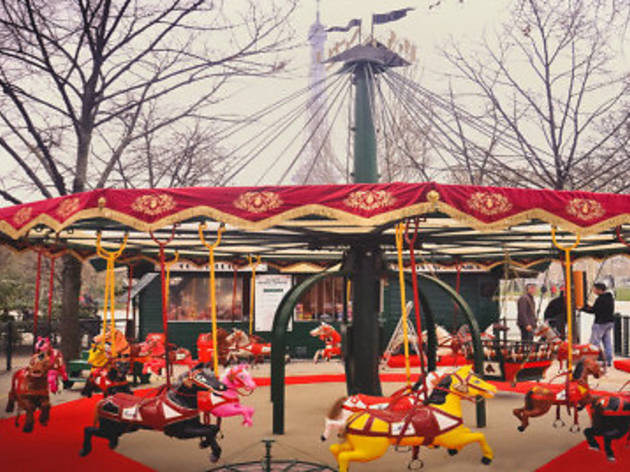 9/11
The Eiffel Tower This could be the most eco-friendly attraction in Paris; installed close to the Eiffel Tower in 1913, it relies on man power rather than electricity. Comfortably seated on traditional wooden horses (carved by the famous brothers Limonaire), riders operate it by pedaling – so it's a workout and a delight.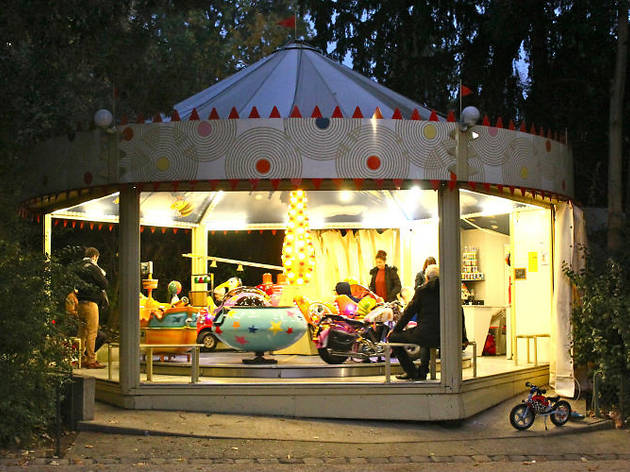 10/11
@ C. Gaillard
Parc Buttes Chaumont Nestled in the thickets of this huge hill of the 19th arrondissement, the Buttes Chaumont merry-go-round is unlike any other in Paris. Hexagonal, with a grey colour scheme, it looks more like one you'd find at the exit of the supermarket, rather than in this beloved corner of the city. Look out for the fish with prominent cheekbones, duck with flirtatious lashes and the candy floss pink Harley Davidson.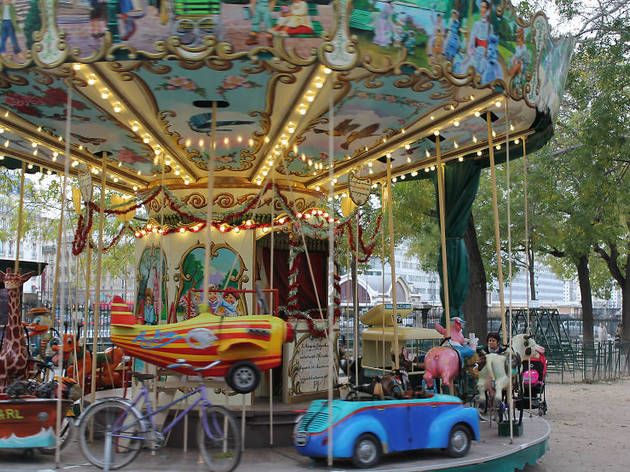 11/11
@ C. Gaillard
Square des Batignolles A sailing boat, a daisy-covered cow, a piping pig, an airplane, and even Donald Duck in a glittering canoe-boat. We're not sure how they're all linked but it's charming nonetheless. Accessible on the 66 bus, which runs from Clichy to Opera via Les Batignolles, this is the perfect excuse to take the kids out of the inner city hustle.
Carousels in Paris
Take a spin – and don't forget to wave when you swing round again
Christmas in Paris may be a season of roasted chestnuts and church choirs, but it's also a time when the sharp, sweet scent of cotton candy makes the nose tingle, and the tinny music of the city's merry-go-rounds floats in the air.

Even out of Santa season, Paris is heaven for kids looking for a sweet ride: carousels are an entrenched part of French childhood, as are the games of rings played on them. Most parks in Paris have one, such as the one in the Jardin des Plantes, with its dodos and dinosaurs, and the small one at the Jardin de Luxembourg, not grand or fancy at all, but well-loved, with its weathered elephants and unembellished horses.
During the holiday season, often children can ride the many carousels for free, giving parents a few spare moments to catch their breath between preparations and shopping. Here are some of the most iconic and well-placed carousels to ride in style.